An Inventory of Israel's aggression on Palestinian land during the first Year of the Palestinian Intifada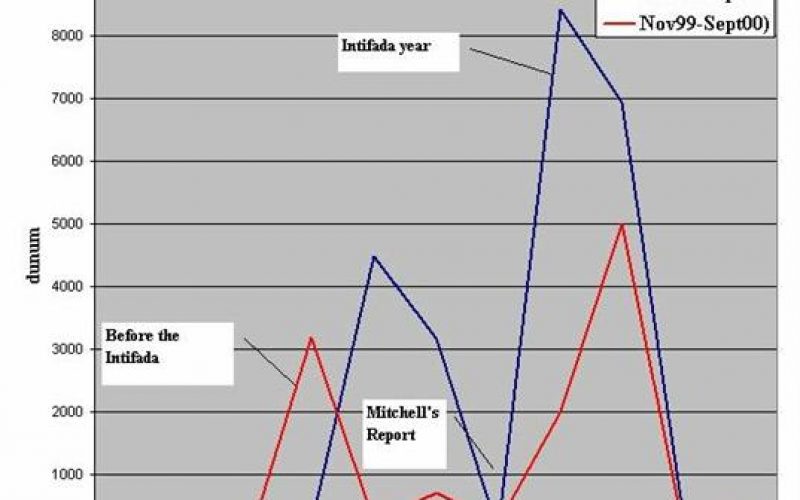 The ongoing Palestinian Intifada, which erupted after the provocative visit of the present Israeli Prime Minister Sharon to Al Haram Al Sharif in Jerusalem, has entered its second year. During this period, the Israeli military forces used excessive force in order to stop the uprising. Hundreds of Palestinians were killed and thousands were injured. At the same time, Israel imposed an unprecedented system of blockades and closure that impacted every aspect of Palestinian lives. In addition, this period witnessed an escalation of destruction of civilian properties and agricultural land on the hands of Israeli forces and Israeli settlement vigilantes is significant.
This report will mainly emphasize Israeli colonization activities; i.e. the new-old policy of land confiscation, house demolition, tree uprooting and threatened land that would be seized for Israeli settlement expansion and bypass roads construction. Tightening the siege around main Palestinian cities and the creation of closed military zones in the West Bank are other Israeli occupying policy issues that will be further discussed in this report.
Up to 0.4 % of the total area of the West Bank was confiscated during the first year of Al-Intifada for colonization purposes such as the expansion of mother settlements, construction of new industrial zones and bypass roads.
Table 1: Bypass roads' length and buffer area in the West Bank.
| | |
| --- | --- |
| | Existing bypass roads |
| Total length | 347.5 km |
| Area with the 150m buffer zone | 52.1 km2 |
| Percent of West Bank Area | 0.92 % |
Source: ARIJ database. Area of W.B = 5,661 km2
The construction of an enormous bypass road network inside the West Bank and Gaza Strip linking Israeli settlements to one another as well as to Israel proper, and Israel's seizure orders for '' temporary expropriation'' indicate that Israel does not intend to withdraw completely from the Palestinian Territories. Data collected by ARIJ proves that the scale of land confiscation has not declined; on the contrary, it has increased despite all calls for immediate freezing of such activities.see chart 1
It seems that Israeli land confiscation patterns are influenced by the political climate in different times. For example, in May 2001, land confiscation fell in magnitude compared to that during the preceding months. It is worth mentioning that in May 2001, the region witnessed many political changes aimed to end the violence, rebuild confidence and to resume negotiations. These initiatives ended up by signing the Mitchell report, which alluded to the settlement problem as a major impediment to the peace process; also, the Mitchell report called for the immediate freezing of Israeli settlement activity.
''The Government of Israel also has a responsibility to help rebuild confidence. A cessation of Palestinian-Israeli violence will be particularly hard to sustain unless the GOI freezes all settlement construction activity. Settlement activities must not be allowed to undermine the restoration of calm and the resumption of negotiations.''
Mitchell's report, May 2001
In the mean time, the Israeli government intensified its confiscation policy in the months of June and July, which could be clearly noticed from the sharp rise in the graph. Also, the encroachment on Palestinian land in Gaza has continued. Israeli forces have razed massive agricultural lands along the main roads led by Israeli settlers, and that is to reinforce their control of these roads. See map 1 .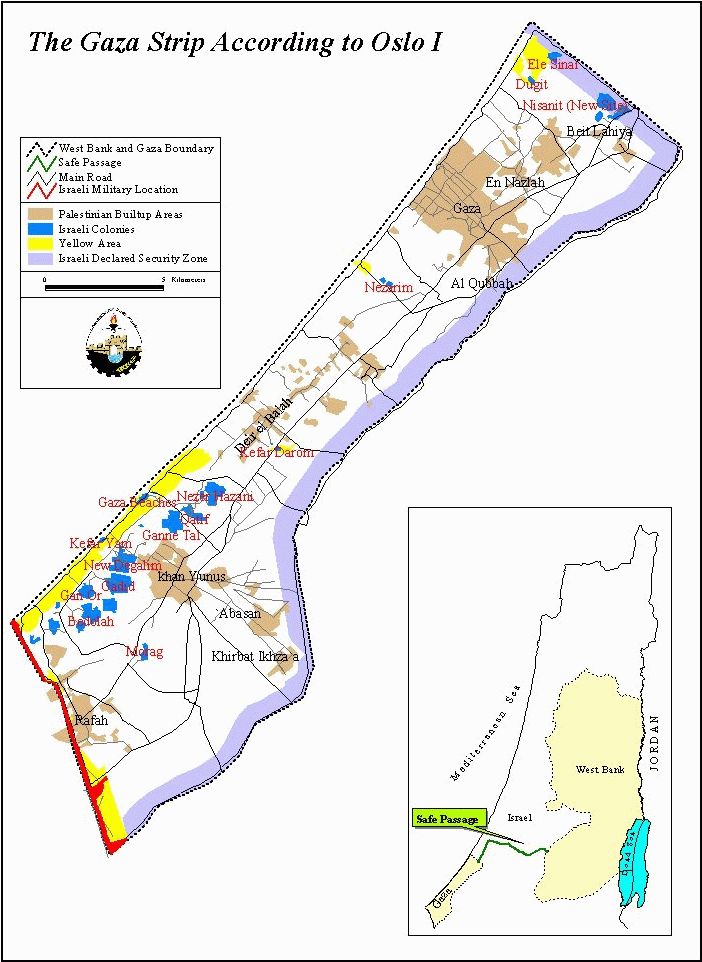 For instance, ARIJData base reveals that mother settlements' expansions around Bethlehem district have evidently resulted in the confiscation of 748 dunums during the first year of AL-Intifada, in which 50 dunums have been fully expropriated to build new houses in nearby Efrat settlement and to maintain a security buffer zone alongside Road 60 which links Jerusalem with the Etzion settlement bloc. See Photo 1 & chart 2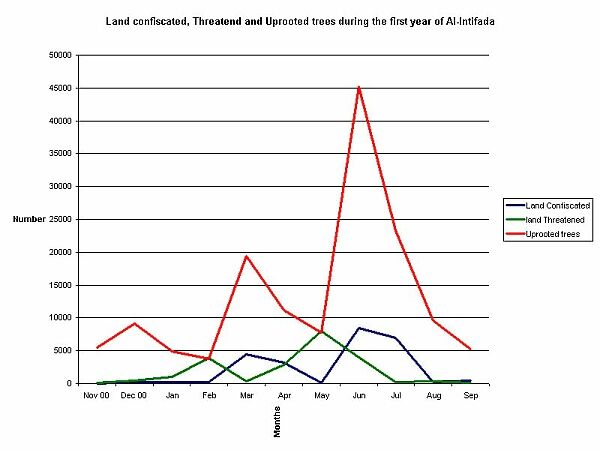 Chart 2: Israeli Violations in the West Bank during the First year of Al-Intifada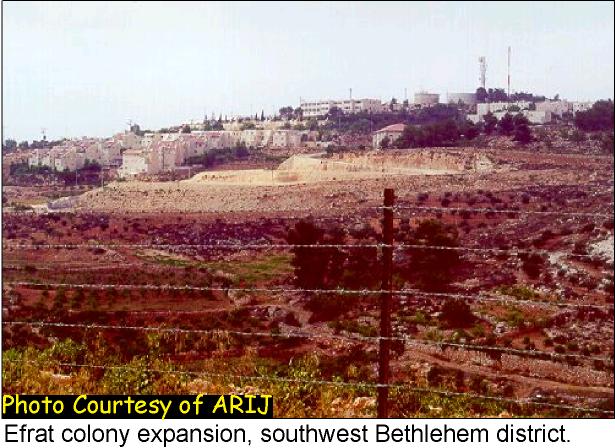 Source: ARIJ database 2001
We can notice from the graph is the overlap between land confiscation and tree uprooting activities. In June 2001, more than 45260 trees have been uprooted from a total confiscated land of 8417 dunums. The large destruction of lands was mainly concentrated in Ramallah district for colonizing activities. It is worth mentioning that there are 30 settlements surrounding Ramallah with a total population of 16803. These settlements occupy 2.87 % of the total area of Ramallah district.
145090 trees were uprooted since November 2000 (this number excluded Gaza strip). Land confiscation does not only negatively impact any potential for a genuine peace process but also incurs large losses to the prime economic agricultural resources, and the threat to the living standards of the Palestinian community. See photo 2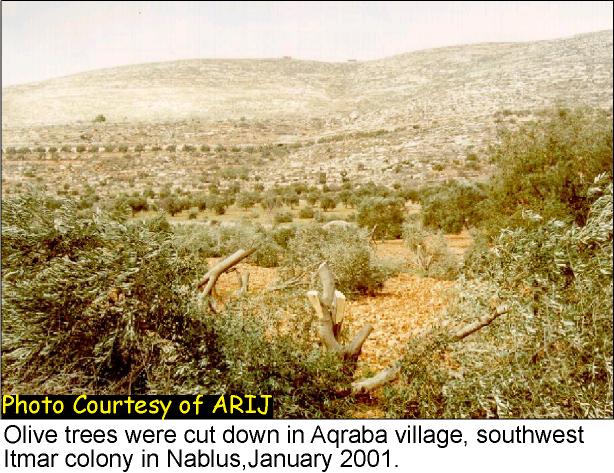 Around 1200 olive trees were cut down in Aqraba village, southwest Itmar settlement in Nablus, January 2001.
Since the beginning of the Al-Aqsa Intifada in September 2000, the Israeli government has implemented a series of harsh measures against Palestinian civilians. Closure, roadblocks and restriction on movement between main Palestinian cities and towns have been imposed exacerbating daily suffering see map 2. These restrictions deny the Palestinians basic human rights, such as their right to work, to education and to proper medical treatment. This policy adopted by the Israeli government became a collective punishment for the Palestinian people. To overcome the closures, Palestinians were forced to open alternative track roads in order to get from one place to the other. Most alternative roads are unpaved, dangerous, long and inconvenient to travel. The alternative road led by Palestinians from Bethlehem area to Hebron is a clear example of the hardship that Palestinians are encountering. Read article
Statistical reports from various Palestinian hospitals and human right organization document that Israeli security forces together with settlers killed 876 Palestinians and injured more than16575 until November 11th, 2001. Around 3669 residential buildings have been completely destroyed by Israeli attacks. See Photo 3 & photo 4
Prepared by:
The Applied Research Institute – Jerusalem