Tightening The Siege Around Jerusalem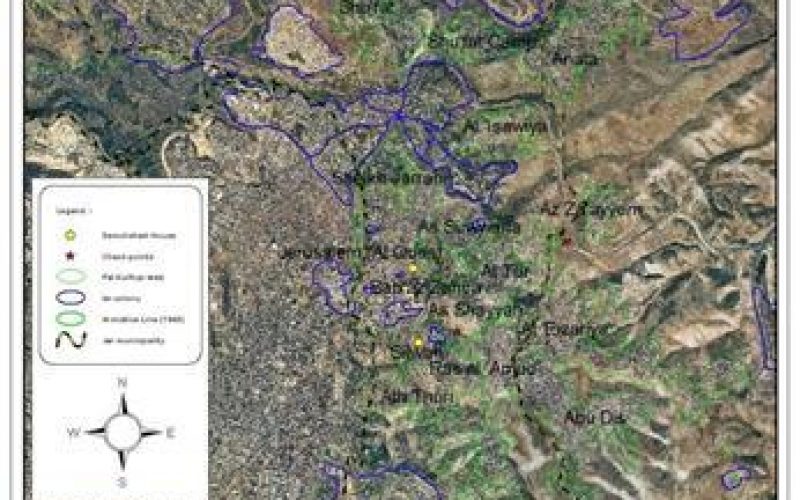 Since 1992, the Israeli government has decided to implement its military plan to achieve complete annexation of Jerusalem from the West Bank. Tightening the siege around Jerusalem has been a primary objective for successive Israeli governments. Military checkpoints have been erected on main roads leading to the Holy City: Palestinians holding West Bank Ids (the Israelis call them ''Orange Ids'') are prohibited to enter Jerusalem unless they are given a special permit from the Israeli Authorities.
After the outbreak of the Al-Aqsa Intifada on September 2000, successive harsh measures have been forced to further tighten the siege on Jerusalem and its separation from the West Bank. Up to 16 main and secondary roads were blocked and another 4 checkpoints were erected since the beginning of Al-Aqsa Intifada, see map1.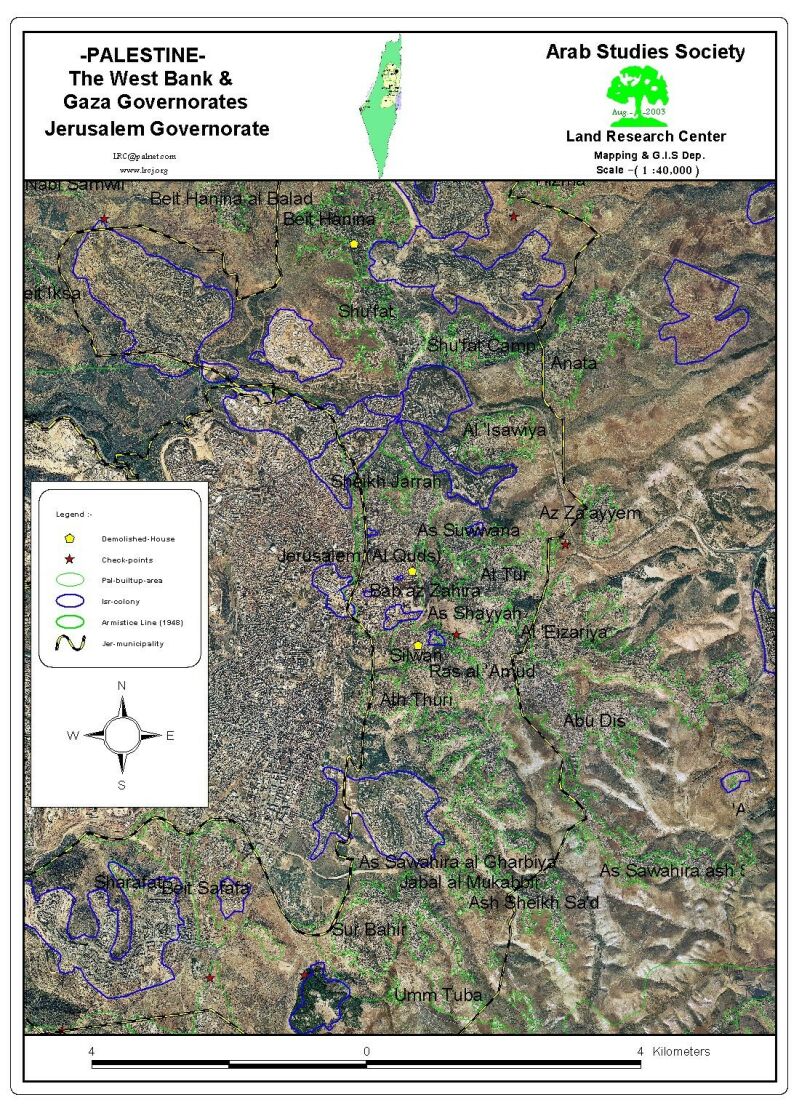 Moreover, the Israeli authorities blocked all the secondary roads in the Arab neighborhoods that link to the main road of Jerusalem by digging huge trenches and/or placing concrete blocks. These main roads are used primarily by Palestinians since they lead to Arab neighborhoods while Jewish settlers have a bypass road that serves their settlements. see photo 2 & photo 3
Palestinian employees living in the West Bank who are employed in Jerusalem are forced to wait in long lines and strict checking procedures. Even those carrying permits to enter Jerusalem are at times prevented from access under the pretext of security. Recently, Israeli authorities placed a traffic light and a camera set that takes instant photos of each and every car that crosses the checkpoint, see photo 4.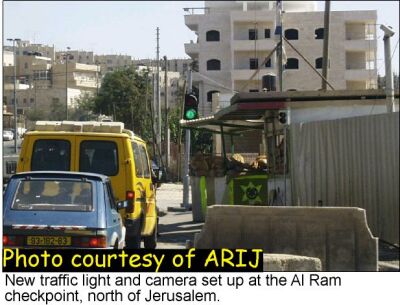 On the route from Ramallah to Jerusalem, and on top of the already difficult checkpoints of Qalandia and Ar Ram on the northern entrance to the Holy city, two more temporary checkpoints have been added. The first was erected near Nabi Yacoub (500 meters south of Ar Ram checkpoint) while the second lies in Shuafat, 3 kilometers further south of the first on, see map 2. From the map one can clearly see that all four checkpoints lie on the same road and in series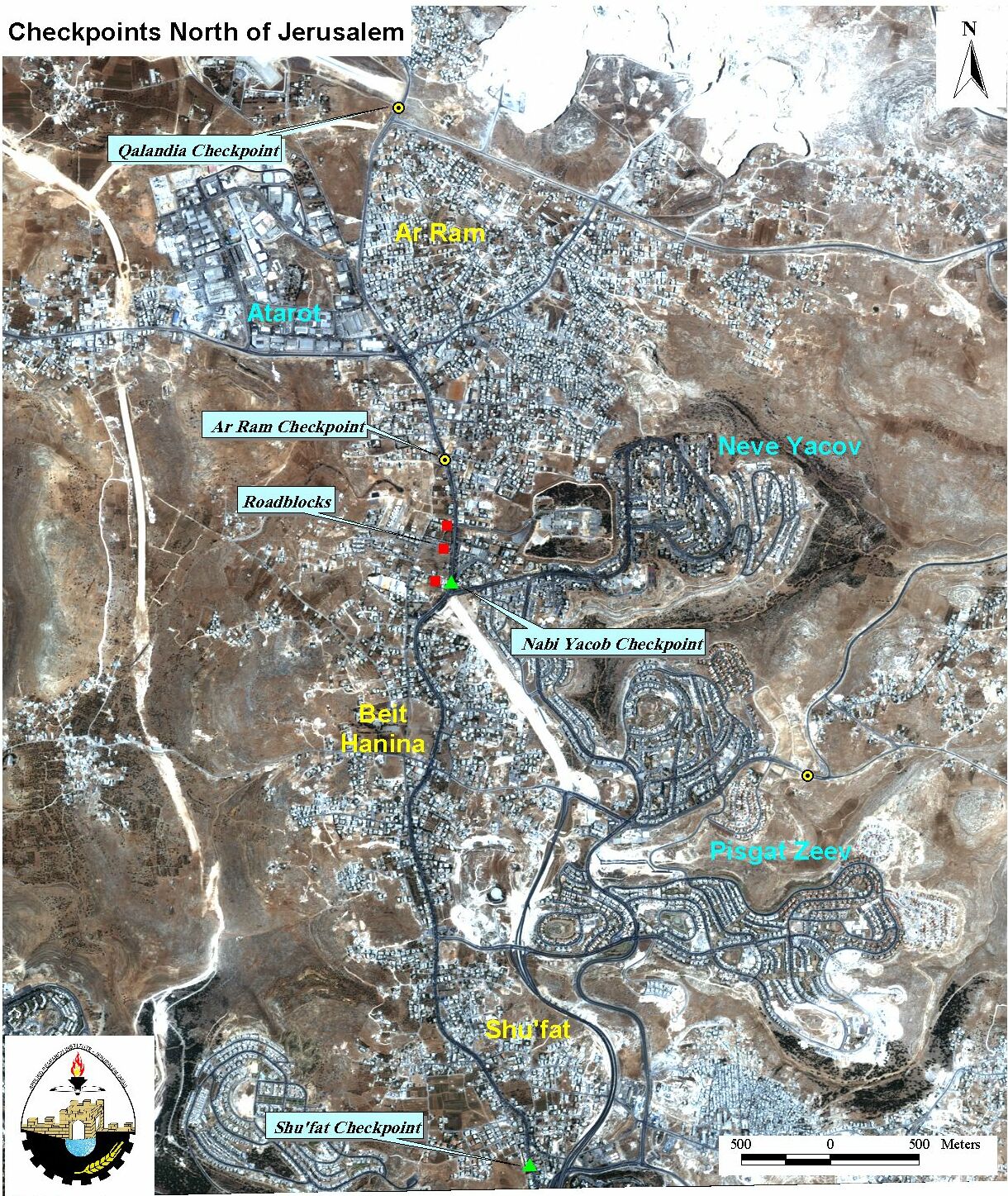 Vehicles going from Ramallah to Jerusalem have to wait as long as two hours at Qalandia, half an hour at Ar Ram, another half hour at Nabi Yacoub, and again another half an hour at Shuafat. That's four hours for a trip that used to take 15 minutes! So travelers that don't need to go with there own cars use public transportation and then go on foot at each of these checkpoints. Yet trucks, school buses, and even ambulances cannot take advantage of that option, see Photo5 & & Photo 6
It is very difficult to see what security purposes do the extra checkpoints provide other than harassing Palestinians traveling on the road. Or maybe harassing Palestinians falls under ''security'' according to Israeli criteria.
Prepared by:
The Applied Research Institute – Jerusalem