A New Industrial Zone to be established Near the Vicinity of Beit Ummar Village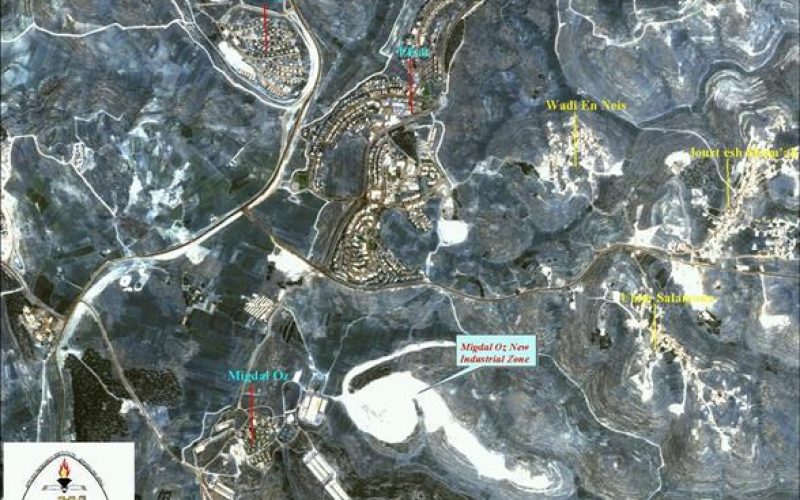 Colonization activity in the West Bank has not stopped, despite the Israeli government's claim about ''freezing of settlement activities''. Another 200 Dunums of Beit Ummar area has been fully confiscated for the sake of establishing ''Migdal OZ industrial zone''. The confiscated agricultural area lies on the northern side of Hebron Mountains and belongs to farmers from Beit Ummar and Beit Fajar villages. The villagers filed suites against the military order; they raised the appeal via humanitarian organization but never got a response from the Israeli High Court of Justice. Meanwhile, on the ground, the Israeli bulldozers have continued their work. See Satellite map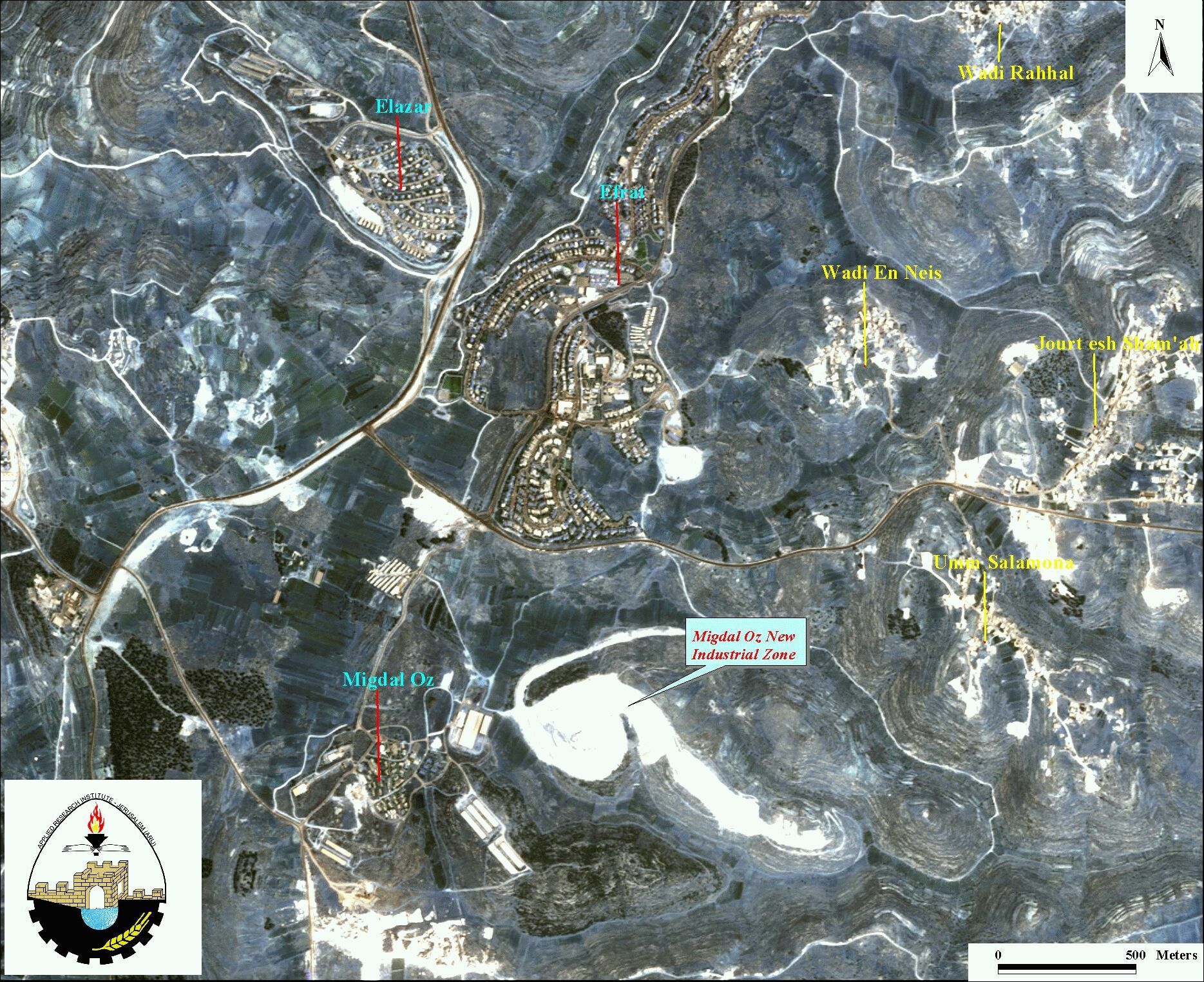 Israeli settlements in the occupied Palestinian territories are environmentally unsustainable. Most settlements are built on confiscated Palestinian agricultural or communal grazing lands. Since October 2000, around 2630 trees have been uprooted from Hebron district for further colonization activities. The proposed industrial zone ''DER 'ALA'' or [Bricot] will consist of around 72 industrial blocks that will be stemmed on part of the Palestinian town of Beit Ummar. See Figure1
Beit Ummar is an agricultural village located 15 kilometers northwest of Hebron city. The village buildings and agricultural areas are located on a hillside surrounded by mountains on two sides and by the Israeli settlements of Gush Etzion and Karme Zur on the other two sides. (Figure2 and Figure3 show the affected agricultural areas). and show the affected agricultural areas).
Beit Oummar village has been greatly affected by the environmental pollution induced by nearby settlements. In the past few years, hundreds of dunums of agricultural lands have been severely damaged from the flooding of the untreated water. Building the new industrial zone will exacerbate the pollution problem in the village. Judging from other industrial zones in similar settlement areas, most of the effluents produced are discharged into nearby villages, especially that such industrial zones do not function according to Israeli environmental regulations.
The Barqan industrial zone is a clear example of polluting the environment. Untreated wastewater flows from the Barqan industrial zone to the nearby valley damaging agricultural land belonging to the three Palestinian villages of Sarta, Kufr A-Deek, and Bruqin, as well as polluting the groundwater with heavy metals.
In addition to the environmental threat posed by building the new industrial zone near by village of Beit Ummar, the zone will result in more confiscation of land to be incorporated into Etzion Block. The Israeli government considers the Etzion Block to be part of greater Jerusalem, despite its location south of Bethlehem; thus establishing the industrial zone within the vicinity of the block further expands the borders of greater Jerusalem.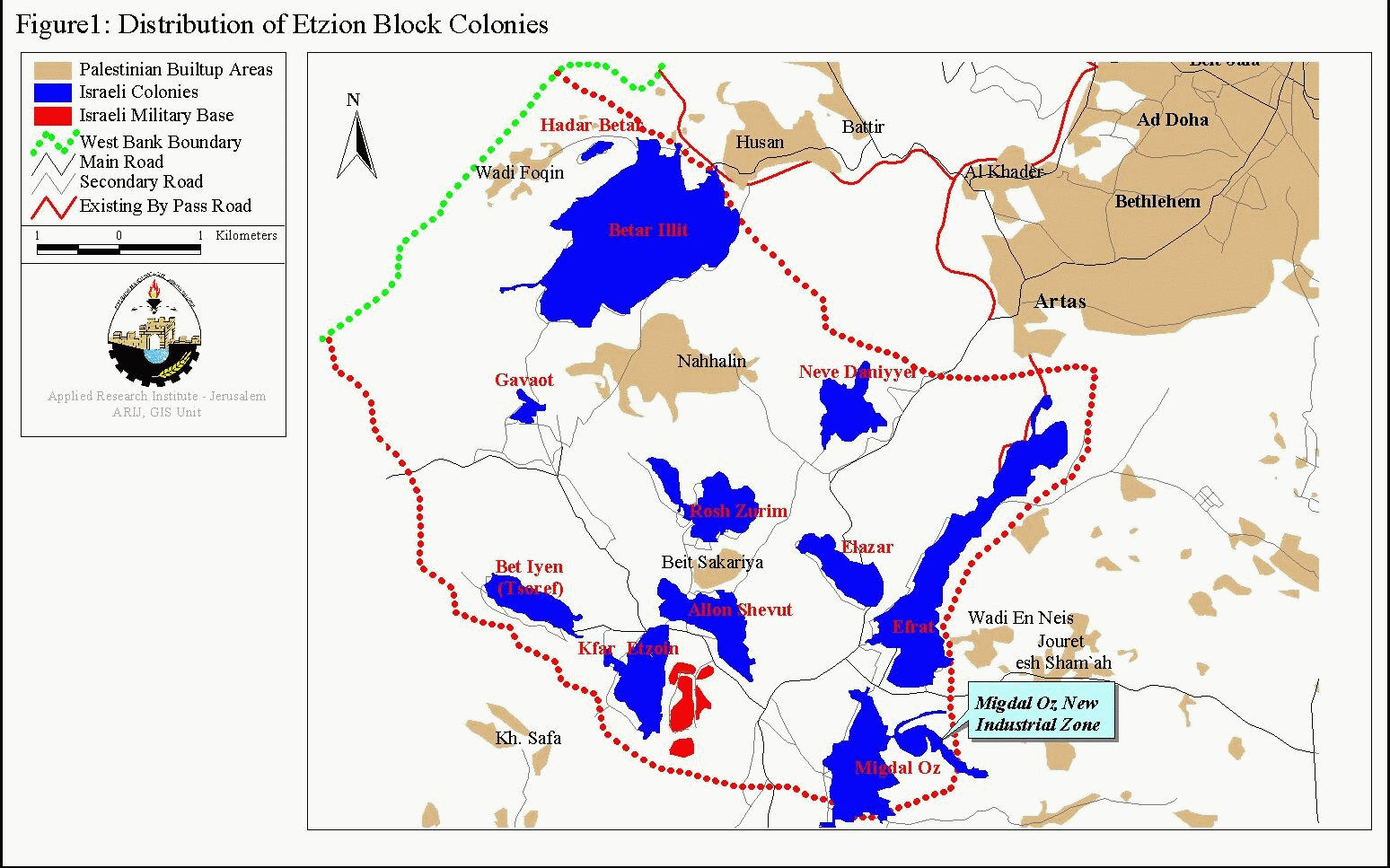 It is worth mentioning that considering the fact that 43.19 % of water resources in the West bank and Gaza strip is consumed by Israelis and Settlers, it becomes clear that the political significance of this part of the West Bank lies in the abundant water resources available in this region, where four main wells are located.
Palestinian objection to the existence of Israeli settlements in the occupied Palestinian territories is not limited to the issue of their illegality. These settlements impose a serious threat to the sustainability of Palestinian natural resources and continue to be one of the leading causes of their degradation. The actions of the settlements and industrial zones seem to indicate a double standard towards environmental protection, with practices differing in the Palestinian territories and Israel.
Related topics:
Prepared by:
The Applied Research Institute – Jerusalem