The Israeli demolition of Palestinian houses in Jerusalem is an escalating settler and apartheid policy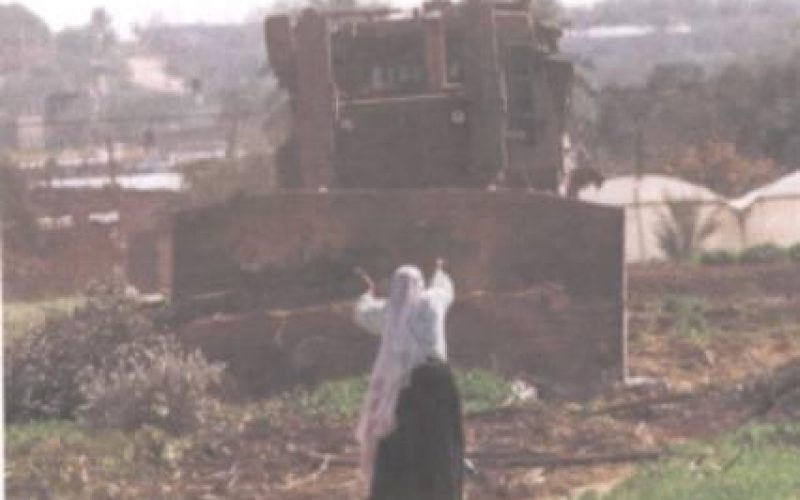 33 years after the occupation of Jerusalem, the Israelis continue their demolition and closure campaigns against Palestinian homes. This policy comes in the context of ethnic cleansing being implemented in the city and surroundings.
The year 2000 witnessed a serious escalation in human rights violations against Palestinians, individually and collectively, especially in Jerusalem area. Sharon's forced entrance to Al- Haram Al- Sharif on September 28, 2000, was a provocative act led to the outbreak of Palestinian anger. This anger was mixed with despair from the 7 years long ''peace process'' which failed to achieve Palestinian national rights to self determination and to an independent state with Jerusalem as its capital. The Zionist repressive policy during the current confrontation has targeted the Palestinian people and their properties, including homes, land, trees, infrastrucure..ect. Despite the fact that this destructive policy is considered systematic war crimes and state- terrorism, it hasn't met adequate response from the International Community.
The following are the Israeli violations against Palestinians during the period from Sep. 28 until Dec.31, 2000:
346 Palestinians were killed, including 14 from Jerusalem and 13 from inside Israel. More than 1110 Palestinians were injured, including 800 from Jerusalem and 4000 from inside Israel.

2600 premises were partially or totally destroyed, including 2000 homes, 100 of them totally.

Apart from the West Bank and Gaza, 500 people were arrested in Jerusalem and 400 in Israel.

The city of Jerusalem has been closed in the face of Palestinians who live in the West Bank and Gaza Strip causing heavy economic, social and commercial losses.
Israeli bulldozers continue to destroy Palestinian homes in Jerusalem:
Since the occupation of the city in 1967, Israeli bulldozers have been destroying Palestinian homes in most neighborhoods in Jerusalem, including Isawiya, Jabel Al- Mukaber, Silwan, Mount lives, Qalandiya, Bethany and Anata. As a result, thousands of homes have been demolished to make room for Israeli settlement expansion and to paralyze Palestinian demographic growing.
Israeli Apartheid and double standards:
Currently, The Palestinians constitute only 30 % of the total population of Jerusalem (east and west). However, 80% of demolition orders were directed to Palestinians. This policy has led to the demolition of 2150 Palestinian houses. The remaining 20% of house demolition orders directed to Jews have not led to any virtual demolitions, but were changed to fines or cancelled.
The following table shows these facts in numbers and percentages:
| | | | |
| --- | --- | --- | --- |
| Pop. Classification | Pop. Percentage | Demolition orders percentage | No. of destroyed homes |
| Jews | 70 | 20 | 0 |
| Palestinians | 30 | 80 | 2150 |
| Total | 100% | 100% | 2150 |
The Planning Dep. Of Jerusalem Municipality classifies most land owned by Palestinians as ''green land'' prohibiting any constructions on it. In the meanwhile, the land transferred to Jews, either by seizure or forgery, can be classified as building areas for exclusive Jewish use.

The Jerusalem municipality and its planning department initiate detailed master plans to prepare land and building areas for Jewish use spending from the municipality budget, while Palestinians are asked to submit documents and follow due procedures which could take up to 20 years with no result in most cases. This very long and tiring process requires big budgets on part of Palestinians.
Demolitions in Jerusalem:
In the last four years, demolition acts against Palestinian homes and premises increased with the aim of consolidating the Israeli occupation of the city at the expense of Palestinian presence.
The following table shows demolitions during the last four years:
| | | | | | | |
| --- | --- | --- | --- | --- | --- | --- |
| Year | House dem. | Barracks dem. | Tents dem. | House closure | house seizure | Total |
| 1997 | 27 | 56 | 58 | | 4 | 145 |
| 1998 | 31 | | | 1 | 1 | 33 |
| 1999 | 33 | 1 | 45* | 3 | 1 | 83 |
* This number includes 19 families whose names are mentioned in pages (5). The rest are Bedouins who were forcibly removed and their cases haven't been documented.
House demolition and closure in 2000:
17 houses were bulldozed by Jerusalem municipality under the pretext of unlicensing.

Total and partial demolition of 16 houses as a result of the Israeli shelling of Palestinian quarters.

A barrack used as an animal shelter was demolished.

Demolition of tents and dismissal of dozens of Bedouin families who used to live there for the last 52 years.

4000 m2 of walls built of cement and stones were demolished. This number is not included in the tables below.

The data given below covers only the cases which have become known to public.
Geographical distribution of house demolition cases in Jerusalem:
1. Isawiya quarter: it is located east of the city with a high density of population due to increase in population growth and lack of housing units. Extended families who live there are obliged to expand their existing homes or build new ones to cope with the situation. Consequently, 27 houses have been demolished so far.
2. Three homes were demolished in Ras Khamis quarter in Shu'fat area north of Jerusalem.
3. 4 homes were demolished in Wadi Qadum quarter in Silwan area south of the city.
4. 2 homes were demolished in Jabel Al- Mukaber south of Jerusalem.
Israeli attempts to seize Palestinian premises:
Israeli settlers stormed 3 Palestinian premises in the old city and in Sheik Jarrah quarter. During the operation, Palestinian occupants were beaten by attackers who were under the protection of Israeli police. When Palestinian owners filed complaints, orders were issued by Israeli courts calling for the sealing of the premises and prevention of their owners from using them. This official response constituted a second step prior to total confiscation on part of the Israeli authorities.
The Israeli policy of house demolition, sealing and seizure represents a flagrant violation of Palestinians' right to housing and a vicious aggression against their properties quarantined by international laws and agreements.
House demolition in Jerusalem in 2000
No.

Name

Date of Dem.

Location

Area in m2

No. of rooms

No. of Fam.Mem.

Chil. under 18

Notes

1

Abdul Razaq Sheik Omer

1.2

Isawiya

140

6

8

2

Demolition for the second time

2

Abdullah Munir Ali

8.3

Wadi Qadum

120

5

9

2

3

Mohammed Musa Dirbas

18.4

Isawiya

28

2

12

2

Preparation for ceiling

4

Mazen Mohammed Muheisen

18.4

Isawiya

36

2

5

3

Walls without ceiling

5

Omer Mohammed Dari

18.4

Isawiya

25

2

12

5

Zink ceiling

6

Mohammed Musa Dirbas

23.4

Isawiya

28

12

Foundations

7

Omer Mohammed Dari

23.4

Isawiya

25

12

Foundations

8

Mazen Mohammed Muheisen

23.4

Isawiya

36

5

Foundations

9

Hamza Mohammed Mughrabi

3.6

Al- Mukaber

370

10

10

7

Two flats

10

Hasan Shehda

5.6

Walaja

110

5

7

3

11

Jamal Yahiya Edkidek

14.8

Wadi Qadum

120

6

5

3

12

Mohammed Na'im Tawil

14.8

Wadi Qadum

280

14

11

2

2 floors

13

Naâ??im Tawil

14.8

Wadi Qadum

150

4

6

4

14

Mohammed Khalil Abu- Ghali

29.8

Shu'fat

170

9

9

7

15

Ahmad Abdallah Hoshiya

29.8

Shu'fat

72

14

7

Foundations and pillars

16

Ibrahim Saleh Alqam

29.8

Shu'fat

180

12

8

Foundations and pillars

17

Yusif Mohammed Obeid

29.10

Isawiya

39

2

8

6

Used

Total

1819

76

157

71
Tent Demolition in Jerusalem in 2000
No.

Name

Date of Dem.

Location

Type

1

Isa Eid Dari

23.4

Isawiya

Tent

2

Mohamud Mohammed Dari

23.4

Isawiya

Tent

3

Yusif Daud Muheisen

23.4

Isawiya

Tent

4

Saleh Jamil Dari

23.4

Isawiya

Tent

5

Mohammed Ahmad Dari

23.4

Isawiya

Tent

6

Yusif Salim Dari

23.4

Isawiya

Tent

7

Samir Ribhi Dari

23.4

Isawiya

Tent

8

Suleiman Musa Dari

23.4

Isawiya

Tent

9

Yusif Salim dari

23.4

Isawiya

Tent

10

Mansur Hamdan Mahmud

23.4

Isawiya

Tent

11

Hasan Abdul Nabi Mahmud

23.4

Isawiya

Tent

12

Naser Mohammed Abu Rialeh

23.4

Isawiya

Tent

13

Ra'fat Tariq Ali

23.4

Isawiya

Tent

14

Jamal Sheik Saleh

23.4

Isawiya

Tent

15

Hani Ahmad Ali

23.4

Isawiya

Tent

16

Ziad Mustafa

23.4

Isawiya

Tent

17

Mahmud Mohammed Hmdan

23.4

Isawiya

Tent

18

Ihab Yasser Hamdan

23.4

Isawiya

Tent

19

Mohammed Haron Muheisen

23.4

Isawiya

Tent

20

Amin Abdullah Abu Isba'

Al- Mukaber

Tent

Total

19 tents + 1 barack
Seizure and sealing of premises in Jerusalem in 2000
| | | | | | | | | | |
| --- | --- | --- | --- | --- | --- | --- | --- | --- | --- |
| No. | Name | Date of Dem. | Location | Area in M2 | Type | No. of rooms | No. of Fam.Mem. | Chil. under 18 | Notes |
| 1 | Mohammed Yusif Al- Zein | 27.1 | Aqabat Saraya | 65 | Smither workshop | 1 | 9 | 2 | Closed by court |
| 2 | Rifqa Abdullah Sa'id Al- Kurd | 9.1 | Sheik Jarah | 100 | House | 2 | 10 | 3 | Closed by court |
| 3 | Fathi Hamuda Al- Ja'bari | 9.9 | Bab Al- Silsila | 160 | Backery and store | 8 | | | Closed by court |
| Total | | | 325 | 3 | 11 | 19 | 5 | | |
Case Studies –
Case No. 1
Name of victim: Abdul Razaq Mohammed Sheik Omer, 53 years old
Location: Isawiya.
Area in M2: 140.
Date of demolition: 1.2.2000.
No. of family members: 8, including 2 children.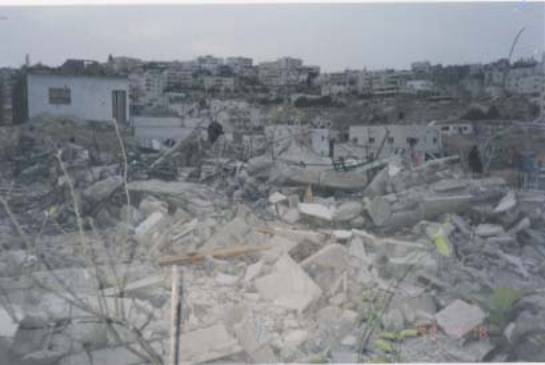 On February 1st, 2000, at 08:30 a big Israeli force comprised of Border guards, police, special forces and employees from Jerusalem municipality entered the above mentioned location. Immediately, bulldozers started to destroy the house without the presence of its owners who had left earlier to their workplaces and schools. After one hour, the house was completely demolished and leveled to the ground. This act was the second of its kind since the first one which was carried out 10 months before. The two demolitions were performed under the pretext of un-licensing. In the first attack which was carried out on April 4th, 1999, Israeli forces beat the family members with sticks, kicks and fists. The father, 53 years old, was unconscious and he was transferred to hospital. The mother, Khawleh, 40, her daughter, Ruba, 20, her son, Ala', 17, were all severely beaten. In addition, the son Ala' was arrested until the end of the day. Most furniture was damaged during the demolition process.
The family of Skeil Omer didn't succeed to get a building license from the Israeli authorities because of the complicated and costly measures set- up by the municipality. The former member of Jerusalem municipality Sara Kinker said that only 5 % of Palestinian applicants could get building licenses. Having in mind the difficult economic and living conditions, the high level of house rent, accompanied by the complicated licensing measures, the family of Sheik Omer had no other choice rather than taking the risk to build without license on the piece of land bought earlier with 20 000 JD. Despite all these financial and psychological losses, the family of Sheik Omer is still homeless.
Case study No. 2
Name of victim: Abdallah Munir Ali Al- Salaimeh.
Location: Wadi Qadum.
Area in M2: 120
Date of demolition: 8.3.2000
No. of family members: 9, including 2 children.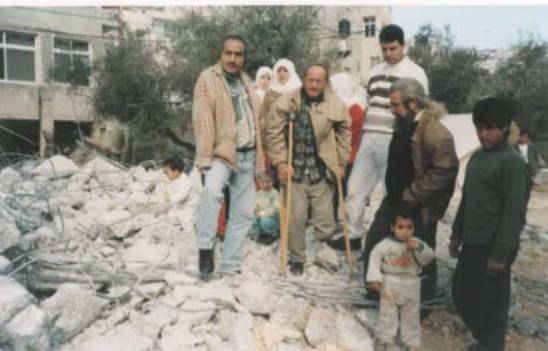 On March, at 08:00, large numbers of Israeli police, border guards, special forces, dogs and employees from Jerusalem municipality besieged Wadi Qadum and location of Abdallah's house. An officer from the special forces approached the owner of the house whose leg is amputated, and told him that his house would be destroyed. At that moment, the owner asked to see the demolition order, but was denied that. Abdallah said: ''we started to build in the second half of 1999 as we were in bad need of housing units, especially after the marriage of three of my sons, who have 8 children now. We decided to build in this living quarter, although the Jerusalem municipality refused to grant us permission and, finally they came and destroyed the house, and as you see, we live now in a tent provided by the ICRC''.
Case study No. 3
Name of victim: Rifqa Abdullah, the widow of Sa'id Al- Kurd
Location: Sheik Jarrah.
Area in M2: 100.
Date of sealing: 1.9.2000
No. of family members: 10, including 3 children.
The family had been living in the house for the last 45 years. This house is part of Sheik Jarrah residential quarter built by the Jordanian government and UNRWA. Due to the increase of family members, two rooms were added to the house in 1998. In March, 1999, Israeli settlers attacked the house claiming that the house was theirs before the establishment of the state of Israel. The mother, Rifqa Al- Kurd, 74, confronted the attackers trying to stop them from entering the house, but she was beaten in the presence of the Israeli police who interfered for the benefit of the attackers. Rifqa was detained in the police station for attacking the Israelis who came to take her house.
The Israeli settlers submitted a case to the Israeli magistrate court which ruled for the closure of the two rooms and detention of the keys. A 45 000 fine was imposed on Rifqa under the pretext of building without license and attacking Jews inside her house.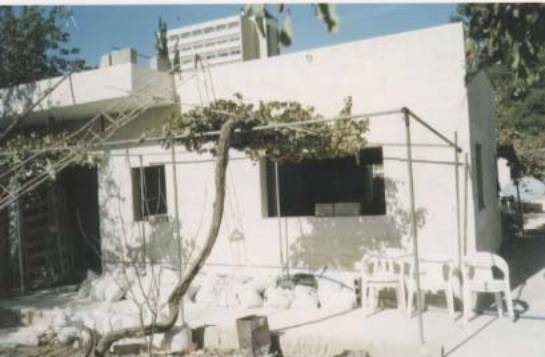 Case Study No. 4
Name of victim: Mohammed Na'im Al- Tawil.
Location: Silwan
Area in M2: 470
Date of sealing: 1.22000
No. of family members: 17, including 6 children (two families).
The Tawil family bought the two storey house in 1998 with 40 000 JD. The house was built 20 years ago. The family decided to add two rooms to the house to have more space. The Jerusalem municipality decided to demolish the whole house- the old and new parts. The owners followed the case in Israeli courts which eventually decided to destroy it. An adjacent house owned by the family of Idkeidek in which a family of 5 members was also demolished.
Later, it had become known to the families and to Land Research Center that the demolitions were carried out as part of the east ring road project which is under construction. During the demolition process, the Tawil family became under attack from the Israeli police. The mother Hanan, 48, and her daughter Muna, 18, were beaten and their clothes tiered off. The father was not present when the demolition took place. Now, he suffers from psychological problems, and a deterioration in his health status.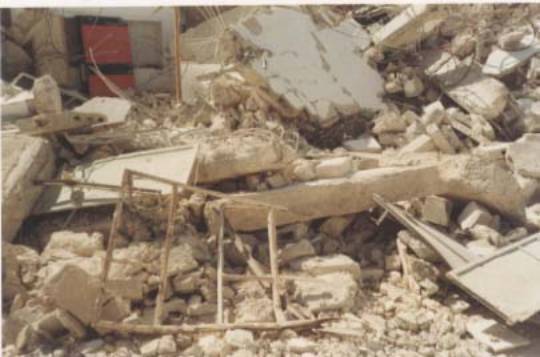 Case Study No. 5
Name of victim: Hamza Ahmad Mohammed Al- Mughrabi
Location: Al- Mukaber.
Area in M2: 260
Date of sealing: 1.2.2000
No. of family members: 10, including 7 children.
On 1.2.2000, at 08:15, Israeli border guards, police, and special task forces surrounded Jabel Al- Mukaber quarter. In a statement to the LRC field worker, Mrs. Khuduj, 33, and wife of the house owner Mr. Al- Mughrabi said: â?? We were preparing to paint the house we built four years ago. I saw from the window large numbers of Israeli forces surrounding the house. Suddenly, the Israeli soldiers forced their way through the windows and started to throw us out side. We resisted this behavior, but the soldiers went on beating us and destroying the furniture. Then two huge bulldozers approached and started to demolish the house. All family members who were present were arrested until the end of the demolition process. The two bulldozers destroyed every thing, even children toysâ??.
Mr. Khuduj went on to say:'' During the first week of 1967 occupation, I was 6 years old. Our home was destroyed in Al- Magharba quarter inside the old city. We moved to live in another house in Al- Ghuzlan quarter inside the old city, but the Israeli police came and threw the furniture and our belongings outside. All the ten family members, including my sister, Lubna, who was then 6 months old were dismissed out of the house. Now, and after 33 years the Israelis returned to demolish our home and keep us homeless for the third time in our life. The occupation is a manifestation of torture, destruction and homelessness''.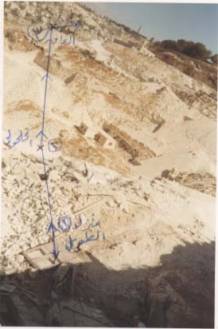 Prepared by
The Land Research Center
LRC