Israeli Occupation Forces Imposes the Separation Plan on Jenin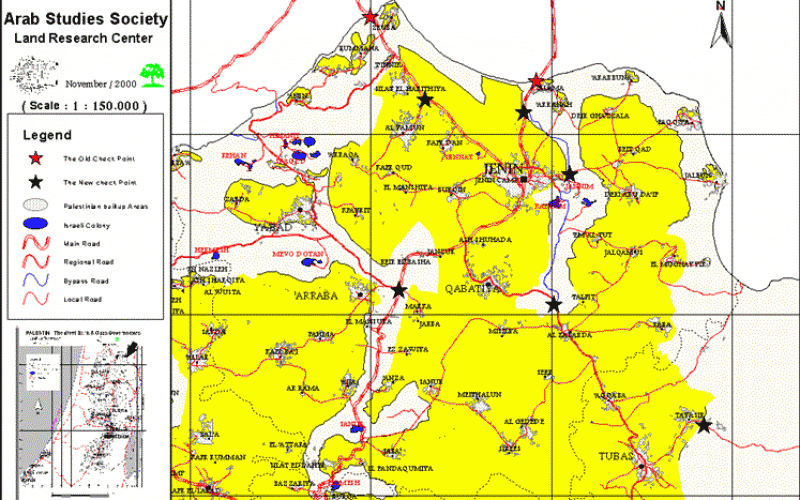 This report is the second in a series of reports that details the separation plan that Israeli forces has been quietly implementing ever since the start of the Uprising on the 29th of September 2000. The first report detailed the use of tanks, guns and airpower to isolate the city of Nablus from its neighboring villages and the isolation of the villages themselves from each other. This report will list the steps taken by Israeli forces to isolate the city of Jenin from its environs.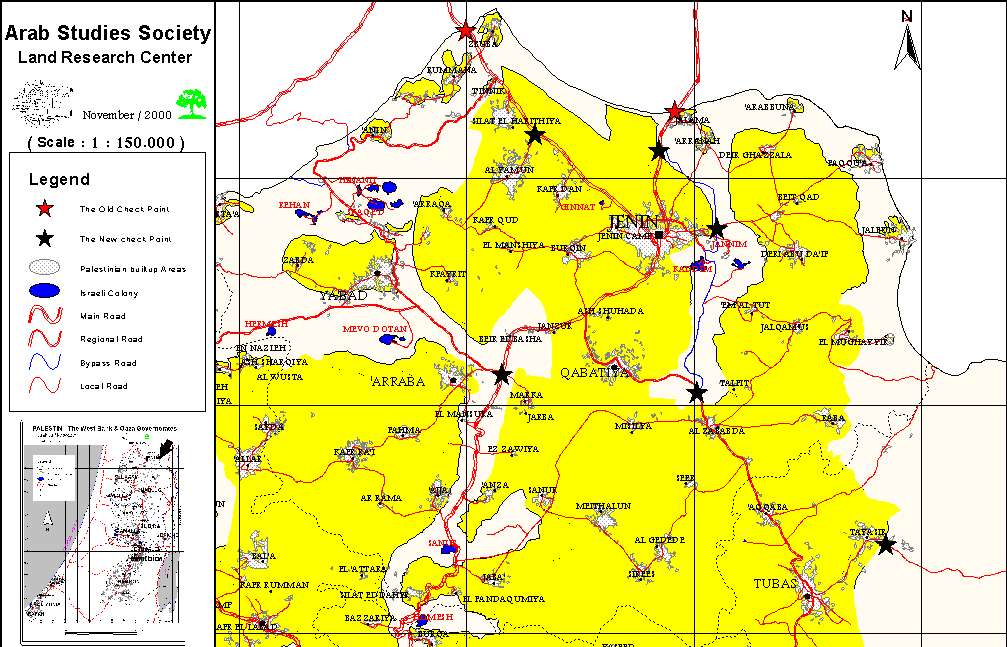 The Land Research Center (LRC)'s field team documented the following actions done by Israeli forces in the district of Jenin:
Al Jilma checkpoint has been reinforced since the beginning of the Uprising. It is considered now to be a permanent military campsite. It is located on the northern entrance of the city of Jenin on the road leading to the city of Al Afoula.
A new checkpoint was established on the road connecting between Jenin and Nazareth. It separates between the city of Jenin and the neighborhood of Sabah Al Khair.
A new permanent checkpoint was established on Haifa road at the southern entrance of the city.
The already-existent military camp at the crossroad of Jenin and the village of Salem was upgraded to be used as the departure point of tanks and other military hardware used to quill the Uprising.

The military camp established on the Jenin-Nablus road at the entrance of the village of Arraba was, and still is, used to separate the city of Jenin from each of the city of Tulkarem and the southern villages such as Ya'abad, Kufr Ra'ii and Arraba.

The Zababdah military campsite established at the entrance of the village of Al Zababdah was used to cutoff any kind of communication andor transportation between the village of Al Zababdah and the village of Qabatia. It also complements the role carried out by the checkpoint at Al Yassiddi farm, which blockades the village of Tubas from the southern direction. The Zababdah camp blockades Tubas from the western direction.

Another checkpoint was established on the entrance of the Tayaseer village, which also led to blockade of Tubas from the eastern direction. This means that Tubas is now under siege from three directions.

A military checkpoint to the east of Jenin at the Deir Abu Da'eef – Jalboun crossroad. This checkpoint separates the city of Jenin and the villages of Deir Abu Da'eef, Deir Gazala, Jalboun and Arbouna.
To be Continued..
Prepared by
The Land Research Center
LRC