Twenty Three Houses Threatened With Demolition in Hebron District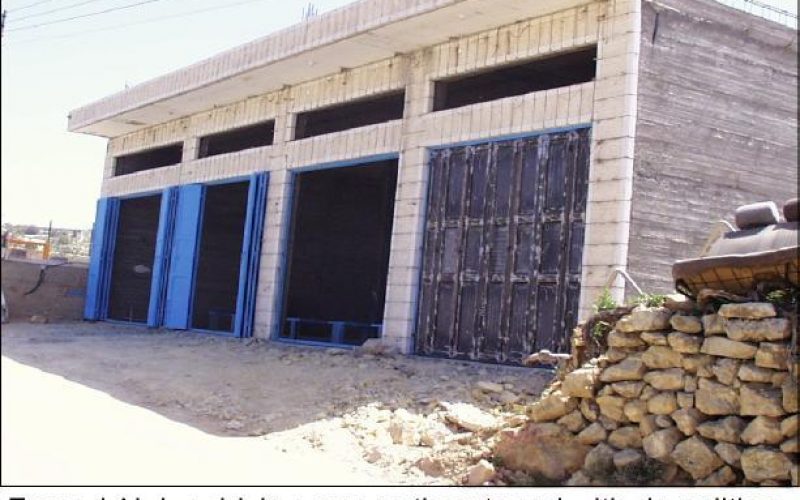 The Hebron District is located in the southernmost portion of the West Bank, 36 km south of Jerusalem City. The 1997 population census data estimated the total population of the Hebron District at 389,014; with 119,230 people, or 31% of the district, residing in Hebron City, 35% of the population living in other municipalities, 31% living in rural areas, and 3% of the population living in refugee camps.
In the last few months, 23 buildings in Hebron district got orders to halt construction and thus are threatened with demolition. The Israeli authorities sent the owners' notifications saying that their houses or buildings are not legal, so they didn't have the permission to live there or build new houses. These notifications said that they had about one month to stop building or leave their homes, then after that duration there would be a trial. However the date of sending these notification was in February and March of this year.
The owners are: Deab Alhalika, Jamal Mrayyesh, Fareed Al-Junaidi, Jehad Ismael, Ali Ibrahim, Belal Issa, Yosef Issa, Nofal Hoshia, Jebrin Hassan, Issa Ahmaro, Salem Harb, Azmi Msalam, Sliman Al Najajda, Issa Za'aqiq, Ahmad Alqawasmi, Ishaq Alqawasmi, Mohamad Ahmaro, Jehad Hamdan, Ata Abed Al-Jawad Jaber, Jamal Ibrahem Khalil Moqbil, Raed Moqbil Khalil Moqbil, Owad Faris Shoqdam, Mohamed Mosa Shoqdam.
The threatened buildings are distributed in Hebron City, Dura, Edna, Biet Ummar, Halhol, Khirbet Ed Dirat, Khirbet Karmel. The map shows some of those buildings (see map ).
In Hebron City, one of the residents was Fareed Al-Junaidi. He is a mechanic and has four garages with a total area of 210 m² (see photo). The notification is for these garages that are the only source of income for his family, which includes five persons. In that neighborhood there are two other houses threatened to be demolished. One of them is for Ahmad Alqawasmi, which is a new house consisting of two floors. Another one is for a handicap man, Jamal Mrayyesh; this one is an old house consisting of one floor. Ata Abed Al-Jawad Jaber, whose family includes six persons, received a notification to stop the building of his new house whose total area is 150 m². This is the third time that he receives such a notice. In the two previous times his house was demolished (see photo). He also has irrigation pools which were used for agriculture but they too have been demolished (see photo). Ata has had to endure all these hardships simply because his house lies about one kilometer east of Kharsina settlement (see map).
In Biet Ummar, which lies 10 kilometers north of Hebron City, four houses got notifications to halt construction. One is for Jamal Ibrahem Khalil Moqbil whose house is 108m² and his family includes four persons (see photo). The second house is for Raed Moqbil Khalil Moqbil. The area of the house is 114 m², and his family includes five persons (see photo). The third is for Awad Faris Shoqdam. His house is a meager 90m² and his family includes three persons. The fourth house is for Mohamed Mosa Shoqdam, which has a total area of 120m² and shelters five persons. All these houses lie in area C, but they also lie less than 700 meters away from the Israeli settlement of Karmei Zur. The settlement lies south of the houses and spans over 204 dunums of Beit Ummar land (see photo).
These activities by the Israeli government are in total violation of international law as well as the standing agreements between Israel and the PNA. The fact that Israel continues in its policy of depopulating Palestinian areas lying in Area C (especially those close to Jewish settlements) shows that it intends to transform the West Bank to suite its ambitions while at the same time allowing for the continuous growth of its settlements.
Prepared by:
The Applied Research Institute – Jerusalem