Military Camp Turned to a settlement in Nablus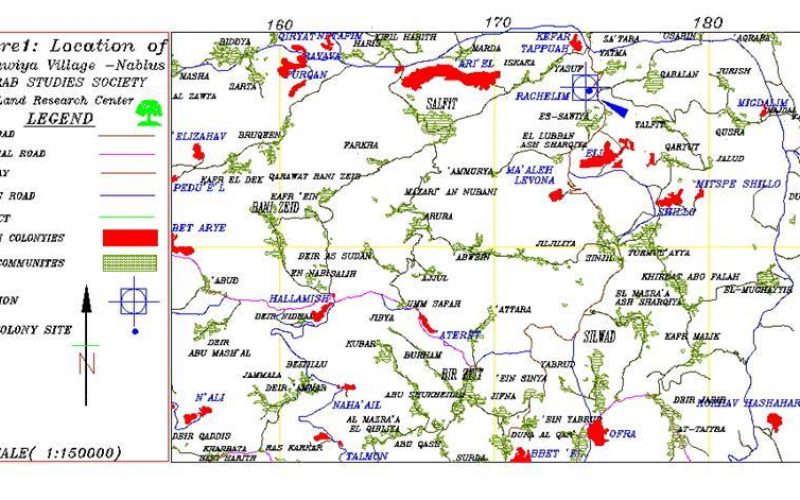 The military camp located on Al Tilmah hilltop is being transferred to become a settlement called Rahaliem. The hilltop is part of the Palestinian village EsSawiya located 20 kilometers south of Nablus city on the road linking the city to Ramallah. The total area of the village is about 30 kilometers squared (about 30,000 dunums) and there are 4,000 Palestinian villagers living there. Most of the villagers work in growing olive trees and grains.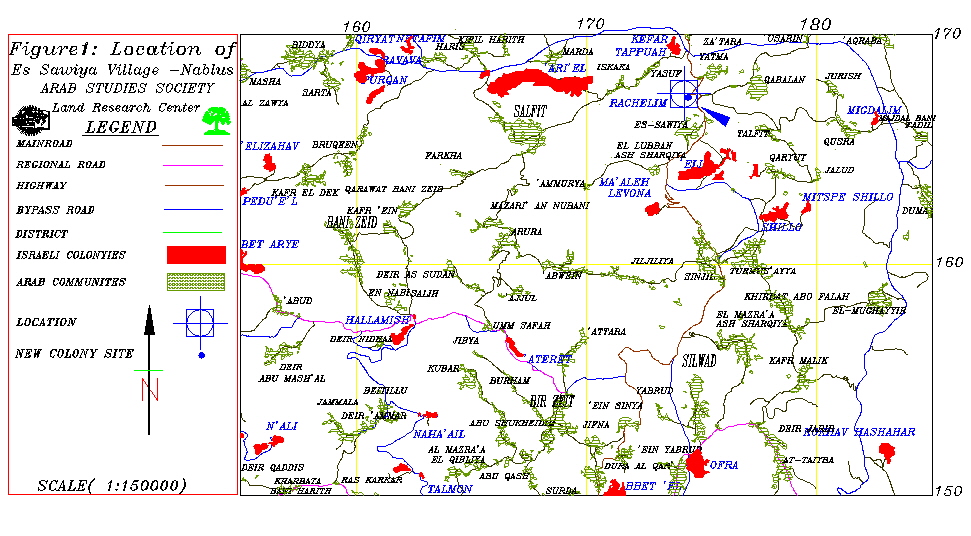 The village have witnessed over the years a series of violations; in 1984 1500 dunums were expropriated for the purpose of building the settlement of Eilie. This settlement was also expanded at the expense of land expropriated from the villages of Qaryut and Al Luban Esh Sharqiya. There are 150 housing units in the settlement in addition to 100 caravans. The population of the settlement is estimated to be 550 settler.
Presently, on 5/7/1999 construction began on a site on the hilltop of Al Tilmah to turn it from a military camp to a settlement called Rahaliem. There are 13 caravans on this new settlement and construction of 14 housing uniting is continuing unabated. The camp-turned-settlement was established on lands belonging to Mr. Fuad Mohammad Saleh, the heirs of Mr. Izzat Abdel Halim, Mr. Issa Mohammad Shaheen, the heirs of Nassar Allah Masood, Mr. Ziad Al Sayed, and Mr. Abdel Aziz Abu Hamed.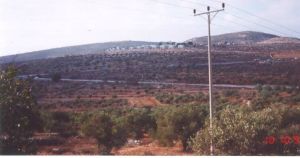 The camp-turned-settlement site on top of Al Tilmah
The military camp was established in 1992 by Isreali occupation forces on top of Al Tilmah hilltop under the pretext of safeguarding Israeli cars passing by. The camp was surrounded by barbed wires and the villagers were prevented from farming their land located near the hilltop, which led to the desertification of the land and the destruction of its trees.
The establishment of the settlement of Eilie and the subsequent violations caused the Palestinian villagers a great deal of damage and suffering. For them, the peace process is nothing but a mirage because what they suffer through in their daily lives is much more realistic than any illusions about peace.
Prepared by:
The Land Research Center
LRC