Ongoing Violation of the Wye Agreement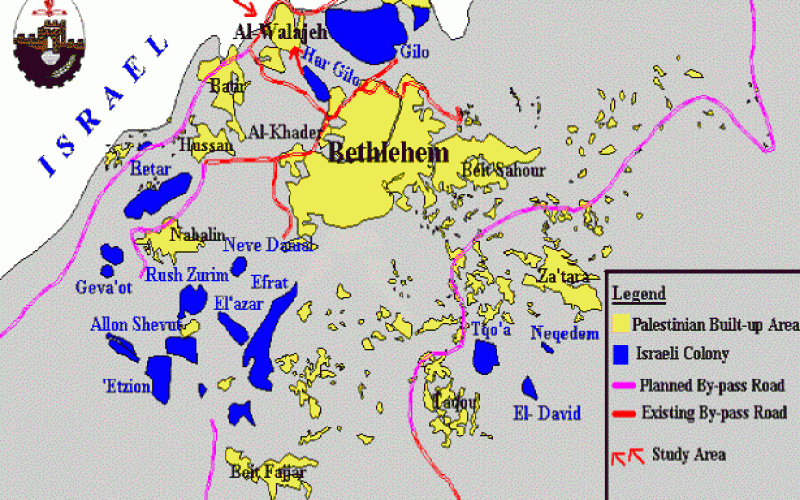 El Walajeh, a Palestinian village located 10 kilometers southeast of Jerusalem is surrounded by the Jewish colonies of Gilo and Har Gilo (Figure 1).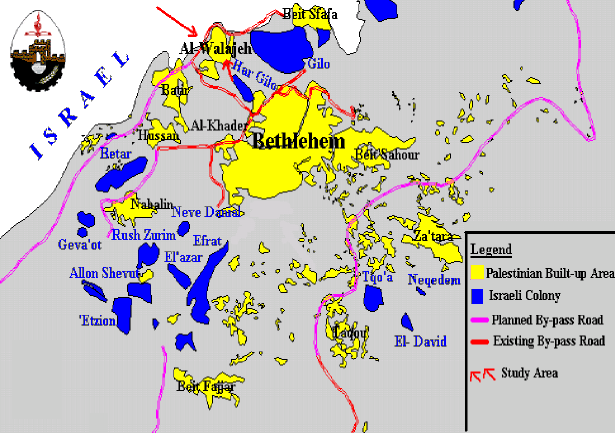 Figure 1 : Location of El Walajeh
This village has also been target for annexation by the Jerusalem municipality. The majority of the population in the village need a permit to enter Jerusalem. The municipality refused to provide the village with any services and started an evacuation campaign based on house demolition policy . On August 10, the Israeli Ministry of Interior demolished two houses belonging to Mohammad and Ahmad Khalifa, brothers from the El-Walajeh village (Figure 2), (Figure 3).
In resistance the people of El Walajeh challenged the demolition activity by continuing to build. Within one week enthusiastic workers had rebuilt the walls of the two-story structure and were preparing to roof the 170 square meter building (Figure 5) . In addition to the Khalifa house, 37 Palestinian homes have received demolition orders. The Israeli government claims that the houses were built without proper authorization.This resulted in the destitution of 12 family members (Figure 4) . Previously the Israeli police delivered a stop order on June 10 restricting the building of these houses since. The demolition order was issued two weeks later on the claim that the house had been built without a permit and on land zoned for agricultural use.
These destructive acts come in an attempt to develop an industrial zone and 400 additional housing units for the Israeli Har Gilo colony. The confrontation over demolition of the Khalifa residence is only the latest in the half-century confrontation along the 'Green Line' – the border separating Israel from the West Bank. 2,000 demolition orders are currently outstanding. The construction of more by-pass roads for Israeli colonies will continue to endanger the security of an increasing number of Palestinian families.
It is clear that the new Israeli government will follow the previous government's example of unilateralism. These inadmissible are in total violation and contradiction with the prospects of human rights.
Prepared by:
The Applied Research Institute – Jerusalem