The Geopolitical Status of Kafr 'Aqab Village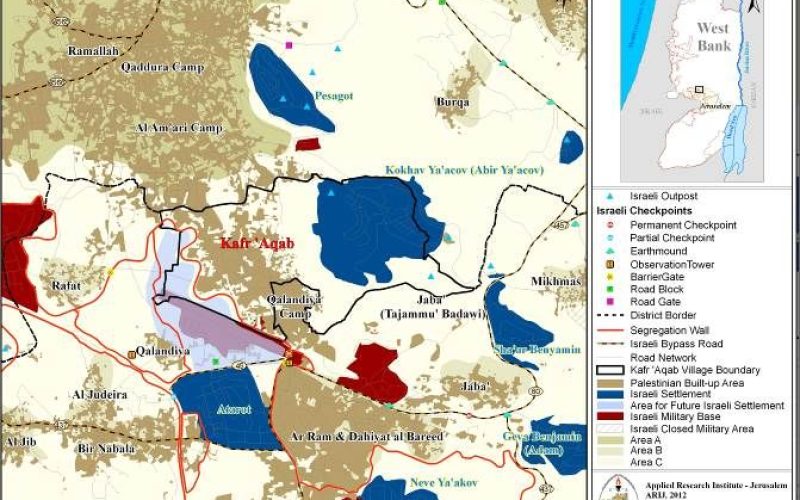 On June 28 1967, the Israeli government illegally and unilaterally annexed Jerusalem to the Israeli state and declared 'Unified Jerusalem' to be the eternal capital of Israel. When the Israeli government illegally redrew the municipal boundaries of Jerusalem (in 1967), it added vast areas of uninhabited land to Jerusalem city and excluded highly populated Palestinian neighborhoods from the city boundaries. From this point onwards, Israel embarked on a campaign to manipulate the demographic and geographical realities of the city in order to reinforce its claim to sovereignty over Jerusalem. Shortly after the occupation of the city, the Israeli government expanded East Jerusalem's municipal boundaries; increasing the city's municipal area from 6.5 km2 to 71 km2 and including areas from 28 surrounding Palestinian villages.
The Jerusalem Governorate is divided into two main regions: (J1 area) which is located inside the borders and under the control of the illegally and unilaterally expanded Jerusalem Municipality. The J1 area includes many Palestinian Jerusalemite communities such as the old city of Jerusalem (Beit Al-Maqdis), Beit Hanina, Beit Safafa, Sharafat, Al Isawiya, Jabal Al Mukkabir, As Sawahra Al Gharbiya, Shu'fat and Shu'fat Camp, Silwan and Athuri neighborhood, Sur Baher and Um Tuba, in addition to part of Kafr Aqab which amounts to 2,355 dunums of land, 35% of its total area, which is 6665[1] dunums.
Full Report, Click here
[1] SOURCE: GEO-MOLG, 2016
Prepared by:  
The Applied Research Institute – Jerusalem