Colonists Uproot Olive Trees from Citizens Lands in Qarawat Bani Hassan / Salfit Governorate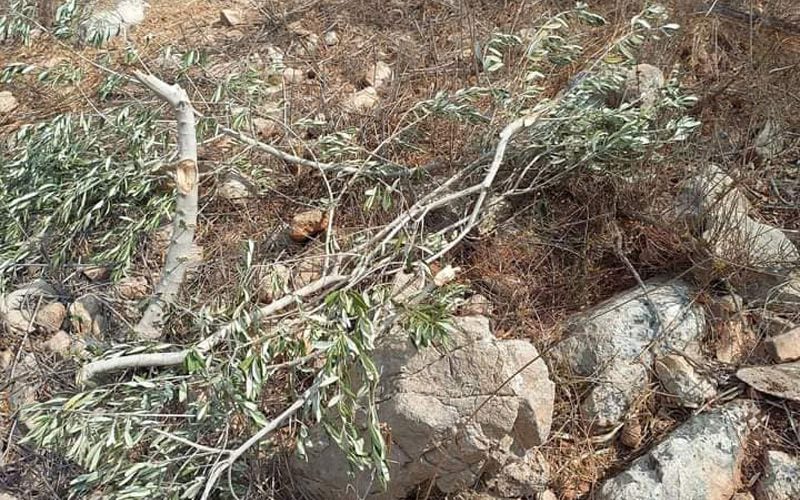 Violation: cutting and Sabotaging five olive trees.
Location: Qarawat Bani Hussan / north west Salfit city.
Date: October 10th 2022.
Perpetrators: Colonists of Hava'at Ya'er.
Victims: Family of Farmer Ahmed Mer'i.
Description:
Monday evening, October 10th 2022  , a group of fanatic colonists raided olive groves in Umm Al-Mokar area northeast Qarawat Bani Hussan , and cut down five olive trees aging nine years old , the targeted trees belong to famer Ahmed Mar'i from Qarawat Bani Hussan.
The targeted lands are 1400 m away from the town's lands, while colonists sat up their illegal colonies only few meters away from the targeted plot.
The affected farmer told LRC: We extensively suffer from colonists' assaults who walk around destroying everything , only few days ago , they were roaming the area and threating herders . they also stole sheep that belonged to farmers at the area only two  months ago, and now they are imposing more restrictions and harassments on farmers , noting that the trees produce about 35 kilos of olive oil each season."
Noteworthy, Havat Ya'er colonists especially target farmers and their farmlands , and a large number of assault were reported against farmers and their farmlands at this location.
About Qarawat Bani Husan:
The village is located 12 km northwest Salfit. Qarawat Bani Hasan is edged by Biddya village from the west, Sutra from the south ,Deir Istiya from the north and Haris from the east.  Qarawat Bani Hussan has a total population of 5513 people  (2017 PCBS census).
The village has a total area of 9,443 dunums , of which 565 dunums are a built up area.
Israeli settlements devoured (324) dunums for the following settlements:
| | | | |
| --- | --- | --- | --- |
| Settlement name | Establishment year | Area of confiscated lands | Number of settlers |
| Barkan | 1981 | 144 | 1981* |
| Kiryat Netafim | 1982 | 180 | 891* |
* Source: The Israeli Ministry of Interior – 3 January 2019
Bypass 505 devoured 129 dunums.
Oslo accords divided the land as  the following:
B area: (849) dunums.
C area : (8,594) dunums.
Prepared by
 The Land Research Center
LRC