Colonists Destroy an under-construction Pool in Beit Dajan village / Nablus governorate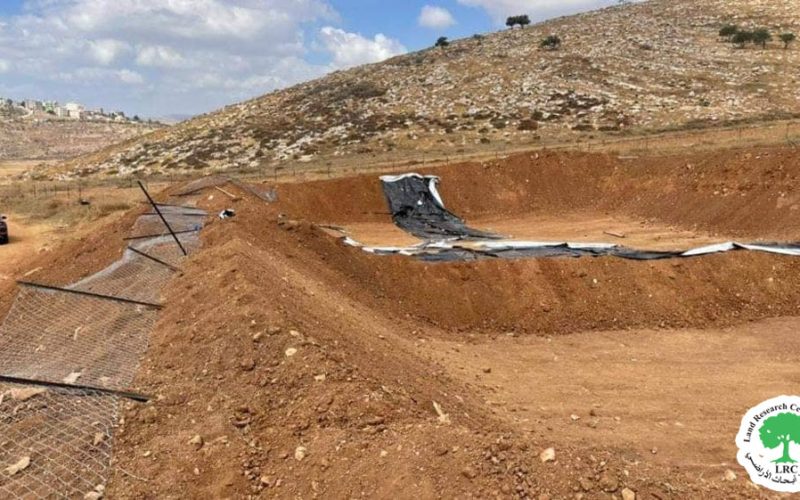 Violation: Destroying an irrigation reservoir.
Location: Beit Dajan village / Nablus Governorate.
Date: September 7th 2022.
Perpetrators: Price tag gangs.
Victims: Farmer Khalousi Mohammed.
Description:
Colonists related to the so called price tag gang carried on destroying an agricultural pool that belongs to farmer Khalousi Haj Mohammed form Beit Dajan village east Nablus , on Wednesday morning September 7th 2022 in Khallet 'Asafir area north east the village , and with a storage capacity of 600 m3.
The affected farmer Khalousi Haj Mohammed (58) told LRC :
"I was surprised when I arrived at the pool at 8:00 on Wednesday morning September 7th  2022, I found out that illegal Israeli colonists stormed the location sabotaged a pool and a siege and cut the door of a farm  ."
Illegal Colonists also stole a water pump that cost (20 thousand shekels ). We believe they came from Alon Moreh colony because it is close in location."
Noteworthy, the targeted pool provides water to 100 dunums planted with irrigated plants , and was supposed to provide irrigation water for an extended area of farmland in the future.
The affected farmer says that he lost properties worth 50 thousand Shekels during the assault , to be precise:
Cutting and sabotaging a siege (about 200 m).
Sabotaging plastic sheets (400 m2).
Destroying a metal gate (4 m).
Stealing an electric water pump (20 thousand shekel).
About Beit Dajan:[1]
Beit Dajan is located 10 km to the east of Nablus; its total area is 44100 dunums including 360 dunums of built up area inhabited by 3900 people (2010 census) in addition to 12500 dunums that are related to al-Ghoor area . A large part of the village lands were confiscated for the construction of the colony of Mehola in 1973.
Beit Dajan is surrounded by a number of villages namely (Salem, Deir al-Hatab, Talluza, Beit Furik, Ghoor el-Far'a ) and depends on grains plantation and fruitful trees such like olive, figs and almond.
[1] GIS-LRC
Prepared by
 The Land Research Center
LRC

Prepared by
 The Land Research Center
LRC