Colonists Sabotage 60 Olive Trees in Ras Karkar Village / Ramallah governorate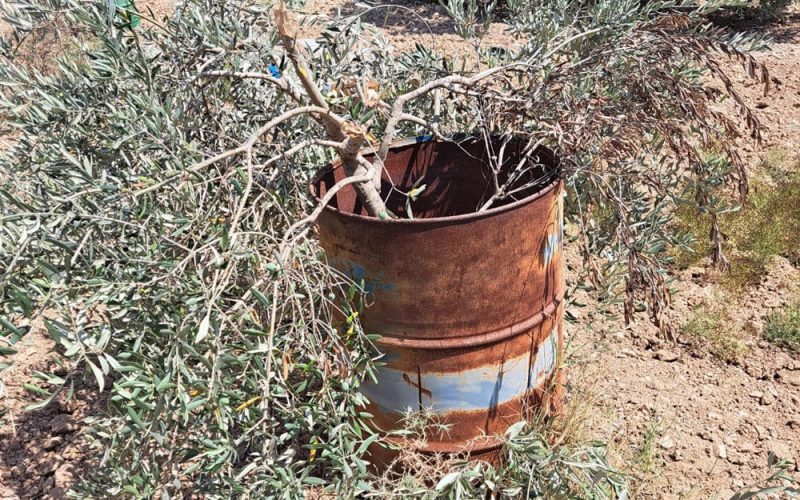 Violation: Cutting and Sabotaging 60 olive trees.
Location: Jabal Al-Maghatma – Ras Karkar Village / Ramallah and Al-Bireh governorate.
Date: August 22nd 2022.
Perpetrators: Nirya colony.
Victims: Heirs of citizen Khalid Smahan.
Description:
Colonists continue to target olive trees in Palestinian suburbs to destroy Palestinian heritage , and empty Palestinian lands and allow colonists to take over them and expand their outposts.
Monday morning, a group of colonists from Mirya colony illegally built on Ras Karkar village lands sneaked to an olive grove belongs to Heirs of Khalid Samhan in Jabal Al-Maghatma area and sabotaged 60 olive trees aging 10 years old.
The affected citizen Lutfi Samhan told LRC:
"my family owns a ten dunums plot planted with grapes and olives, in 2018 colonists sneaked into the plot and cut 70 olive trees aging 3 years old , and viciously destroyed a  water harvesting cistern . After this attack, I planted the plot with 145 olive saplings aging seven years old. Noteworthy, I support a family of 10, among them 4 females."
Jabal Al-Maghtama area has an enchanting nature and a very fertile lands as it is close to at least 9 water springs.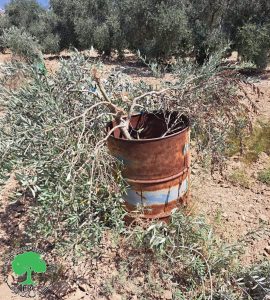 Iyad Hadad told LRC:
Beir 'Anir is a sensitive location in north Ramallah suburbs , the area is close to Israeli Illegal colonies (Talmoun , Dolev, and Nirya) . precisely , Beit 'Anir is about 1.5 away from Talmoun , and 3 km away from the village built up area .
During the past year , a large number of violations were documented, such as cutting trees, carrying out arson attacks and writing hatred inciting slogans.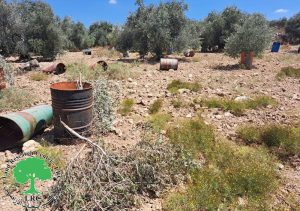 The affected farmer Lutfi Samhan told LRC the following:
"Between 2019 and 2021 , colonists attacked my plot several times , only 43 olive trees were left at my plot , I never gave up, i tried to plant more trees , but the occupation forces prohibit me from accessing my own plot."
Ras Karkar:[1]
15 kilometers north west of Ramallah, Ras Karkar is about 500 m above sea level, and has a total area of 5,050 dunums, of which 330 dunums are a built-up area.
Ras Karkar is surrounded by Deir 'Ammar (north), Kafr Ni'ma and Deir Ibziq (south), Al Jania (east), Bani Harth (west).
Ras Karkar has a population of 1956 people according to statistics conducted by the Palestinian Central Bureau of Statistics in 2017.
The Israeli occupation devoured more than 32 dunums of the lands of the village for Talmon C colony which was built in 1989. Moreover, bypass number '463 took over 295 dunums of the village lands.
According to Oslo Accords, 19% of Ras Karkar is under Area B (PA has full civil and security control) while most of the village lands (81%) is under Area C (Israel maintains full security and administrative control). Here is the area in dunums:
Area B (940) dunums
Area C (4110) dunums
[1] GIS-LRC
Prepared by
 The Land Research Center
LRC