Settlers destroy 13 olive trees in the town of Turmusaya, in Ramallah Governorate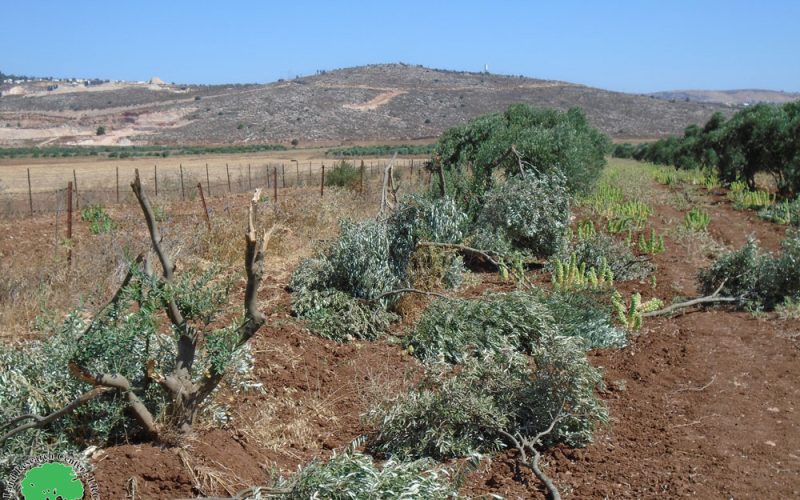 Violation: Totally and partially damaging fruitful olive trees.
Location: Turmusaya town / Ramallah and Al-Bireh governorate.
Violation date: 22/07/2022 AD.
The perpetrator: the existing colonial outpost in the Al- Muraba'a area.
Affected party: Mr. Ayman Rashid Hizma, Mr. Rebhi Salama Hizma and Mr. Sa'id Shukri Zaatar.
Violation details:
On Friday morning, July 22, 2022 AD, an extremist group from the random colonial outpost in the Al-Muraba'a area in the town of Turmusaya destroyed 13 fruitful olive trees aged 15 years in a plot of agricultural land located in the vicinity of the above mentioned colonial outpost. The settlers used saws to cut the trees' stems and branches which led to total and/or partial damage.
Mr. Lafi Adib Shalabi, the mayor of Turmusaya, told the Land Research Center researcher the following:
"We have been facing an organized crime by the Israeli occupation through its gangs of settlers who continuously attack our land and property, particularly olive trees in the areas of Al-Sahel, Al-Muraba'a and Al-Dhahrat. These attacks include burning and/or cutting trees to the extent that it has become unbearable and catastrophic in the midst of the ongoing struggle over land and the colonists' attempts to establish more random outposts".  
Table 1: tree destruction by owner's name, No. family members and No. of trees:
| | | |
| --- | --- | --- |
| Owner's name | No. fam. members | No. of destroyed trees |
| Ayman Rashid Hizma | 5 | 4 |
| Earn Safety Hizma | 9 | 3 |
| Sa'id Shukri Zaatar | 7 | 6 |
| Total | 21 | 13 |
It is noteworthy that the plain of Turmusaya has been repeatedly attacked by settlers. Most of these attacks focused on cutting and destroying dozens of olive groves, in addition to vandalizing an existing park there by destroying its interior contents as well as burning a number of Palestinian vehicles and Pieces of farmland.
Prepared by
 The Land Research Center
LRC