The settlers of "Givat Haroa'a" uproot olive saplings from the lands of the town of Singil in the Ramallah and Al-Bireh governorate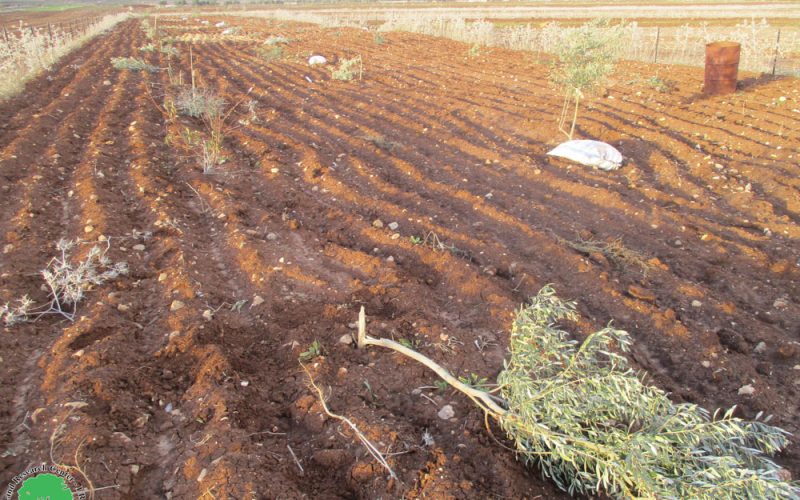 Violation: cutting and vandalizing 26 olive saplings.
Location: Sinjil Town, Ramallah and Al-Bireh Governorate.
Violation date: 05/05/2022 AD.
The perpetrator: the settlers of "Givat Haroa'a".
Affected party: farmer Mustafa Ahmed Shabana.
The violation details:
On the evening of Thursday, May 5, 2022, a group of Israeli settlers raided the lands of Ras Al-Aqaba area in the town of Sinjel, adjacent to the settlement of Givat Harwa'a cutting and vandalizing 26 olive saplings at the age of three years.
The affected farmer, Mr. Ahmed Shabana told LRC's field researcher the following:
"Several years ago, the settlers tried to take control of my four dunums piece of land by raiding it more than once. Each time, the occupation army used to drive them out because of my constant insistence on being there and taking care of my land whose I inherited from my deceased father. My land is only 160 m away from the fence of the settlement of "Givat Haroa'a. Four years ago the settlers cut 32 olive saplings from my land. In the same year I planted new seedlings to replace the ones that were cut off and I continued to nurture them until the settlers came back and cut them down again".
Based on the LRC's field monitoring, the town of Sinjil, especially the northern side of it, is witnessing a wave of violent attacks by settlers to seize the town's lands, due to the presence of random settlement outposts in the area and the continuous attempts of their residents to bulldoze Palestinian lands and cultivate them under the protection of the occupation army.