In a dangerous precedent, Settlers Demolish an Agricultural Service Room in Masafer Yata-Hebron governorate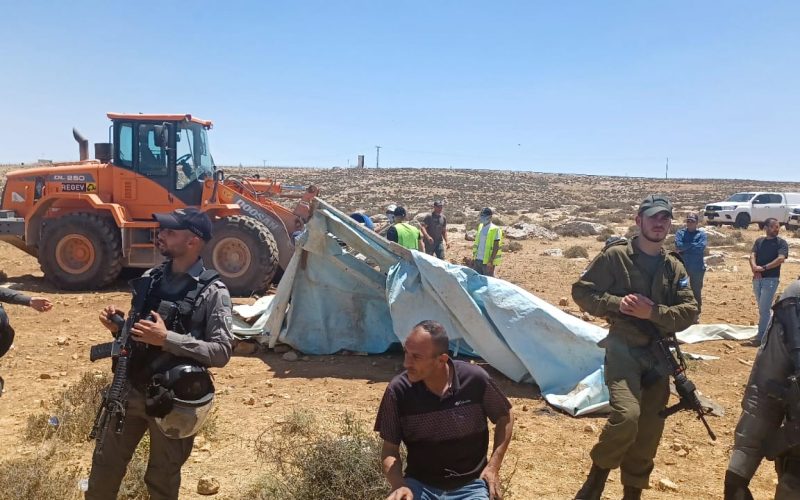 Violation: demolition of an agricultural services room.
Date: May 31st  2022 AD.
Location: Al-Jawaya village – Masafer Yatta -Hebron Governorate.
Perpetrators: the Israeli illegal colonists.
Victims: citizen Mahmoud Idais Al-Sawi.
Description:
The citizen Mahmoud Idais Al-Sawi reported that Israeli colonists demolished a room he owned in the early hours of Tuesday, May 31th 2022 AD, in the "Al Marada" area near Al-Jawaya village, east of Yatta town, Hebron governorate.
Al-Sawi pointed out that the room was built of bricks and reinforced concrete, with an area of 20 m2, and he was planning to get it roofed soon.  Mr. Alsawi wanted to live in the room with his family after the occupation authorities had demolished and confiscated his agricultural residence and the livestock barn in the same location on May 24th  2022.
Pictures 1-4: Ruins of the demolished room in the aftermath of the settlers' aggression.
The affected citizen explained that he left his land at night, and returned to it in the next morning and found the room completely destroyed. He stressed that the settlers residing in the outpost near the settlement of Ma'on are the ones who committed this sabotage act after receiving many threats and harassment from them. The outpost and the settlement of Ma'on are located near the village of Al-Jawaya, where Al-Sawi resides.
Al-Sawi went on to say that he did not receive any notices or orders from the occupation authorities to demolish the room, just as happened in the first demolition on May 24.
Photos of the demolition of the residence and barn on May 24th 2022
It should be noted that the settlers residing in this outpost own a herd of livestock, and they graze it on the citizens' lands in the "Al-Ain Al-Bayda" and "Al-Martabah" areas, where their sheep come on the citizens' crops and cause destruction there.  In addition,  the occupation army which provides protection for the settlers, chases after Palestinian Shepherds to prevent them from accessing their lands to make it possible for the settlers' herds  to graze crops on citizens' lands.
Note: The attached photos were taken by the affected citizen and activists in the area
A dangerous precedent:
The aforementioned demolition is the first of its kind. The question here is how to allow the settlers to take the Israeli arbitrary laws against Palestinians into their own hands and carry out the demolition of a room built of concrete and owned by a Palestinian? Will the perpetrators be punished for their action? Or has everything become permissible if it is directed against the Palestinian citizens and their properties regardless of whether the perpetrator of the attack was an official or unofficial entity affiliated to the Israeli occupation?