Halt of Work Notice for an Agricultural Room in the village of Shuyukh Al Arrub- Hebron governorate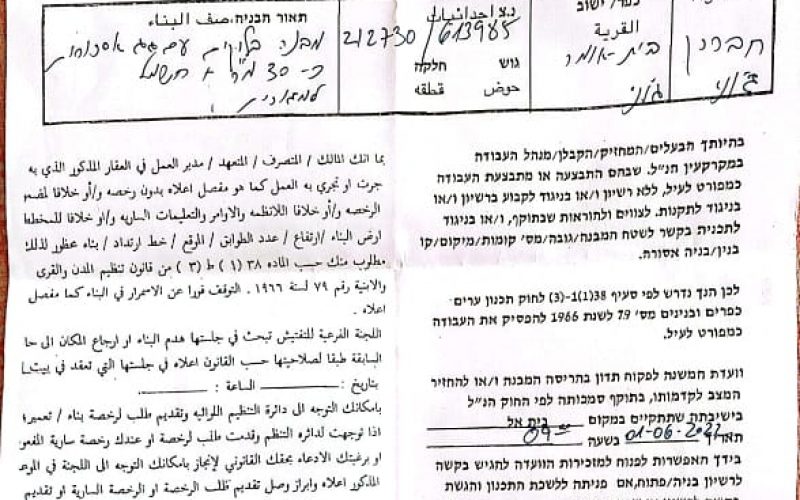 Violation: Halt of work notice.
Date: May 18th 2022.
Location: Shuyukh Al Arrub -Hebron Governorate.
perpetrator: the so-called Israeli civil administration at the occupation.
Victims: Citizen Ihab El-Titi.
Description:
On Wednesday, May 18th  2022, the Israeli occupation authorities served a halt of work notice for an agricultural room belongs to  Mr. Ihab Ahmed Musa Al-Titi, under the pretext of building without a license in the village of Ash-Shuyukh Al Arrub north east Hebron.
The affected citizen who is 40 years old stated that he had found a halt of work notice hanged on the wall of the target room which was constructed a year ago out of bricks and roofed with insulated tin panels with an area of 20 m2.
Mr. Al-Titi indicated that he had got the room built on a plot of land that he owns for as a resting place and for storing hand tools and agricultural equipment.
The halt of work notice is numbered 30888, in which the occupation authorities asked the owner to "immediately stop" the construction work under the pretext of starting it without licensing as the concerned building is located in area C. The notice sat June 1st  as the date for holding a session of the so-called Inspection Subcommittee to discuss what is called "the demolition of the building or returning the place to its previous state."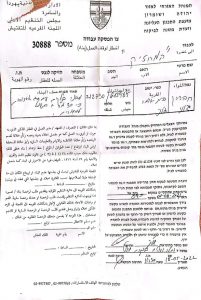 Halt of Work notice No.30888 targeting a room belongs to At-Titi
Mr. Al-Titi supports a family of 6, including 4 children, and works as a lawyer. He got this room built on his one dunum plot of land and got it connected to the electric current.
It should be noted here that the occupation authorities do not grant the required licenses for Palestinian construction in Area C, despite the citizens' submission of these requests, and they invoke flimsy pretexts to reject these requests in order to keep the areas free from Palestinian construction.