"Adi Aad" settlers cut olive plantations in the town of Turmus'ayya, Ramallah Governorate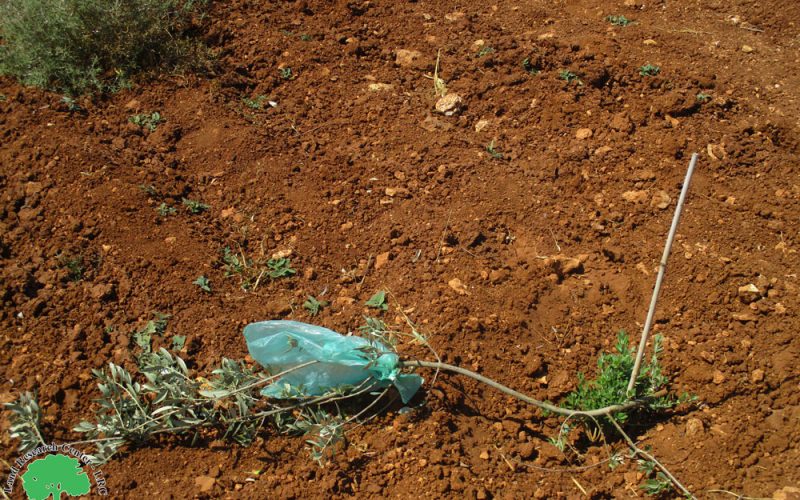 Violation: cutting and vandalizing 380 olive groves.
Location: Al-Dhahrat area – Turmus'ayya / Ramallah and Al-Bireh.
Violation date: May 14, 2022.
Violator: "Adi Aad" settlement.
Affected party: Farmers: Riad Ahmed Ibrahim Jbara, Mohammed Saadeh Rabie Jbara.
Violation details:
On Saturday evening, May 14, 2022, a group of settlers from the settlement of "Adi Aad" raided the "Dhahrat" area, to the north of the town of Turmus'ayya, and cut off 380 two-year-old olive plantations, which led to their complete destruction.
The land is owned by the two farmers: Riyad Ahmed Ibrahim Jbara and Mohammed Saadeh Rabie Jbara, residents of the town of Turmus'ayya. The two farmers own one plot of 12 dunums in partnership, 400 meters to the east of those lands subject to the activities of racial expansion and which were seized in favor of expanding the influence of the "Adi Aad" colony, which is located on the town's lands.
The affected farmer, Mohammed Saadeh Jbara, told the field researcher of the Land Research Center:
"In March of this year 2022, we planted the land we own with 380 olive plants because the settlers destroyed all the plants last year 2021, This is the fifth attack on the same plot of land in the past years, and we have submitted a complaint to the occupation police, but the occupation is not taking any new step to restraint the settlers' attacks".
It is noteworthy that during the last few years, the field researcher monitored the implementation of dozens of attacks against the lands and the olive trees in the areas of Dhahrat, Al-Murabba', Al-Sidr and other areas in the town of Turmus'ayya, which is located in the vicinity of "Adi Aad" settlement and the newly established "Amanhai" settlement, in addition to the random outposts surrounding them. Despite the complaints submitted to the occupation police, the occupation treats the matter with mockery and procrastination. Rather, it gives the settlers the green light to carry out more of such attacks, the goal is to evacuate the lands to be a focus of the distribution of informal outposts and settlements in the area.
 About Turmus'ayya[1]
 It is located 25 km to the north east of Ramallah city. It has a population of 3736 people (according to a 2007 census). Its total area is 18139 dunums, 1350 of which are built-up area. About 11218 dunums of land are under Area B (PA is in charge of civil matters with Israel responsible for security) and 6921 dunums are under Area C (Israel maintains full security and administrative control).
The Israeli occupation confiscated vast areas of the village for the benefit of the following colonies:
Shilo and Mizpe Rahel devoured 1023 dunums
Mizpe Rahel devoured 706 dunums
The bypass road number 60 stole 12.5 dunums
[1]  GIS-LRC