Establishing a new outpost on Kufur Qaddoum lands / Qalqilya governorate
Violation: Establishing a new outpost.
Location: Kufur Qaddoum town / East Qalqilya city.
Date: April 4th 2022.
Perpetrators: Illegal Colonists of Qedumim.
Victims: A number of farmers from the village.
Description:
The Israeli Occupation continues stealing Palestinian lands for the favor of colonization. One of their main policies is to take over hill tops opens the door to overview and confiscate large areas of lands.
Monday morning, April 4th 2022 , a group of colonists established an outpost to the east from Mohammed mountain, east Kufur Qaddoum village , on lands that belong to Palestinian farmers from the town.                                                                                
The outpost is covers an area of 7 dunums of agricultural lands , and contains 3 caravans and two barns installed on a plot that have been leveled recently.
The outpost forms a bridge between the illegal israeli colonies and outposts at the area, which means taking over vast areas that exceed 150 dunums and belong to farmers from the town .
The Israeli Occupation under the radical right government is imposing control over every hill or mountain top on area C , in order to facilitate control over more lands , legalize more Israeli random outposts , and close vast areas of arable lands.
About Kafr Qadoum: [1]
25 km to the east of Qalqilya , Kafr Qaddoum is surrounded by Beit Lid (north), Al-Kafriyat and Hajeh (west), Jit and Qousin (East) and Immatin and Hajeh (south) , Kafr Qaddoum has a population of (3280) people until 2017 census.
Kafr Qadoum has a total area of 18,783 dunums , of which 456 dunums are a built up area.
Israeli settlements ate up (2149) dunums , for the following:
| | | | | |
| --- | --- | --- | --- | --- |
| Settlement name | Establishment year | Area in dunums | Number of settlers in 2018 | Location of the settlement to KAfr Qadoum |
| Geva'at Hamamarkiz | NA | 572 | NA | The whole settlement is on Kafr Qadoum lands |
| Git | NA | 248 | NA | The whole settlement is on Kafr Qadoum lands |
| Kidumim | 1975 | 1,006 | 4,832 | The whole settlement is on Kafr Qadoum lands |
| Tzufin | 1982 | 323 | NA |   |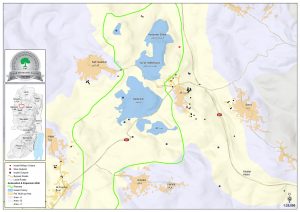 2- bypass roads 60 and 55 of Kafr Qadoum devoured 459 dunums.
3- The Israeli occupation has a plan to build an apartheid wall on the village lands, in case the plan was implemented , the wall will be (7,344) m , it will devour (734) dunums under its route  , and isolate (7,134) dunums,.
Oslo accords divided the town's lands as the following:
B area (8,385) dunums.
C area (10,398) dunums.
[1] GIS-LRC
Prepared by
 The Land Research Center
LRC