Demolition notices for under construction facilities in Al-Khader town / Bethlehem Governorate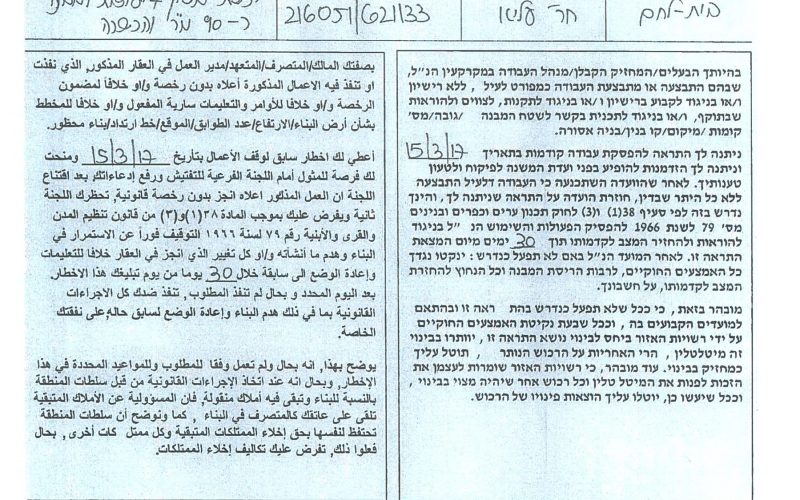 Violation: Threat notice to under construction facilities.
Location: Umm Ar-Rukba – Al-Khader town / Bethlehem governorate.
Date: April 6th 2022.
Perpetrators: The Israeli Civil Administration.
Victims: Citizen Khalid As-Seir.
Description:
Wednesday April 6th 2022 The Israeli Occupation Authorities and Civil Administration raided Al-Khader town and headed to Umm Ar-Rukba area, and served a final demolition order for construction foundations and a Baton floor, on the pretext of building without a license.
The owner received a preceding notice in March 15th 2017, on the pretext of working without a license, which ordered returning the plot to its previous status within 30 days after receiving notice.
The following table shows more information about the attack:
Citizens

Family members

children

females

Notices numbers

About the facility

Area m2

Khalid As-Sear

7

2

5

Baton floor + foundations for a building and repairing a land.

90

Foundations for an inhabited building and rehabilitating a land.

90
Noteworthy , the Israeli occupation built "Giva'at Hadaga" colony on confiscated lands from Al-Khader and Irtas village lands where they suffer from everyday colonists' assaults.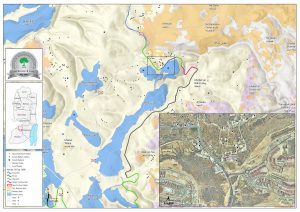 Citizen Iyad 'Issa , Milad office member in Al-Khader municipality said that : "Umm Ar-Rukba area witnesses  daily colonists' assaults , the occupation also confiscates vast areas of lands to expand "Giva'at Hadagan" colony and in many cases they walk towards Solomons pools to harass Palestinians living at the area."
Al Khader:[1]
Located 4 kilometer west of Bethlehem, Al Khadr village is surrounded by Beit Jala and Battir (north), Husan and Nahhalin (west), Ad Doha, Wadi Rahall, and Beit Jala (east), Wadi An Nais (south).
Al Khadr has a population of 9774 according to statistics conducted in 2007. It has a total area of 8279 dunums, 184 of which are built-up area.
The Israeli occupation confiscated 29 dunums of Al Khadr lands for Efrat and Daniel colonies. Efrat was built in 1979 and devoured 5.8 dunums of Al Khadr. It is inhabited by 7037 colonists. Daniel was built in 1982 and confiscated 23 dunums. 1073 colonists live in the colony.
Bypasses number 60 and 375 devoured more than 487 dunums. Not to mention the Apartheid Wall that destroyed 280 dunums and isolated 5638 dunums of the village. The Wall in Al Khadr is 2805 meters long.
According to Oslo Accords, 10% of Al Khadr is under Area A (PA has full civil and security control) while 6% is under Area B (PA is in charge of civil matters with Israel responsible for security). However, most of the village lands (84%) is under Area C (Israel maintains full security and administrative control). Here are the area in dunums:
Area A (808) dunums.
Area B (475) dunums.
Area C (6996) dunums.
About Al-Khader village:
Al-Khader village is located 4 km from the western side of Bethlehem, it is bordered by Beit Jala and Batir from the north, Hussan and Nahaleen villages from the west, Aldoha, Wadi Rahhal, Beit Jala villages from the east, and Wadi Al-Nees from the south. Its population is 11960 people in 2017. Its gross area is 8,279 donums; 184 of them are the construction area.
The Israeli colonies have despoils 29 donums from the village's lands; two are colonies existed upon a part of the lands. The first one " Efrat" was constructed in 1979 A.D; they have usurped 5.8 donums, and its population 7037 colonists. The second one " Nafy Danial" eas constructed on 1982A.D; they have usurped 23 donums, and its population is 1073 colonists. A part of which is established upon the village's lands.
The bypass roads number 60 and 375 also despoiled more than 487 donums. In addition to establishing the apartheid upon its lands which causes the demolishing of 280 donums and isolating of 5638 donums behind it. The length of this apartheid existing upon the village's land is 2,805 meters.
The village's lands are classified in accordance with Oslo concord into areas( A,B ,C). Area A composes 10% , Area B 6%, Area C is the greatest area and it is under the total occupation domination, and it composes 84% from the total area. The areas are clarified in donums as following:
Area A (808) donums
AreaB (475) donums
Area C(6,996) donums
[1] GIS-LRC
Prepared by
 The Land Research Center
LRC