The Occupation Imposes Additional closures on Az-Zawiya / Salfit Governorate
Violation: The Occupation issued a military notice to impose additional closures on Az-Zawiya.
Location: Az-Zawiya- west Salfit governorate.
Date: March 6th 2022.
Perpetrator: The Israeli Occupation.
Victims: A number of farmers in Az-Zawiya town.
Description:
Sunday, March 6th 2022, The Israeli west bank army commander declared that the occupation is to change the statue que on Az-Zawiya gate on the Annexation and expansion wall into a gate that only opens in certain seasons (noting that the gate used to be open for a few hours every day) , the occupation claims that this decision was taken for security purposes.
A large number of farmers used to pass through the gate everyday to their lands isolated behind the annexation and expansion wall in an area known as Sersia (about 900 dunums planted with olives and figs).
Farmer 'Azmi Shaqeer from Az-Zawiya: "This decision is a part of the occupation's policies to cut the connection between Palestinian farmers and their farmlands ,  and keep the lands as a reserve for future colonialist projects , especially those related to Elkana colony".
During the past two years , the occupation is intentionally imposing unjustified closures on Az-Zawiya gate , through closing the gate for days, or opening it for a very short period of time, not to mention the arson attacks by illegal Israeli colonists on farmlands behind the wall.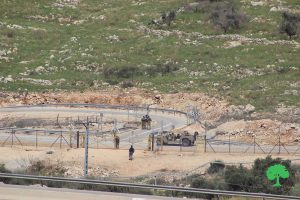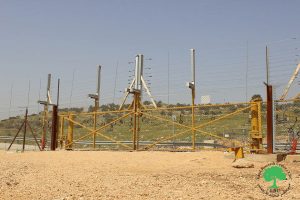 About Az Zawiya:[1]
 Located 17 kilometer west of Salfit and adjacent to the Green Line, Az Zawiya has a population of 5230 people according to statistics conducted in 2017. 81% of the population depend on agriculture and sheep grazing while the rest work in governmental jobs or private sector projects. Az Zawiya has a total area of 12,000 dunums, 693 of which are a built-up area of the town. Most agricultural lands in Az Zawiya are planted with olive, figs, and cactus.The Israeli occupation confiscated 1747 dunums of Az Zawiya lands for colonies and the Apartheid Wall as the following:
Two colonies are built on Az Zawiya lands. The first is Mazor Atiqa which was built in 1986 and confiscated 573 dunums. The other is Elkana which was built in 1977 and confiscated 57 dunums. Elkana is inhabited by 3050 colonists.
Bypass road number 5 and it devoured 520 dunums of Az Zawiya lands
The Apartheid Wall which destroyed 579 and isolated 4228 dunums
[1] GIS-LRC
Prepared by
 The Land Research Center
LRC