Illegal Colonists Rehabilitate a Road that leads to Al-Mattan outpost / Qalqilya Governorate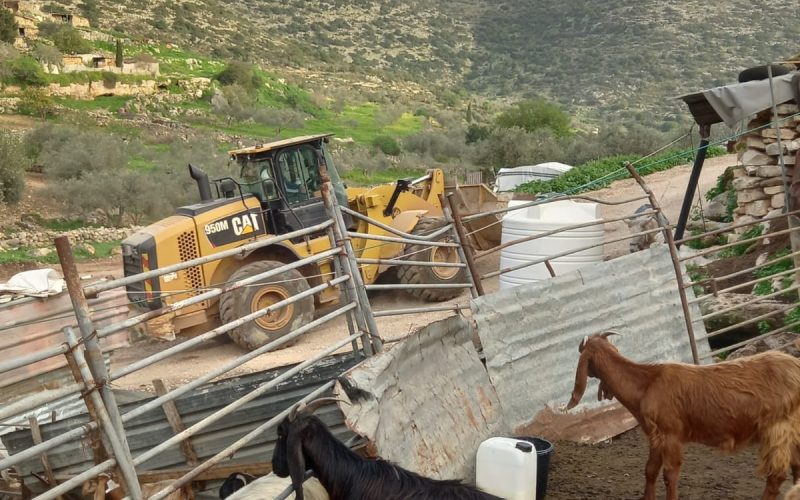 Violation: Rehabilitating a road used by colonists.
Location: 'Arab Al-Khawali area – East Kufur Thulth / Qalqilya governorate.
Date: March 8th 2022.
Perpetrators: Al-Mattan colony.
Victims: A number of farmers from the area.
Description:
Tuesday, March 8th 2022 , a group of colonists carried on rehabilitating a road that leads to Al-Mattan outpost illegally built on Kufur Thulth lands , about 2 km long , the rehabilitation works included installing channels and placing basecourse.
Three years ago, colonists opened a colonial road to create a geographical link between Karnei Shamron colonial cluster , which includes Al-Mattan outpost , this is step was a part of the Israeli plan to take over vast areas of lands and Judaize the area.
Noteworthy, the Shamron colonies council announced a new scheme that targets vast areas of lands in Qalqilya, the plane include establishing a Regional council that organizes colonial construction at the area , and impose control over hundreds of dunums in Qalqilya and Salfit.
This road goes nearby Arab Al-Khawali community , the occupation authorities to open the road will restrict construction of new residences , which is a basic human right for people of the community.
Illegal Israeli Colonists working at the road
'Arab Al-Khawali:
'Arab Al-Khawali community is inhabited by 150 people in 17 families living at Al-'Oyoun area southeast Kafr Thulth town because of its location nearby Karnei Shamron colony . People of the area practice a simple life living in mud and steal sheets houses under continuous colonists' assaults, the families' roots go back to Kafar Qare'a area at the occupied territories, where they were forcedly displaced in 1948.