Cutting and Sabotaging 10 olive trees northeast Yasouf / Salfit Governorate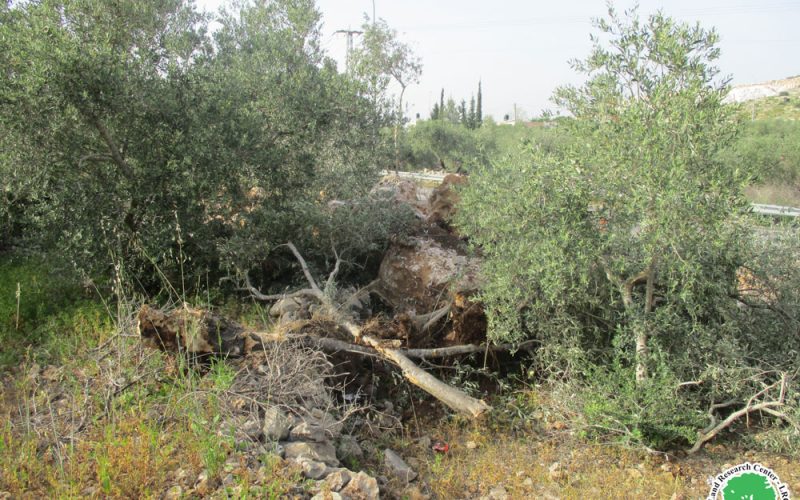 Violation: Cutting and Sabotaging 10 olive trees.
Location: Yasouf village / northeast Salfit.
Date: March 8th 2022.
Perpetrators: "Tippuah" colony on the town's lands.
Victims: Farmer Nitham Abdul Razeq.
Description:
In the evening of Tuesday March 8th 2022, a group of colonists targeted a plot with a total area of four dunums In An-Nasba area northeast Yasouf village, and targeted 10 olive trees aging 15 years old , through breaking its branches and causing partial damages to the trees , that belong to farmer Nitham Abdul Raziq (56) years from Yasouf village , who supports a family of 6 , among them 4 children.
The targeted location is 200 m away from Tipuah colony, according to filed observation, the location was targeted several times by illegal colonists, which caused several damages to the targeted location represented in cutting trees and attacking farmers Noteworthy, there is obviously an Israeli scheme to take over the area and Annex it to Tipuah borders.
Yasouf village was targeted by a number of violations related to agriculture , most attacks target olive trees, over 150 olive trees and saplings were damaged.
Despite filing complaints through the Palestinian Liaison officer, the Israeli occupation police did not open any serious investigations on this regard.
Yasouf:[1]
It is 16km south of Nablus. Yasuf is surrounded by Huwara and Jamma'in (north), Marda (west), Yatma (east), and Iskaka (south).
Yasouf is inhabited by 2093 people (according to 2017 census). It has a total area of 6037 dunums, 330 of which are built-up area of the village. 
The Israeli occupation confiscated 814 dunums for these two colonies: Kfar Tapuah colony which was built on Yasuf lands in 1978. The colony is inhabited by 523 colonists and Rachelim- Shvut that was built in 1991 and devoured 10 dunums.
Besides, the bypass road number 508 confiscated more than 155 dunums of the village lands.
According to Oslo Accords, only 1427 dunums of Yasuf lands are under Area B (PA is in charge of civil matters with Israel responsible for security) while most of Yasouf is under Area C (Israel maintains full security and administrative control). About of 4609 dunums of Yasuf is in area C.
Legal Feedback:
Confiscating Palestinian properties for colonization is a violation of international conventions and agreements related to protection of land and natural resources:
 International convent on Civil and Political Rights , art 1 , 2
All peoples may, for their own ends, freely dispose of their natural wealth and resources without prejudice to any obligations arising out of international economic co-operation, based upon the principle of mutual benefit, and international law. In no case may a people be deprived of its own means of subsistence.
[1] GIS-LRC