"Bruchin" Colonists Cut Tens of Olive Trees in Kafr Ad-Dik / Salfit Governorate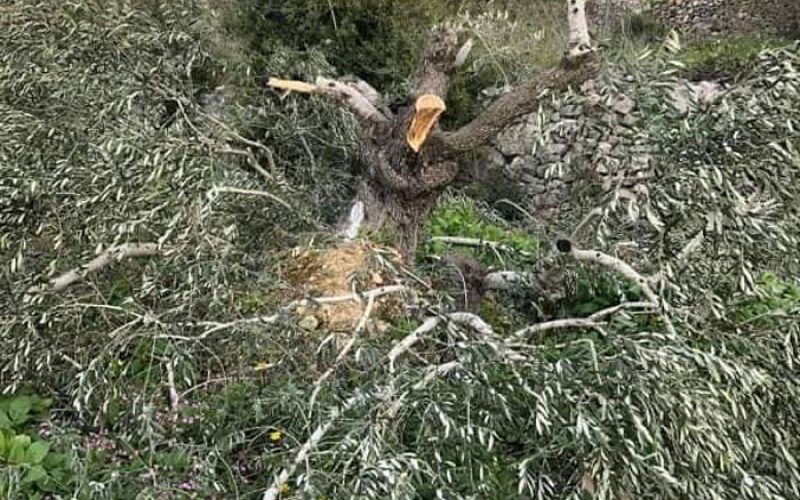 Violation: cutting and sabotaging 110 olive trees.
Location: Kafr Ad-Dik town / West Salfit.
Date: March 15th 2022.
Perpetrators: Colonists of "Bruchin".
Victims: A number of farmers' families.
Description:         
Tuesday, March 15th 2022, a group of Bruchin colonists cut and sabotaged 60 years old olive trees belong to heirs of Ismael and Mohammed Younis in Kafr Ad-Dik west Salfit.
One of the affected , citizen Nasr Ahmed told LRC:
"Trees that were growing for tens of years were cut on a blink of an eye, colonists cut and sabotaged 60 aging years old , aging about than 100 years, in Smoka area north the town , they already cut 10 trees at the area before."
The Olive grove only 600 m west the colony, had already witnessed several colonists assaults, noting that the occupation army closed the area several times, to conduct military trainings.
On another olive grove, only 150 m away from the first spot , Bruchin colonists cut and sabotaged 50 olive trees belong to heirs of Mohamed Hamdan from Kafr Ad-Dik town – West Salfit.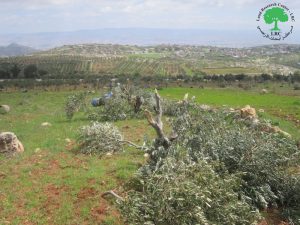 Photos 1-6 : The targeted trees
Yousif Hamdan told LRC: "Colonists cut and sabotaged 50 aging olive trees (about 70 years old) is Al-Wajh Ash-Shami area, my sisters, brothers, and I , inherited the olive grove after our late father passed away."
Hamdan asserted: "The targeted plot has a total area of 45 dunums planted with olive trees and almonds, continuously targeted by the occupation and its colonists. Noteworthy colonists attacked an agricultural room, a water harvesting cistern, and populated it."
During the past years, several attacks were reported at the same location, mostly targeting agricultural structures and developmental projects.
In General, Kafr Ad-Dik town is heavily targeted by the occupation and its colonists, the occupation distributed 45 notices at the location, and sabotaged a road network, uprooted a large number of trees, for one objective ,  to empty the area for colonialist projects.
Kafr Ad-Dik:[1]
Kafr ad Dik is located 15 km to the west of Salfit. It is surrounded by Bidya (north), Rafat and Deir Ballut (west), Bruqin and Sarta (east), and Bani Zaid villages (south).
Kafr ad Dik has a population of 4553 people, according to a 2007 census.
Its total area is 15529 dunums; however, it has been suffocated by bypasses and 3 Israeli colonies that lay over its lands.
This has further limited its expansion knowing that it had already had a 791-dunum organizational plan (built-up area); it also isolated the village from its surroundings.
The Israeli occupation confiscated 2477 dunums of Kafr ad Dik lands for the benefit of:
Colonies devoured 1225 dunums, and they are:
Name of colony

Year of construction

Area of confiscated land/ dunum

Number of colonists

Har Eli Zahav

1983

134

339

Eli Zahav- Yoezer

1982

290

424

Bedoel

1984

800

1088

 

1999

1

339

 

1225

1512
*Source: Field Research- Monitoring Israeli Violations Team- Land Research Centre (LRC).
Bypasses stole 362 dunums
The Apartheid Wall seized 890 dunums and isolated 8824 dunums and is expected to be 8905 long in Kafr ad Dik lands.
Lands of Kfar ad-Dik are categorized according to Oslo Accords into lands under Area B (15% of the lands) and lands under Area C (85% of the lands).
[1] GIS-LRC
Prepared by
 The Land Research Center
LRC