Demolition of a Water Reservoir in Furush Beit Dajan /northeast Nablus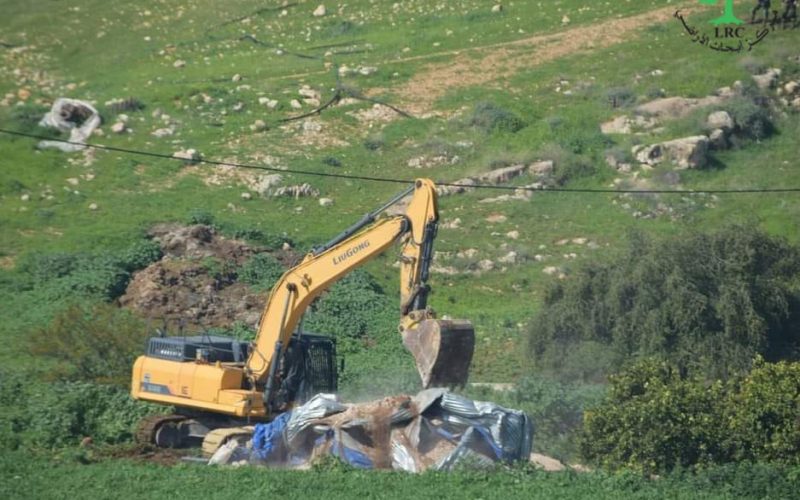 Violation: Demolition of a water reservoir.
Location: Furush Beit Dajan / Nablus governorate.
Date: February 8th 2022.
Perpetrators: The Israeli Civil Administration under protection of the occupation army.
Victims: Citizen Thabit Abu Thabit.
Description:
Tuesday, February 8th 2022, about 11:00 am, a massive army force accompanied by the Israeli Occupation building and organization department officer raided Furush Beit Dajan village northeast Nablus city at the Jordan Valley, and demolished a structure belongs to citizen Thabit Abu Thabit south east the village , which has a storage capacity of 250 m3.
Affected citizen Thabit Abu Thabit (67) told LRC:
"In January 6th, I received a removal notice intitled "Removal of a new building" issued in reference to military order 1797, which was enacted to accelerate demolition of structures in area (C) after only 96 hours from delivering the notice. At that time, I went to Furush Beit Dajan to discuss the coming steps, and they told me to contact the Jerusalem Legal Aid Office , and submit a petition , and after five days the supreme court returned the petition , and issued a final demolition order for the building."
Noteworthy, the court imposed an exessive bill on the petitioners (about 3500 shekels).
Abu Thabit said: About 11:00 on Tuesday, the Israeli Occupation machineries raided the area, and destroyed the reservoir, noting that the targeted reservoir  provides water to a plot with a total area of 5 dunums planted with citrus trees.
About Furush Beit Dajan: [1]
25 km to the East of Nablus, Furush Beit Dajan is bordered by Ein Shably and Tammoun (north) , Beit Dajan and Al-'Aqrabaniya (west), Tammoun (east)and Aj-Jiftlik (south).
Furush Beit Dajan has a total population of (723) people according to 2017 census, The village has a total area of 20,082 dunums , of which 225 dunums are a built up area. The Occupation confiscated (2494) dunums for the following:
Established in 1971, Humra settlement devoured 1320 dunums and inhabited by 188 settlers.
Bypass road 57,508,578 devoured 703 dunums.
Military camps devoured 471 dunums.
The village was classified C area in Oslo accords.
[1] GIS-LRC
Prepared by
 The Land Research Center
LRC