Demolishing notification on an agricultural facility at the eastern entrance of Qalqilya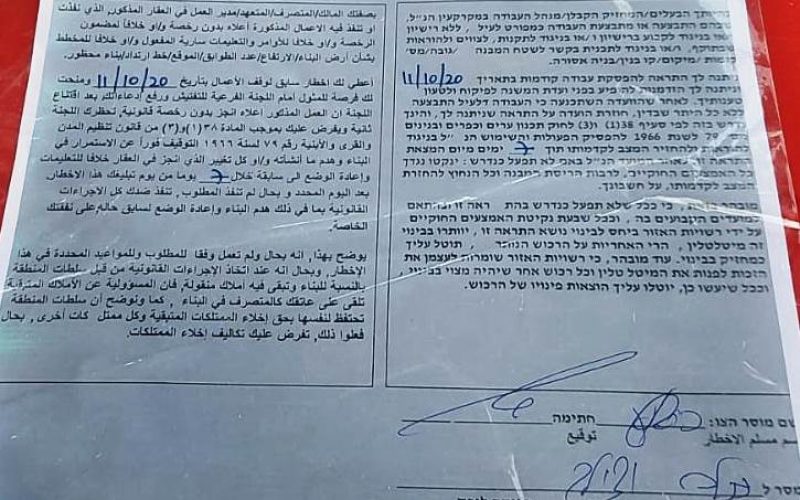 Violation type: An order to demolish a green house.
Location: the eastern entrance to the city of Qalqilya.
Date of violation: 7th/ February/ 2022.
The aggressor party: the so-called Israeli Civil Administration.
Affected party: farmer Yasser Tawfiq Al-Jaidi.
Details of the violation:
On Monday morning (7/2/2022), the so-called construction inspector of the Israeli Civil Administration stormed the eastern entrance to the city of Qalqilya. He targeted a plastic house (a greenhouse), by sending a military notification that included a final order to stop work and demolish the house, he also threatened to demolish it after 7 days if the owner didn't, which is according to demolition order No. (61896).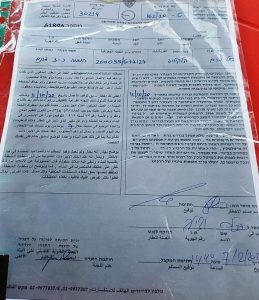 Demolition order №. 61896 targeting the Jaidi citizen facility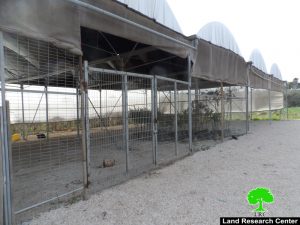 Picture 1: The endangered agricultural facility
The threatened agricultural facility is owned by the farmer Yasser Tawfiq Al-Jaidi, a resident of Qalqilya. It was established in the year 2020 with the aim of using it for trade by displaying and selling seedlings and agricultural tools. Al-Jaidi built the agricultural facility on a plot of land with an area of ​​about 3 dunams, while the area of ​​the greenhouse was about (400 square meters), and it is considered a source of income for the owner's family, which consists of 9 members (3 males, 4 females and two children).
The affected citizen stated that in November 2020, he received a military notification to stop the work and the construction of the green house, therefore, Al-Jaidi prepared the necessary legal file for licensing the facility and for the legal objection, but the occupation refused the license file, and issued a demolition order.
It is noteworthy that the occupation had previously demolished a number of agricultural and commercial facilities located in the northern entrance area of Qalqilya city. The field researcher monitored the demolition of more than six facilities during the past two years only.
Demolition of housing and property in international laws: 
Demolition of Palestinian property is in violation of all international laws, treaties and covenants, most notably in the following:
Article (17) of the Universal Declaration of Human Rights – 1948.
Everyone has the right to own property alone as well as in association with others.
No one shall be arbitrarily deprived of his property.
Article (23, g) of The Hague Convention of 1907:
(g) To destroy or seize the enemy's property, unless such destruction or seizure be imperatively demanded by the necessities of war.
Article (53) of the Fourth Geneva Convention of 1948:
Any destruction by the Occupying Power of real or personal property belonging individually or collectively to private persons, or to the State, or to other public authorities, or to social or cooperative organizations, is prohibited, except where such destruction is rendered absolutely necessary by military operations.