Colonists Uproot 60 Olive trees in Ar-Ras area / north Salfit city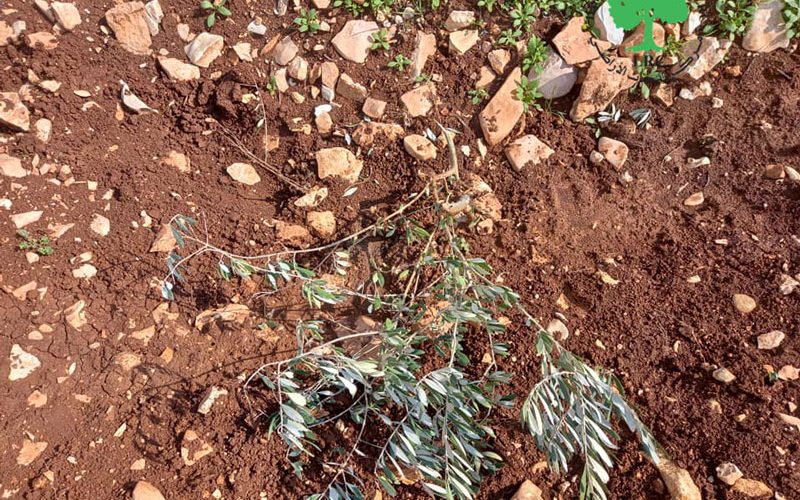 Violation: Cutting olive trees.
Location: Al-MAhajer and Al-Khalayil – North Salfit city.
Date: February 9th 2022.
Perpetrators: an outpost at the location.
Victims: farmer Fayez Dar Ziada.
Description:
Early morning of Wednesday, February 9th 2022, A group of colonists raided Ar-Ras area north Salfit , and uprooted 60 olive saplings aging three years old from a plot belongs to Fayez Dar ziada . Noteworthy, the trees were planted on the occasion of National Tree Day, in hopes to protect the land from confiscation.
Photos 1-4: The uprooted saplings
Another attack occurred at a nearby location , represented in setting fire to a cart used to carry agricultural tools and saplings that also belongs to farmer Fayez Dar Ziadeh.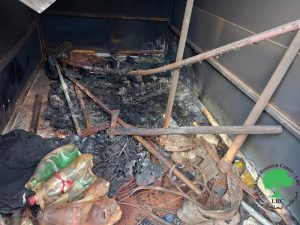 Photos 5-7: The targeted cart
This attack is not the first of its type , the occupation bulldozers uprooted 250 olive trees aging three years old at the area , on the pretext of violating "Governmental properties" as the occupation claims.
Israeli illegal colonies on Salfit lands escalated assaults on agricultural lands at several locations, noting that recently several saplings were uprooted in  Yasouf, Bruqin , and Kafr Ad-Dik.
Ar-Ras area has a significant location in Salfit city , The area overviews Al-Matwi valley , which is known of water availability, the location also overviews Salfit northern entrance, installing a new outpost at the location is the first step to devour vast areas of lands and impose realities on the ground.
Prepared by
 The Land Research Center
LRC