A notice to vacate a plot of land in the village of Al-Rakeez in Masafer Yatta, south of Hebron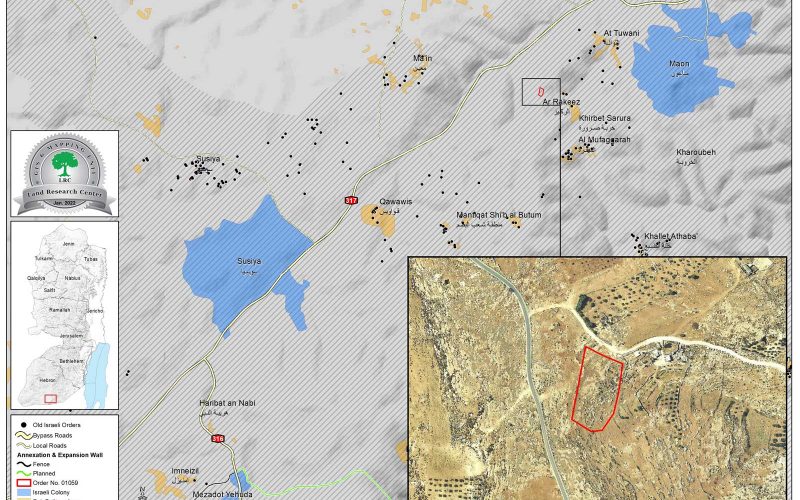 Violation: Notice to vacate a plot of land.
Violation date: 02/02/2022.
Location: Al-Rakeez – Masafer Yatta / Hebron Governorate.
The aggressor: the so-called Israeli Civil Administration.
Affected party: citizen Ismail Al-Amour.
The violation details:
On Wednesday, February 2, 2022, the Israeli occupation authorities issued a notice to vacate  a plot of land owned by Mr. Ismail Saleh Al-Amour, in the village of Al-Rakeez in Masafer Yatta, south of Hebron Governorate.
Mr. Al-Amour indicated that he found the notice stuck on the metal gate leading to his land. The notice was issued by the so-called "Civil Administration – Central Inspection Unit" and came under the title "Notification regarding the duty to vacate a plot of land."
In its notice which bears the number (01059), the occupation authorities demanded to vacate the target land within 72 hours, indicating the possibility of submitting an objection to this notice within two hours only!
Notice No. 01059 targeting Amour lands
The occupation authorities threatened that if the citizen did not carry out the order  he would be prosecuted and punished.
A year ago, Al-Amour fenced with barbed wires a 3- dunum plot of land he owns and got a gate built at the entrance to the land. He, also, planted it with seedlings of olives and almonds.  What is meant by vacating the land is that the citizen who owns the target land should uproots trees, demolish retaining , walls, water cisterns, agricultural service rooms, etc., and restores the land to its former state, under the pretext that these lands have been classified as "state lands," noting that these lands are private property of Palestinian citizens. However, the occupation authorities confiscated and expropriated this land in order to be used in their settlement projects.
It should be noted that the village of Al-Rakeez is one of the villages of Masafer Yatta which have been targeted by the occupation  authorities with the aim of displacing  their residents who live in caves and in dwellings made of tin sheets and replacing them with  colonies for exclusive Jewish use like elsewhere in the occupied territories.  The colonial outpost "Avigal" is located 500 m to the west of Al-Rakeez village.