Halt of Work order for a house and a facility in 'Izbet Salman/ East Qalqilya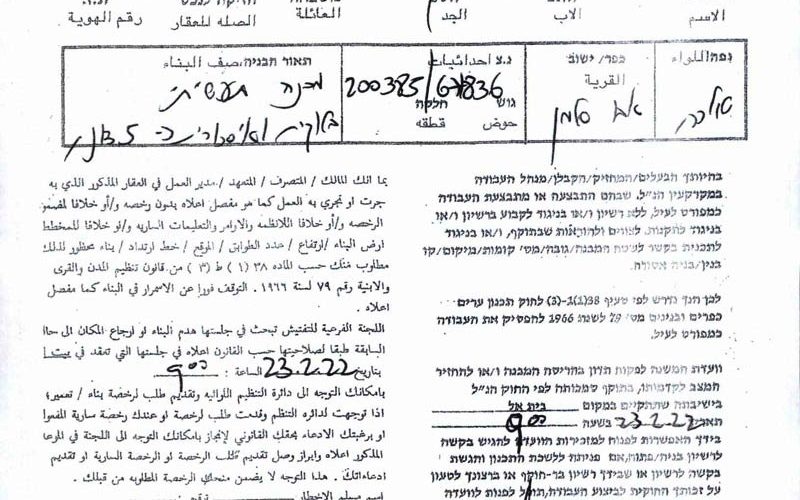 Violation: Halt of work notice.
Location: 'Izbet Salman village / Qalqilya governorate.
Date: January 25th 2022.
Perpetrators: The Israeli Civil Administration.
Victims: four Palestinian families.
Description:
Tuesday, January 25th 2022, the Israeli Occupation Authorities issued halt of work notices for 3 houses and a structure, in 'Izbet Salman southeast Qalqilya.
An army force accompanied by the building and organization officer at the civil administration raided the village, the building inspector wrote the notices, hanged them on the targeted structures , and then withdrew.
According to the notices, the occupation authorities ordered the immediate stoppage of construction works and sat February 23rd 2022, as the date of the inspection subcommittee in "Beit El" military court to decide the fate of the structure.
The following table shows more information about the structures:
Affected citizen

Family members

Military order number

The targeted facility

Area m2

photo

males

females

children

Naseem Shawahna

1

1

5

One floor house – under construction

150

'Amer Ash-Shaikh

2

2

3

One floor house – under construction

150

Mohammed Abu 'Assab

1

1

3

 

Two under floor houses – under construction

300

Jamal Qezmar

3

2

1

 

Structure built of steal sheets and covers 5 dunums.

5000

 

7

6

12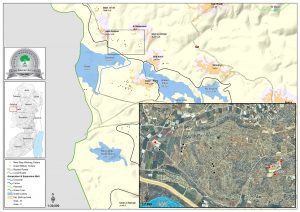 Reportedly, During the past three years 'Izbet Salman witnessed vicious assault from the occupation, about 17 facilities at the village received halt of work notices on the pretext of building without a license , the occupation on the other hand refuses to expand the village built up area, which is only about 146 dunums.
About Izbat Salman:[1]
Six km to the southeast of Qalqiliya governorate, Izbat Salman is considered one of the residential communities of the area. It is edged by Jal'ud area from the north,  Azzun village from the south, Izbat Al-Ashqar from the east and Habla town from the west.
The area populates 727 inhabitants (2014), that belong to two main families namely ( Al-Salman and Oudeh).
Izbat Salman totals 2310 dunum, of which 640 dunums were confiscated by the Israeli occupation for the favor of Oranit and Zamarot colonies.
According to the village council of the area, there are eleven agricultural and residential structures that are notified of stop-work and demolition in the area.
[1] GIS-LRC