The Israeli Occupation Demolished Pergolas in Khirbet At-Tayba / East Tarqumiya – Hebron Governorate
Violation: Demolishing and Confiscating Agricultural facilities.
Date: November 8th 2021.
Location: At-Tayiba – Tarqumiya / Hebron Governorate.
Perpetrators: The Israeli Civil Administration.
Victims: 3 Families living at Khirbet At-Tayba.
Description:
November 8th 2021, the Israeli Occupation Authorities carried on demolishing and confiscating pergolas and bird corrals , on the pretext of building without a license in Khirbet At-Tayba east Tarqumiya in Hebron Governorate.
About 11:00, an army force accompanied by a vehicle from the civil administration and workers from an Israeli Civil Company, a bulldozer, and two civil trucks arrived at farm lands belong to families of Fatfata and Aj-Ja'afra south At Tayba, the Occupation Forces Surrounded the location, and the accompanying workers dismantled the structures and loaded them on a truck then withdrew.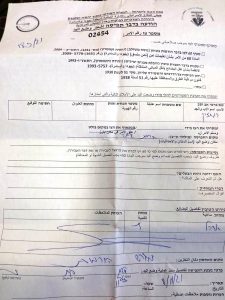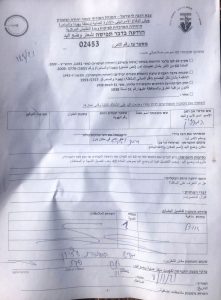 Reportedly, The Occupation forces demolished two pergolas each one had a surface of (10 m2) in lands of citizens Mohammed Fatafta and Ashraf Fatfta , the pergolas were sat up two months ago to be a resting place for workers as they spend long hours farming , the pergola's compose of Metal bodies and plastic sheets.
The Occupation troops also demolished a corral (bird barn) belongs to citizen 'Aziz Ja'afra , who built it a month ago nearby his plot , and was containing 15 chickens , the company workers took the birds out of the farm , demolished it using jandtools, and loaded its parts on a truck.
After the demolition operation, they left a "Confiscation notice" at the locations stating that the confiscated properties will be kept in Kfar 'Etzion colony.
The Occupation Authorities heavily targets Khirbet At-Tayba  with notices and demolition operations that target residences and agricultural lands. Moreover, people of At-Tayba suffer from colonists assaults against armless citizens and farmers to force them to evict their lands, in order to keep the land empty for expansionist schemes related to the illegal colonies "Telem" and "Adora".
Noting that At-Tayba is one of the most important agricultural lands in Tarqumiya, the area is rich with a variety of crops.
Prepared by
 The Land Research Center
LRC