The Occupation Forces confiscated an excavator in Ad-Dirat village east Yatta / Hebron Governorate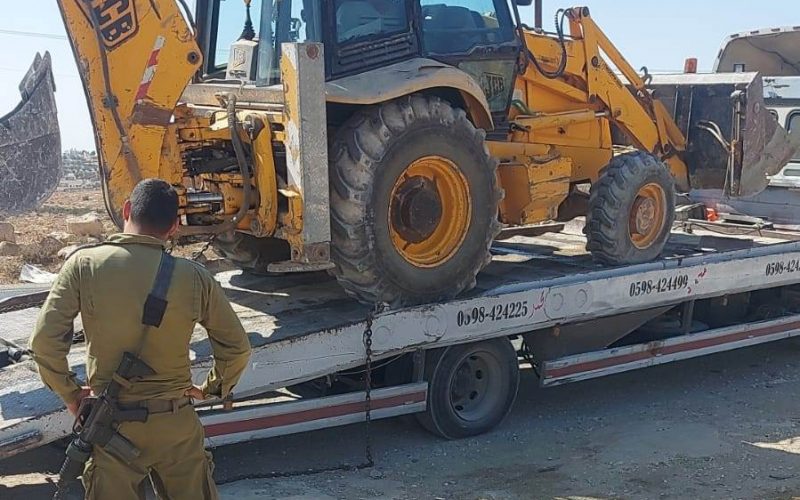 Violation: Confiscated an excavator.
Date: October 9th 2021.
Location: Ad-Dirat village – Yatta town / Hebron Governorate.
Perpetrators: The Israeli Occupation Civil Administration.
Victims: Citizen Mohammed Al-'Adra.
Description:
Saturday, October 9th 2021, the Occupation Authorities Confiscated a JCB excavator during a land reclamation in Ad- Dirat Village east Yatta, it also halted work at the location on the pretext of building without a license. About 3:00 pm, A vehicle form the civil administration raided the eastern area of Ad-Dirat , and got to a land reclamation project and forcedly stopped the machineries and workers. The patrol officer forced the excavator's driver to drive it out of the location , then called a truck form the civil administration and confiscated it.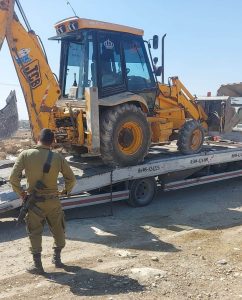 Photo: the confiscation operation
The Occupation forces did not hand confiscation notices to the owners. Noteworthy, the notice usually contains information about confiscation reasons and conditions of restitution.
The excavator belongs to citizen Mohammed Al-'Adra, the occupation authorities had confiscated the same excavator last year, and took it to Kfar 'Etzion colony , and only released it after the owner paid a fine mounted to (5000 Shekels) equivalent to (1600 $).
The Occupation authorities confiscates machineries in developmental projects in C area, as part of their policies to drive Palestinians out of the area and hinder any sort of developmental projects.
Prepared by
 The Land Research Center
LRC