As Olive Harvesting Season Begins, Bruchin Colonists Open Sewage Water towards Olive Groves / Salfit Governorate
Violation: Polluting Olive Groves with Sewage Water.
Location: Bruqin Town / West Salfit City.
Date: October 3rd 2021.
Perpetrator: "Bruchin" Colonists.
Victims: People of the town.
Description:
As Olive Harvesting Season Begins, it is an occasion to celebrate Palestinian love and connection to the land, which is a symbol of steadfastness and a prove of land Arabism, and also an essential source of income for the family.
Illegal Israeli Colonist every year carry out a wave of assaults and raids in Palestinian olive groves, represented in cutting trees, stealing crops, attacking farmers, and setting fire to olive trees, all of these assaults are carried out under the protection of the occupation army.
Reportedly, Sewage water flows from Bruchin colony in massive pipes (more than 24 inches), to be thrown in the valleys, and runs about 1 kilometer in olive groves stopping only 12 m away from Bruqin citizens houses.
According to field observation, about 14 olive trees aging 30 years old are drowning in Sewage water, and it usually produces more than 200 kilos of Olive oil every year, the olive crop is now polluted and can not be exploited in any way..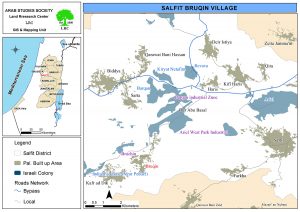 The result was the pollution of  nine dunums of agricultural lands, noteworthy sewage water affects saltness of the soil and make it unsuitable for agriculture in any way through time.
The targeted trees belong to farmer Shaker Samara (9 trees) who supports a family of seven, three children and three females, and farmer Na'im Ibrahim (5 trees) and he supports a family of five (three children and two females).
Farmer Shaker Smara told LRC:
"Bruchin Colonists carry out vicious assaults against framers during olive harvesting seasons, but this is the first time they dare to open sewage water towards the olive groves. We talked to the Palestinian Liaison office but nothing was done, and we are worried that as the rain season starts, sewage water will be mixed with rain water and spread to a larger area at the valley polluting more crops."
Noteworthy, a large area of lands was polluted in Bruqin town due to sewage water coming from the illegal colonies Arial and the industrial colony of Burkan, and now colonists of Bruchin are also pumping water to its land, which has a devastating effect on agricultural sector at the village.                                                  
Bruqin village:[1]
The village of Bruqin is located 10 km from the western side of the city of Salfit and it is bordered by Haris, and on its lands was established the Industrial Zone affiliated to  "Ariel" settlement. Its population is 4,174 people according to the 2014 census.Its total area is 12,285 dunums, of which 704 dunums are a built-up area.
The occupation confiscated an area of ​​(3,385) dunams of its lands, for the following purposes:
–  ​​3,334 dunums of the village's lands for Israeli settlement construction;
– 503 dunums for the building of the Expansion and Annexation Wall;
–  785 dunums for the construction of the 7,855 m long Wall path, in addition to annexing 5,159 dunums behind it.
Classification of village land according to the Oslo Agreement:
Area Classified as A (1,000 dunums).
Area classified as B (4,376 dunums).
Area classified as C (6,905 dunums).
[1] GIS-LRC
Prepared by
 The Land Research Center
LRC