'Adei 'Ad Colonists Sabotage fruitful Olive Trees in Al-Mughayyir village / Ramallah Governorate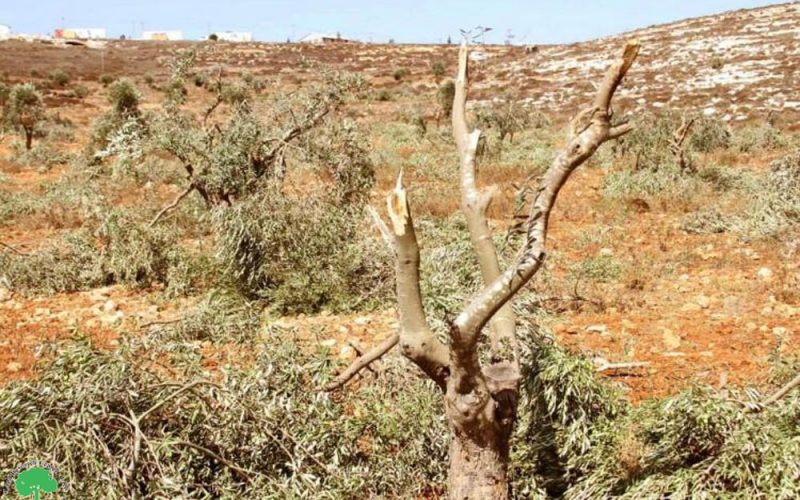 Violation: Sabotaging 135 olive trees.
Location: Al-Mughayyir Village / Ramallah Governorate.
Date: October 12th 2021.
Perpetrators: Colonists of "'Adei 'Ad".
Victims: Farmers Jameel and Rateeb An-Na'asan.
Descriptions:
Tuesday, October 12th 2021, 'Adei 'Ad colonists raided Al-Mughayyir village and cut and sabotaged 135 olive trees aging 26 years old , belong to citizens Jameel and Rateeb An-Na'asan.
The targeted trees is on the borders of 'Adei 'Ad colony  illegally built on "Bab Al-Kharja" and "Abu Al-Mwas" lands northwest Al-Mughayyir village. As the olive harvesting season is near, and farmers are not allowed to access their lands freely, colonists attacks in olive groves and trees raised.
Farmer Jameel An-Na'asan told LRC the following:
"I own a plot with a total area, and In 1996 I have planted it with 265 olive saplings in Bab Al-Kharja location about 3 km away from the village houses, and I used to check my trees and take care of them on a daily basis. However, in 2002, I built 'Adei 'Ad colony on citizens' lands, and we were banned from entering our lands during olive harvesting seasons."
While farmers and Inspectors from the Palestinian and Israeli Liaison offices were at the location assessing the damages, fanatic colonists raided the plot and sprayed tear gas in the faces of farmers, and sat fire to dry grass at the plot.
An-Na'asan asserted:
"During olive harvesting season last year, colonists sabotaged 160 olive trees from my land through cutting olive trees and spraying poisonous materials, I filed a complaint to the Israeli police, all to no avail. And at the current olive harvesting season, colonists cut down about 105 olive trees. As a result of the attacks,  I had lost all my trees that I took care of every day for years, they were an essential source of income for my family, noting that each tree produce at least 40 kilos of Olives."
'Adei 'Ad colonists terrorize people of the village, through storming olive groves every once in a while, uprooting trees, and vandalizing wheat crops. Noteworthy, colonists' assaults notably increase during olive harvesting seasons. The olive tree is a symbol of land Arabism and Palestinian steadfastness, that's why fanatic Israeli colonists especially target olive trees and groves.
The following table shows more information about the damages:
| | | | | |
| --- | --- | --- | --- | --- |
| Affected family | Family members | Children | Females | # of trees |
| Jameel An-Na'asan | 6 | 1 | 3 | 105 |
| Rateeb An-Na'asan | 8 | 3 | 3 | 30 |
Photos 1-4: The targeted trees and 'Adei 'Ad outpost
Al-Mughayyir: [1]
Al Mughayyir is located 30 km to the north east of Ramallah; it is inhabited by around 3,249 people according to the PCBS statistics conducted in 2017. Most of the village agricultural fields are located in its eastern parts; its total area is 33055 dunums, 501 of which are built-up area. The Israeli occupation confiscated 37 dunums of Al Mughayyir lands for bypass #458.
According to Oslo Accords, about 95% of the village is under Area C while only 5% is under Area B.
Area B: 1,695 dunums
Area C: 31,360 dunums
[1] GIS-LRC
Prepared by
 The Land Research Center
LRC