Demolition of Two Houses and a Reservoir in Duma village / Nablus Governorate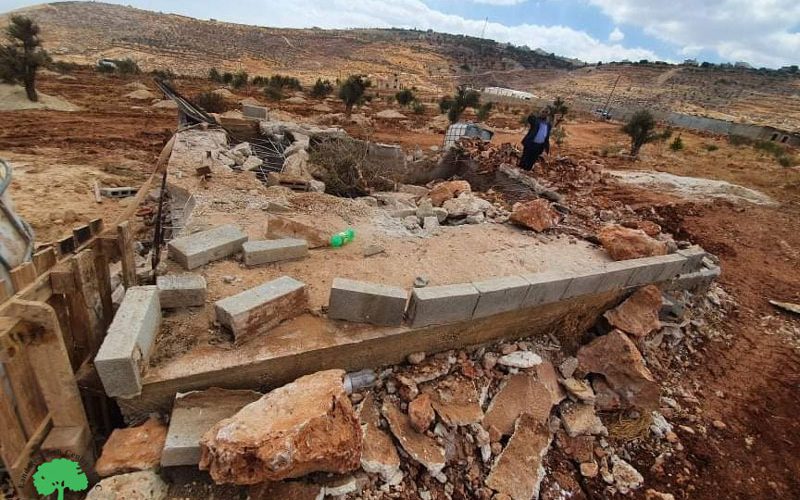 Violation: Demolition of Two Houses and a Reservoir.
Location: Duma Town – Nablus Governorate.
Date: September 1st 2021.
Perpetrators: The Israeli Occupation Forces.
Victims: Three Citizen from Duma village.
Description:
Wednesday morning, September 1st 2021, the Occupation Forces Demolished three agricultural structures in Duma village south Nablus.
Mr Suliman Dawabsha, Duma Village Council Head told LRC:
"A Massive army force consisting of four military Jeeps raided Ar-Raheya and Al-'Eqda areas , and carried on demolition of three agricultural facilities on the pretext of building without a license in area C."
Duma Village Council head, Mr.Suliman Dawabsha told LRC reporter that the facilities belong to:
Fares 'Abdullah Salawda (An agricultural structures with a total area of 40 m2 , built of zinc sheets and bricks).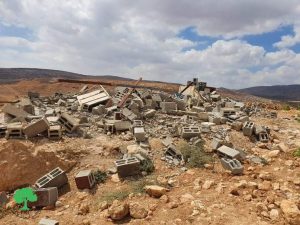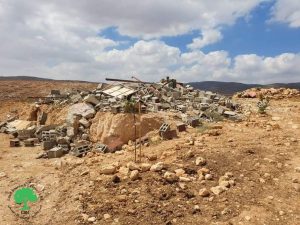 Photos 1+2: The Ruins of As-Salawda house – Duma
Osama 'Imad (House built of Cement and zinc sheets with a total area of 40 m2).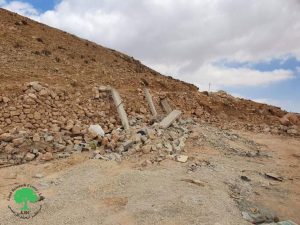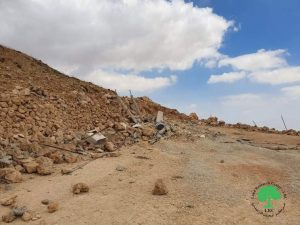 Photos 3+4: The Ruins of Osama Family home- Duma
Fahmi Ash-Shaloudi (water harvesting reservoir with a storage capacity of 60 m3).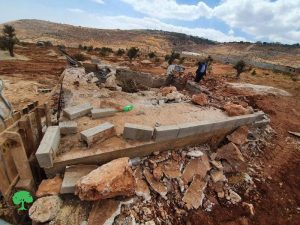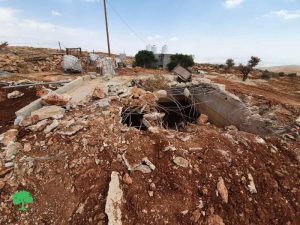 Photos 5+6: The Demolished cistern that belongs to the Shalodi family – Duna
About Duma Village[1]
Duma village is located 24 km to the southeast of Nablus city, and is bounded by Majdal Bani Fadil village to the north, Jordan Valley to the east, Khirbet Mughayyir to the south, Qusra and Jalud villages to the west. Duma has a total built-up area of 200 dunums where its area totals around 18000 dunums.
The village has a total population of 3400 residents (PCBS – 2011). Residents of Duma depend on plantation of fruitful trees such like olive and other different summer crops in addition to poultry and sheep husbandry
According to the village council of Duma, around 17 agricultural and residential structures are notified with stop-work since the year of 2008 in Duma village.
Legal Commentary:
The demolition of Palestinian homes and structures by the occupation authorities is part of their violations of international and humanitarian law, and the violation of the right to adequate housing for Palestinian citizens guaranteed by international law and international treaties presented by the following articles:
The Fourth Geneva Convention, Article 147, stipulates that "extensive destruction and appropriation of property, not justified by military necessity and carried out unlawfully and wantonly" is a "grave breach" of the Convention.
Article 53 of the Fourth Geneva Convention of 1948 prohibits the destruction of property, as this article states the following: "The occupying power is prohibited from destroying any private, fixed or movable property related to individuals or groups, the state or public authorities, or social or cooperative organizations, unless the war operations inevitably require this destruction.
Article 33 of the Fourth Geneva Convention states: "No protected person may be punished for an offense he or she has not personally committed.
Paragraph 'g' of Article 23 of the Hague Convention of 1907 AD also warned against destroying or seizing the enemy's property, unless the necessities of war necessarily require such destruction or seizure.
 [1] GIS-LRC
Prepared by:  
The Applied Research Institute – Jerusalem
(ARIJ)