Demolishing an Agricultural Room West Deir Ballout / Salfit Governorate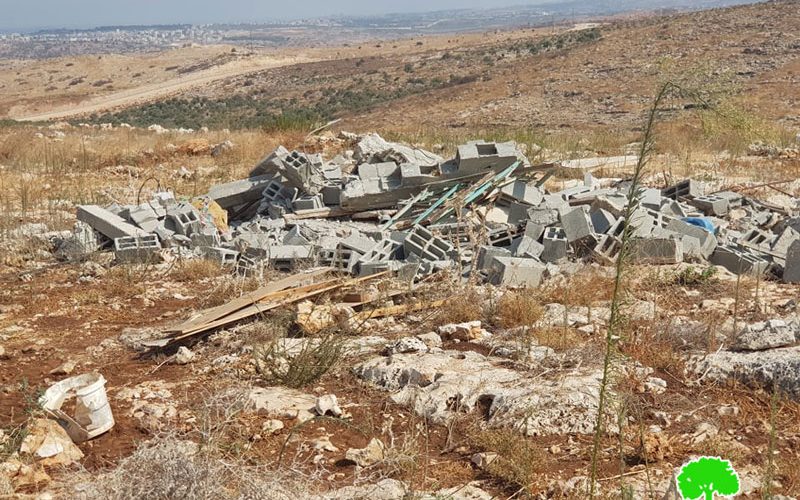 Violation: Demolishing an Agricultural Room.
Location: Deir Ballut town / West Salfit.
Date: August 16th 2021.
Perpetrators: The So-Called Building inspector at the Israeli Civil Administration.
Victims: Farmer Ghazi Musa.
Description:
The Israeli Occupation Continues displacement policies against farmers at the area West Salfit , especially at locations nearby the Annexation and Expansion Wall. These policies aim to empty the area and forcedly displace citizens for future colonial expansion.
Monday afternoon, August 16th 2021, The Israeli Occupation Forces Accompanied by the building inspector at the Israeli Civil Administration raided Khallet Al-'Abahra nearby the Annexation and Expansion Wall in Deir Ballut , and carried on demolishing an agricultural room built of zinc with a total area of 16 m2, used for agriculture and belong to citizen Ghazi Dar Musa from the town , the occupation claims that the demolition is nearby the Annexation and Expansion Wall and that it was implemented for security-related purposes.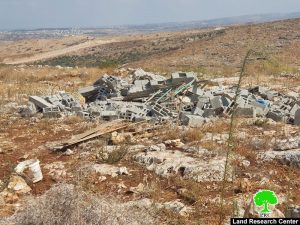 Photo 1: The Agricultural Room after the demolition
The Affected Farmer Supports a family of 7, 2 of them are children, he told LRC the following:
"I own a plot with a total area of 7 dunums, that was rehabilitated and planted with olives two years ago. Early February, I built an agricultural room in order to store agricultural tools and to create a resting place during working at the plot. However, today I was shocked that the occupation demolished the room based on military order 1797."
At the same location, the Occupation uprooted more than 1280 olive and almond Saplings that belong to six farmers from the town, under claims that the olive groves are classified as an Israeli State property.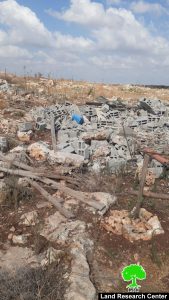 About Deir Ballut:[1]
24 km west Salfit, Deir Ballut is surrounded by Rafat village (north), The green line occupied territories of 1948 (west), Kafr Ad-Deek village (east), Al-Lubban Al-Gharbi village (south).
Deir Ballut is populated 3,870 people in 2017 census. The town's people are from several families, namely: Tufaha, Khair, Abdullah, Qassim, Qaroush, Mesha'l, Mustafa, Musa and Hadrous.
Deir Ballut has a total area of 11,339 dunums , of which 503 dunums are a built up area.
Deir Ballut is popular with rain-fed agriculture such as (Armenian cucumber, Ladies fingers, garlic and others), in addition to olives and wheat.
Deir Ballut contains a water spring in Wadi Al-Ein area, and the town's people depend on the National Israeli water company, in addition to rain water harvest cisterns for daily use water.
Oslo accords classified the town's lands as the following:
– B area: 689 dunums.
– C area: 10,710 dunums.
[1] GIS-LRC