Colonists Attack Palestinian Vehicles in Hebron Governorate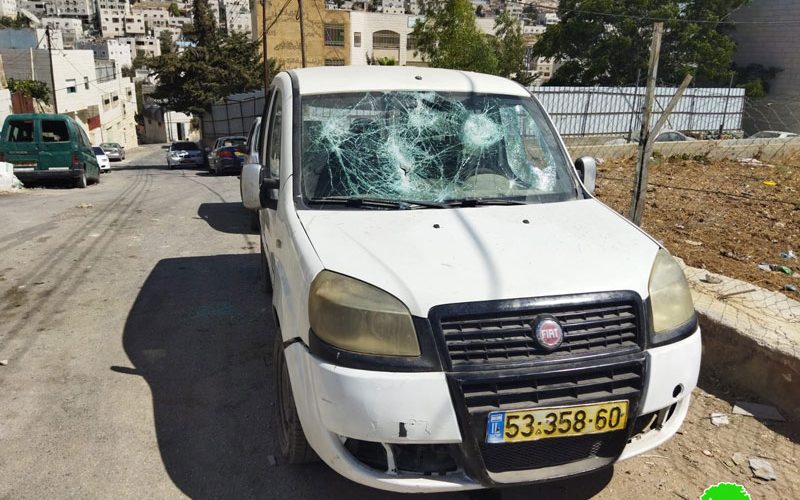 Violation: Israeli illegal colonists' smash glass of 6 Private Palestinian cars.
Date: August 29th 2021.
Location: Jaber neighborhood / Hebron governorate.
Perpetrators: colonists of "Kiryat Araba'".
Victims: Citizens of Jaber neighborhood.
Description:
Fanatic colonists from Kiryat Arba' colony carried on an attack in a Palestinian neighborhood. The attacks included smashing the glass of six vehicles belong to citizens in Jaber neighborhood east the Ebrahimi mosque.
According to the affected, the attack was implemented in 2:00 am Sunday , August 29th 2021, People of Jaber neighborhood woke up to the voices of the perpetrators, and they were reportedly 15 in number.
Noteworthy, the occupation forces installed a metal gate on the entrance of Jaber neighborhood in order to control Palestinians' movement to and out of the area, while illegal colonists on the other hand move freely.
While colonists were carrying out the vandalization, people of the neighborhood got out to protect their properties, but the occupation troops prohibited them and starting shooting live bullet, at the same time colonists were belting stones, which resulted an injury (citizen Mahmoud Jaber 19), and the occupation forces provided protection for colonists until they left.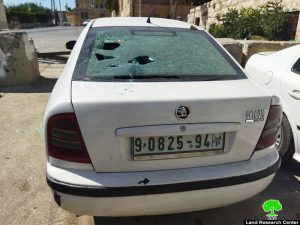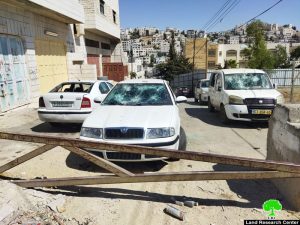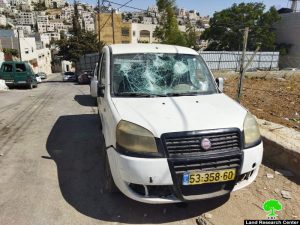 Photos 1-3: One of the targeted vehicles in Jaber neighborhood
The affected filed a written complaint in Kiryat Arba Police station, but no measurements were taken to stop the attacks.
Number

Owner's name

Vehicle type

1

'Aref Jaber

Skoda Octavia

2

Farhan Jaber

Skoda Octavia

3

Samer Idrees

Skoda Octavia

4

M'utaz Jaber

Citroen Berlingo

Skoda Octavia

5

Fawzi Jaber

Fiat Doblo
Prepared by
 The Land Research Center
LRC