The Occupation Confiscated A Clinic from Khirbet Umm Qussa East Yatta / Hebron Governorate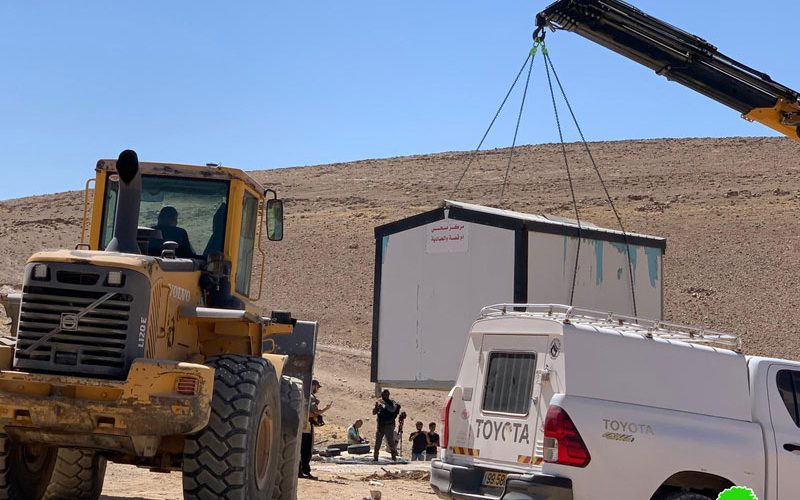 Violation: Confiscating a clinic.
Date: July 12th 2021.
Location: Umm Qussa – Yatta / Hebron Governorate.
Perpetrators: The Israeli Civil Administration.
Victims: People of Khirbet Umm Qussa.
Description:
Monday, July 12th 2021, the Occupation Authorities confiscated a caravan from Khirbet Umm Qussa east Yatta south Hebron, that was supposed to be used as a clinic for people of the village.
A massive army force, border guards and a vehicle from the building and organization department in the civil administration along with a truck and a bulldozer raided the Khirbet at 10:00 am and got to the clinic, after the occupation forces encircled the location, they put the room on a truck and confiscated it.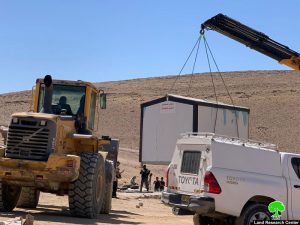 Photo 1: confiscating the clinic in Khirbet Umm Qussa – Yatta
 The Occupation Authorities Confiscated the caravan without any preceding notices, it didn't give notices afterwards as well.
The targeted structure is built of steel sheets and has a total area of (12 m2) , one of the Khirbet residents donated the caravan to make a clinic for the village that has a population of (300 people) . The structure was supposed to make a keystone for a medical center that serves the village.
Noteworthy, Khirbet Umm Qussa lacks a medical center, and the area is almost 20 km away from the nearest hospital.
The Occupation Authorities  escalated violations against Khirbet Umm Qussa. Including, demolishing the Khirbet Mosque in early 2021  , and notified a school and kindergarten , then it came back and confiscated a clinic.
Khirbet Umm Qussa:[1]
Located to the north east of Yatta, close to Umm Ad-Daraj and 'Arab Az-Zuwaidin , Umm Qussa has a population of 300 people , most of which depend mainly on agriculture and cattle breeding , most of the Khirbet's structures are tents and steel sheets , the Khirbet has a road connecting it to bypass 317 , and the occupation built Karmaiel colony on confiscated lands in its south.
[1] GIS-LRC