The Israeli Occupation Demolishes Agricultural Facilities in Bani Na'im/ Hebron Governorate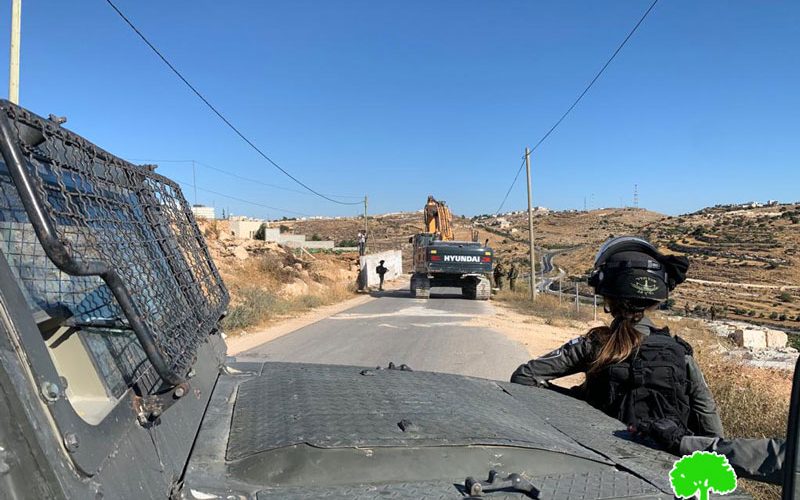 Violation: Demolition of agricultural facilities.
Date: July 12th 2021.
Location: Wad Al-Jouz – Bani Na'im / Hebron governorate.
Perpetrators: The Israeli Civil Administration.
Victims: Nader and 'Azzam Abo 'Odeh, Abdul Salam Al-Qaimri.
Description:
 Monday, July 12th 2021, the Israeli Occupation authorities demolished retaining walls, an agricultural room and a cistern, on the pretext of building without a license in Wad Al-Jouz west Bani Na'im south Hebron Governorate.
About 10:00 am, A massive army force and the building and organization department of the so-called civil administration, and two Hyundai excavators reached the location and demolished many structures.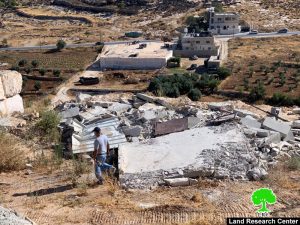 Photos 1+2: The ruins of the demolished structures
One of the victims, citizen Nader Abu 'Odeh said that the occupation authorities demolished facilities, walls, retaining walls built on a plot he owns along with two partners (12 dunums).
Abu Odeh said that he received a halt of work notice for the facility, then issued a final demolition order on the pretext of building without a license. Noteworthy, Abu 'Odeh applied for a license before, but the occupation authorities refused the application and carried out the demolition.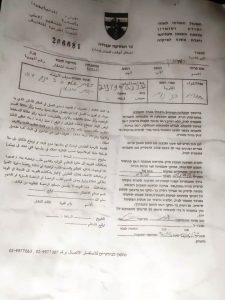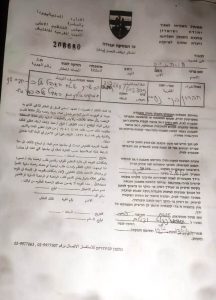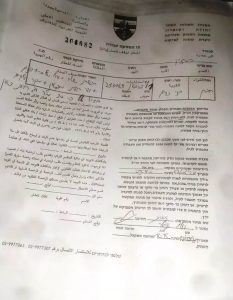 Photos 3-5: Halt of Work notices for facilities in Wad El-Jouz – Bani Na'im
The following table Shows more information about the damages:
Affected Citizen

Family members

Notice number

Demolished structures

notes

Nader Abu 'Odeh

7

266682

Concrete wall (150 m*1 m)

Surrounds a part of the plot

Cistern with a storage capacity of 200 m3

Irrigating plants in a part of the plot

Agricultural room – bricks walls and a ceiling 30 m2

Store agricultural tools

Abdul Salam Al-Qaimari

8

266681

Retaining walls built of stones (50 m)

Used to prevent soil erosion and level the ground

Concrete wall (20 m * 1 m)

Surrounds a part of the plot

'Azzam Abu 'Odeh

5

266680

Agricultural room built of bricks and steel sheets (20 m2)

Used to store agricultural tools
Source: Firsthand field observation- Israeli Violations Monitoring Section- Land Research Center, July 2021
Wad Al-Jouz is located to the west of Bani Na'im area, and is considered a main entrance for the village. Wad Al-Jouz is an agricultural area, bordered by bypass 60 to the west. The Occupation had installed a metal gate on the village entrance which is closed sometimes, noting that the occupation carried out several demolition operations at the area previously.
Demolishing an agricultural structure and bury a water source:
This is not the first time Nader Abu 'Odeh is targeted by the occupation's arbitrary measures. In June 27th 2021, the Occupation Authorities demolished a Shack with a total area of 60 m2 in Al-Buqa'a area east Hebron, it also buried a water spring that provided water for 5 dunums planted with trees.
Abu 'Odeh pointed our that the occupation authorities gave a halt of work notice for a shack and a spring in May 2nd 2021, and came back in June 16th 2021 and issued a halt of work notice for two agricultural facilities, and carried out the demolition on the pretext of building without a license.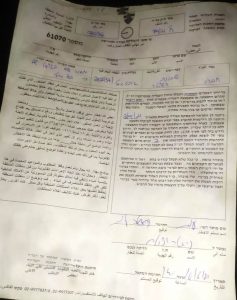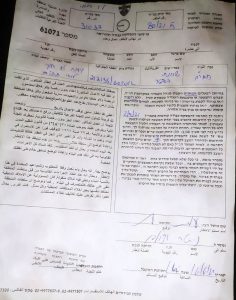 Photo 6+7: Demolition orders for a shack and a water cistern – Al-Buqa'a
Legal Commentary:
The demolition of Palestinian homes and installations by the occupation authorities is part of their violations of international and humanitarian law, and the violation of the right to adequate housing for Palestinian citizens guaranteed by international law and international treaties presented by the following articles:
Article 17 of the Universal Declaration of Human Rights, dated December 10, 1948 states that "No one shall be arbitrarily deprived of his property".
Article 53 of the Fourth Geneva Convention of 1948 prohibits the destruction of property, as this article states the following: "The occupying power is prohibited from destroying any private, fixed or movable property related to individuals or groups, the state or public authorities, or social or cooperative organizations, unless the war operations inevitably require this destruction.
Article 33 of the Fourth Geneva Convention states: "No protected person may be punished for an offense he or she has not personally committed.
Paragraph 'g' of Article 23 of the Hague Convention of 1907 AD also warned against destroying or seizing the enemy's property, unless the necessities of war necessarily require such destruction or seizure.
Article 11-1 of the international Convent of Economic, Social and cultural rights:
The States Parties to the present Covenant recognize the right of everyone to an adequate standard of living for himself and his family, including adequate food, clothing and housing, and to the continuous improvement of living conditions. The States Parties will take appropriate steps to ensure the realization of this right, recognizing to this effect the essential importance of international co-operation based on free consent.