Illegal Colonists Attack LWSC Staffs – East Yatta / South Hebron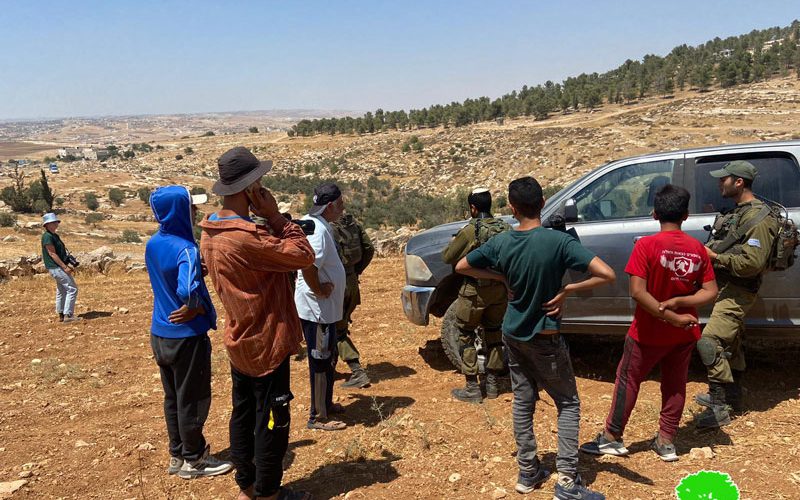 Violation: Colonists attack Land and Water Settlement Commission staff.
Date: July 2021.
Location: Yatta village / south Hebron Governorate.
Perpetrators: Illegal Israeli Colonists.
Victims: Land and Water Settlement Commission staffs.
Description:
Illegal Israeli colonists carried out a number of attacks against Land and Water Settlement Commission staffs, while they were surveying lands east Yatta , South Hebron.
The attacks included hindering staffs' movement and work, belting them with stones, erasing the marks and signs they leave on the ground, and stealing their equipment.
About the land settlement project – south Hebron:
The Land and Water settlement project implementation in south Hebron villages (Yatta) initiated In March 2021, and is expected to continue until July 2022. The project will register properties in the following locations:
| | | | |
| --- | --- | --- | --- |
| # | Location | Natural block | Total area |
| 1 | At-Tawani village | 43 | 13725 dunums |
| 2 | Mnaizel Village | 10 | 3140 dunums |
| 3 | Umm Ad-Daraj village | 32 | 7498 dunums |
| 4 | Ad-Duqaiqa / An-Najada village | 21 | 6464 dunums |
| 5 | Al-Karmel village | 33 | 13592 dunums |
| 6 | Khallet Al-Maieh village | 12 | 4147 dunums |
The Villages included in the settlement project are surrounded by many colonies and outposts built by the Israeli Occupation around Palestinian communities, such as Ma'on , Avijal , Mitzpe Yaer and Metzadot Yehuda, other than lands and postures colonists had forcedly imposed control over around the area.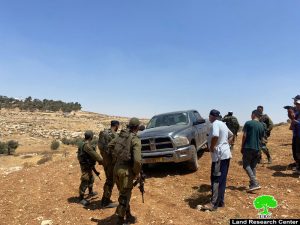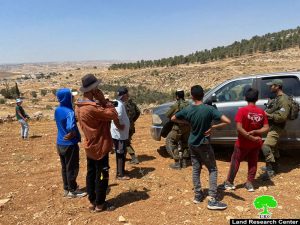 Photos 1+2: scenes of some of the attacks carried out against LWSC staffs
Israeli illegal Colonists attacks against Land and Water Settlements staffs:
In an interview with the staffs, they expressed how difficult it is to work under colonists' continuous attacks, especially in areas nearby colonies. While the occupation forces are covering for colonists and protecting them as they carry out assaults against Palestinians of all categories.
some of the most vicious attacks took place in At-Tawani village, which is surrounded by many colonies and outposts and its residents are exposed to daily assaults, they told us stories of some of the attacks:
In July 20th 2021: While field settlement staffs were carrying out surveys at Al-Humra and Sarura areas east At-Tawani village, workers noticed a movement inside the nearby forest, and one of the Colonies so-called security vehicles approached them and the guard accompanied by 6 masked men with sticks came and forced us to leave the work location.
 In July 24th 2021: About 12:00 am, while field observation team were working at lands south east At-Tawani, a group of 15 colonists from "Avijal" outposts showed up and belt the staffs and the land owners with stones, they also attacked Ahmed Abu Sabha (24) and took away a GBS device he was using that worth 13,000 $. Noteworthy, one of the foreign activists accompanying the staffs at the location called the Israeli police, they came and took his testimony, then left claiming that they will return the device, then came back four hours later claiming that they couldn't find it.
In addition, Israeli illegal colonists repeatedly erase signs at the location left by the LWSC staffs, and vandalize signs and banners at the location. Moreover, a colonist from Mitzpe Yaer pulled a gun on the faces of the staffs while they were working at the plot.