Blue Line Committee Extends Confiscation of Thousands of Dunums in Wadi Qana / Salfit Governorate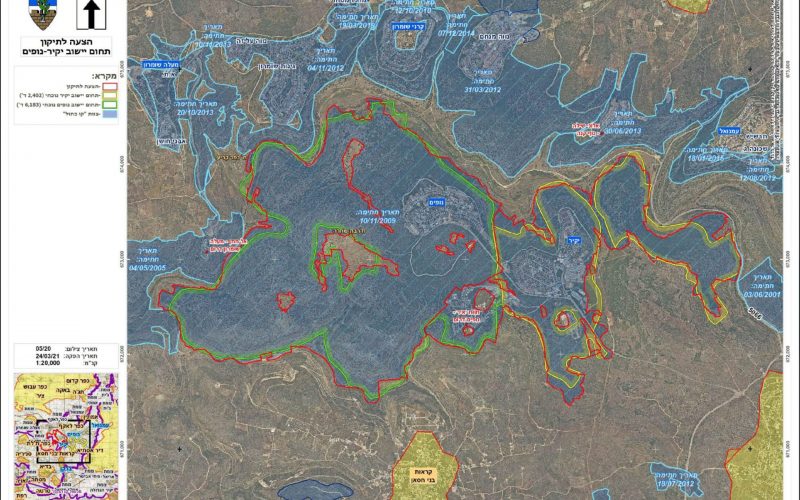 Violation: New plan to extend confiscation of 8700 dunums.
Location: Deir Istiya and Qarawat Bani Hassan / northwest Salfit.
Date: July 2021.
Perpetrators: the Israeli Civil Administration.
Victims: People of the area.
Description:
The So-called Blue line committee – a Department at the Civil Administration, announced a new modification on a plan, that extends the confiscation of 8700 dunums of Wadi Qana in Deir Istiya and Qarawat Bani Hassan.
The Scheme was entitled "Modification Suggestion" , and will annex the confiscated lands registered as "State properties" into nearby settlements for future colonial projects.
The targeted location is around Yakir, Nofim , Havat Ya'er colony on the town's lands, The Main objective is to create a new statue que that allows future growth for the illegal colonies.
The targeted lands are in secveral locations such as: Al-Marah, As-Sahlat, Khallet Abu Rabe'a, Al-Maslaba, Part of Khallet Nasheet, Hariqat Abu Zuheer, Khallet Al-'Amm, Kubara, Ghursat Al-Ein, part of Al-Baten , Al-Dhohor, Al-Hanaya, Ad- Dakhmash , Al-Mahfour, Part of Wad Qana , Khirbet Shuhadeh.
The targeted lands at this scheme and according to municipal records belong to about 35 farmers from Qarawat Bani Hassan, and 56 farmers from Deir Istiya, while a large part is registered in the Hashemite kingdom treasury, most of these lands are planted with olives and Almonds.
 Anti-Colonization activist and Deir Istiya village council member Mr.Nathmi As-Salman told LRC: "Following the Modification Plan, the occupation gave 20 days to object. We received the plan from the Palestinian Liaison Office, and immediately contacted the affected from the plan and called for filing objections at the Israeli courts."
As-Salman pointed out: This scheme has very bad effects such as the Judaization of vast areas in Was Qana , colonization schemes are growing vast in the area , the occupation through this plan would like to expand the area of control for colonies of Nofim and Yakir, noting that the targeted lands provide a source of income for many families.
In July 7th 2014, The Israeli "Peace Now" movement published a map issued by the Settlements Council at the West Bank in addition to an Israeli Scheme to confiscate and Judaize Wad Qana area north the West Bank, which imposes a threat on thousands of dunums and deprives Palestinian farmers from their right to use and access the lands.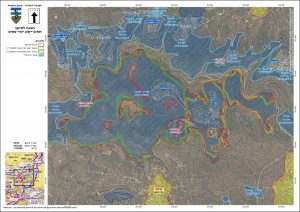 The attached map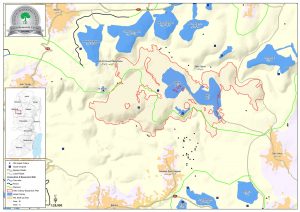 About Wad Qana:[1]
Wadi Qana is located in the northwest part of Deir Istya and surrounded by: Jeindafout, Kfar Laqif and Azoun from the east, Sinrya and Kfar Thulth form the west, Qarawat Bani Hassan from the south, and Amatin and Deir Istya from the east.  Most of Wadi Qana lands are owned by farmers from Deir Istya. Wad Qana has a total area of 10 thousand dunums and contains 11 water springs , most of Wad Qana lands are planted with oranges and olives.
Israeli Illegal Colonies in Wad Qana:
#

Colony name

Establishment year

(built-up) area

Total area of control

Number of colonists

1

Karnei Shamron

1978

1351

7339

6170

2

Ma'ale Shamron

1980

216

1903

549

3

Yakir

1881

342

1364

960

4

Immanuel

1982

328

1909

2585

5

Ginat Shomron

1985

484

N.A

N.A

6

Nofim

1989

248

331

414

7

Nof Ornim

1991

153

N.A

N.A

Total

3122

1746

10678
[1] GIS-LRC