An Electricity Network in Khibet Semya in As-Samou' / south Hebron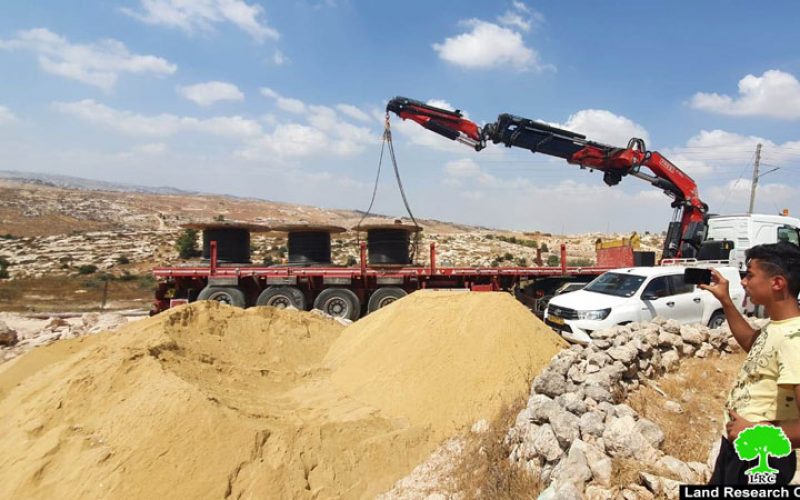 Violation: Confiscating an electricity network.
Date: July 25th 2021
Location: As-Semya – As-Samou' town / north Hebron.
Perpetrators: The Israeli Occupation Civil Administration.
Victims: People of As-Semya village.
Description:
Sunday, July 25th 2021, the Israeli Occupation authorities confiscated an elasticity network and an excavator from Khirbet As-Semya west As-Samou' south Hebron governorate. 
Reportedly, As-Samou' municipality contracted with a local company to set up an electricity network to provide electricity for Khirbet As-Semya west the village , and to install a power line and strengthen electricity supply at the hamlet.
The electricity network is a project funded by municipalities fund, and is being implemented since July 8th 2021. the network was installed in A and B areas from As-Samou', but the occupation hindered the project when it got to C area.
Project coordinator 'Ali Khalaileh testified: "The Occupation authorities raided project site in June 13th 2021 , and gave the excavator's driver a notice claiming that the location is an antiquities site.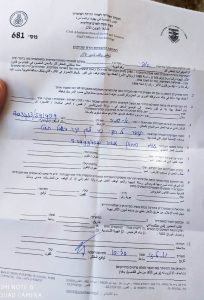 Photo 1: Notice issued by the Occupation Authorities
Moreover, on Sunday, July 25th 2021, an army patrol raided the site, took a drive around, then came back with a civil administration vehicle and a crane truck to confiscate cables and excavators working at the site , then handed a confiscation notice that includes the following items:
| | | |
| --- | --- | --- |
| number | Confiscated properties | Quantity |
| 1 | Cables | 3 rolls |
| 2 | JCB excavator | 1 |
| 3 | Doosan excavator | 1 |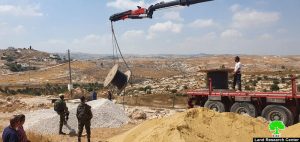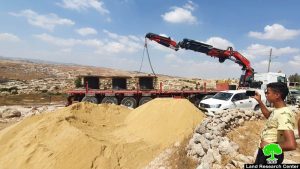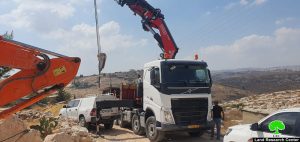 Photos 2-4: The confiscation process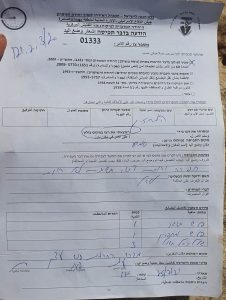 Photo 5: The Confiscation Notice
The confiscated cables and machineries worth at last 200 000 Shekels (60 thousand US $ , and according to the notice the properties will be kept at "Kfar Etzion" colony in Bethlehem governorate.
Khirbet As-Semya:[1]
As-Semya hamlet is located to the west of As-Samou' village, and is bordered by bypass 60 (east), and "Otniel" illegal settlement (north). Noteworthy, the occupation authorities confiscated the steel sheets that are parts of A-Semya school, at the beginning of this Year.
[1] GIS_LRC