The Israeli Occupation uproot 95 olive saplings and Destroy Agricultural Structures in Kafr Ad-Dik village / Salfit Governorate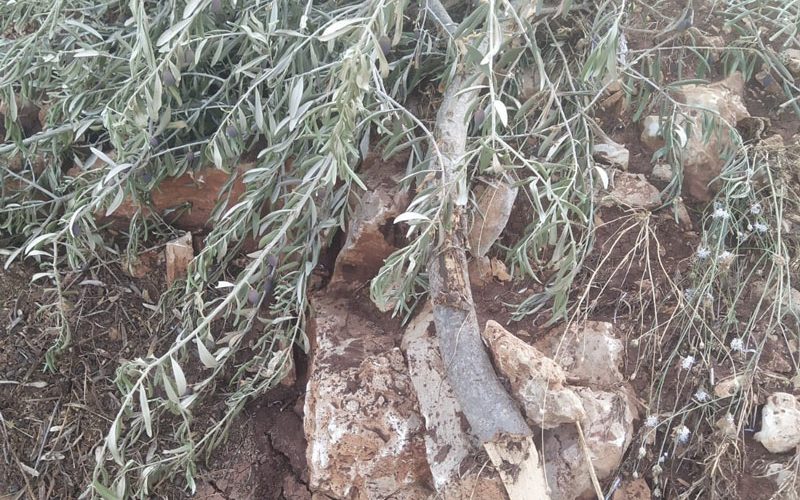 Violation: Attacking an agricultural land.
Location: Dhaher Soboh / Kafr Ad-Dik – Salfit Governorate.
Date: June 9th 2021.
Perpetrators: The Governmental properties Officer – the so-called Israeli Civil Administration.
Victims: Three families at the town.
Description:
Wednesday, June 9th 2021, the Israeli Occupation accompanied by governmental properties officer raided Hariqat Al-Uwaina area – a part of Dhaher Soboh north Kafr Ad-Dik. A bulldozer related to an Israeli company carried ravages on 4 dunums and uprooted 95 olive saplings, in addition to demolishing 390 m of retaining walls, and destroying a water harvesting cistern with a storage capacity of 75 m3.
The area is allocated as "State properties" in the occupation's records. The occupation did not issue any preceding notices before carrying out the attack.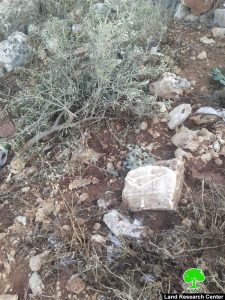 Photos 1-3: The uprooted trees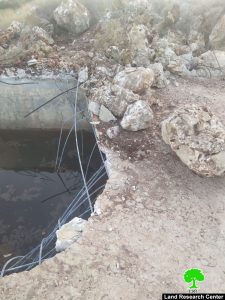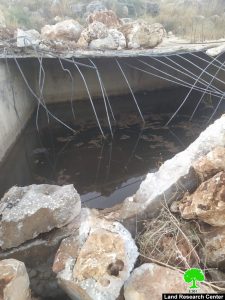 Photos 4-5: The targeted cistern
Photos 6-7: The ravaged retaining walls
The following table shows more information about the damages:
Affected farmer

Family members

children

The damages

notes

Jamal Ahmed

5

2

-Cutting 32 olive trees aging 10 years old.

-destroying a water harvesting cistern with a storage capacity of 75 m3.

-Destroying 200 m2 of retaining walls.

-Ravaging 2 dunums.

The Occupation cut his trees before.

 

The retaining walls built by PARC.

 

 

'Abed 'Ali Ahmed

8

3

-Cutting 28 olive trees.

-Destroying 80 m of retaining walls.

-Ravaging 1 dunums.

Trees cut before for the same farmer.

The retaining walls built by PARC.

 

Mohammed 'Ali Ahmed

6

1

-Cutting 35 olive trees aging 5 years old.

-Destroying 110 m of retaining walls.

– Ravaging 1 dunums.

The retaining walls built by PARC.

 

total

19

6

 

 
Source: Firsthand Field Observation – Israeli Violations Monitoring Section – Land Research Center, June 2021
Land Research Center Field observation team documented colonists' assaults at the same location, which is 80 m south an illegal Israeli outpost in Dhaher Soboh area, the location in January 22nd 2021 witnessed an assault by a group of colonists represented in sabotaging 120 olive trees and destroying the components of an agricultural room, what happened today is a continuation of the occupation's scheme for the favor of colonial activities.
Affected Citizen Jamal 'Ali Ahmed told LRC the following:
"At the middle of February, the occupation informed us that the petition was refused, the petition was a request to change land allocation from a state property. Recently the land went under ravages, in addition to ravaging a cistern and destroying retaining walls following the court's latest resolutions.
My brother and I own a plot with a total area of 16.5 dunums in Dhaher Soboh area. And in 2011, through the Palestinian agricultural development association we rehabilitated the plot, and planted 250 olive sapling and opened a water harvesting cistern. During the same year, the occupation forces in coordination with governmental properties officer cut all saplings and destroyed a water harvesting cistern. Later we received an eviction notice on the pretext of assaulting "a state property" giving us a 45-day period before sabotaging saplings. But this was not a hinder in taking care of our land.
However, in 2018 we came back, and planted 120 olive trees (5 years old), we took care of the plot on a daily basis and sabotage the components of the room. The occupation is continuing its assaults including:  destroying saplings, destroying retaining wall and cisterns. Consequently, the whole plot became affected."
Our field monitoring Israeli Violations team documented number of attacks in Dhaher Soboh all over 300 dunums, the occupation and colonists take turns in vandalizations, cutting trees, destroying cisterns, and demolishing agricultural rooms in order to completely empty the area for expansionist colonial activities.