The Israeli Occupation demolishes houses and facilities in Maktal Msalam area south As-Samo'u / Hebron Governorate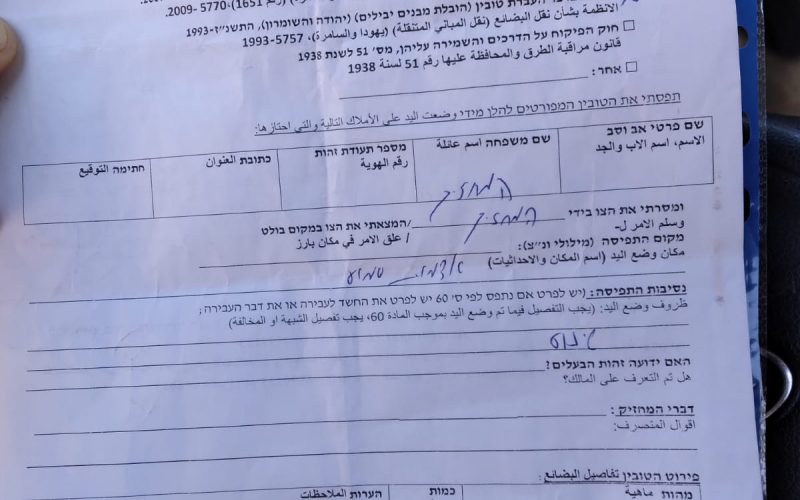 Violation: Demolishing residences and agricultural facilities.
Date: June 1st 2021.
Location: Maktal Msalam – As-Samo'u town / Hebron Governorate.
Perpetrators: The So-called Israeli Civil Administration.
Victims: Citizen 'Ammar Abu 'Awad.
Description:
Tuesday, June 1st 2021, the Israeli Occupation Authorities demolished residences and agricultural facilities belong to citizen Isma'el Abu 'Awad in Maktal Msalam area south As-Samou' -Hebron governorate.
Affected citizen said that an army patrol , the so called border guards, building and organization officers at the Israeli Civil Administration, a JCB bulldozer, and workers from an Israel company raided the area at 8:00 in the morning, demolished the targeted structure carried them on a truck and confiscated them.
Abu 'Awad said that the occupation authorities cut electricity cables, and tried to destroy the Taboon (traditional oven) but the wife and kids stood in front of the machineries to stop them, because the family depends on the Taboon to make bread, noting that the area is far from supermarkets at As-Samou'.
According to Abu 'Awad , the occupation authorities issued a halt of work notice for his houses and agricultural facilities in February 2nd 2017, then they came back two years later with demolition orders on the pretext of building without licenses. And in June 2021 they carried out the demolition. For more information about the family's struggle read our related report in 2017.
The following table shows more information about the targeted structures:
| | | | |
| --- | --- | --- | --- |
| # | Targeted structure | Area m2 | Construction year |
| 1 | Residence built of a metal body and plastic sheets | 25 | 2015 |
| 2 | Kitchen built of a metal body and plastic sheets | 20 | 2015 |
| 3 | Outdoor bathroom built of bricks | 4 | 2015 |
| 4 | barn | 150 | 2015 |
After he lost his residence and structures, Abu 'Awad lives in a nearby cave with his family which composes of 8 members, 6 of which are children, and he supports his family out of cattle breeding.
Following the confiscation, the occupation forces left a "Confiscation Notice" stating that the properties will be kept in Kfar Etzion colony and will be offered soon in auction. In case the owner wanted them back, he has to pay an expensive fine (includes fees and expenses of the confiscation process), in addition to signing a written commitment that the structures won't be installed in area classified C ever again. These conditions lead citizens to give up on their properties.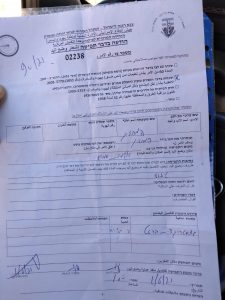 Attached the confiscation notice
About As-Samou': 
The town is located 18km from the southern part of Hebron city. Form the north; there are Yatta town, Aziz, and al-Manather and from the east; there is Susya colony. Khirbet al-Harabeh and Ghuwein are there from the south.
The town has a population of 26,011 people until 2017 and has a total area if 45250 dunums, 93 of which are the built-up area.
The Israeli occupation has confiscated 2786 dunums explained as follows:
284 dunums were confiscated for the favor of the following colonies:
Shim'a colony that was established in 1985 with a population of 357 colonists confiscated 37 dunums.
Shale  Levni hat was established in 1989 with a population of 438 colonists confiscated 37dunums.
Ezlien colony that was established in 2004 confiscated 94 dunums.
The bypass roads no. 30, 317, 3178 confiscated 1610 dumums.
The apartheid wall confiscated 892 dunums and segregated more than 1065 dunums. Noteworthy, the wall is of 18215m in length.
As-Smau' lands, according to Oslo Accords, are classified as follows:
12702 dunms are classified as area A.
9947dunums are classified as area B.
22479 dunums are classified as area C.