Ravaging Vast Areas of Lands in Yasuf for Nevi Nahmiya outpost / Salfit Governorate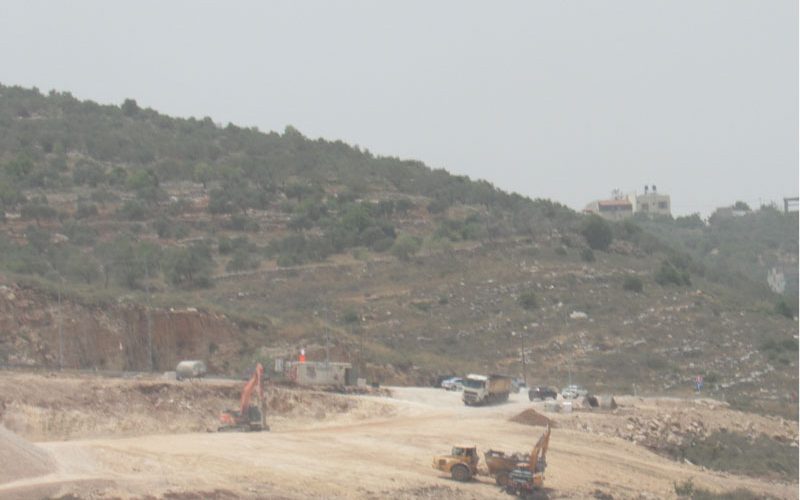 Violation: Ravaging lands for the favor of colonization.
Location: Yasuf village lands/ north east Salfit.
Date: June 1st 2021.
Perpetrators: "Nevi Nahmiya" outpost.
Victims: Number of farmers from the village.
Description:
In the early morning hours of Tuesday, June 1st 2021, Bulldozers operated by a private Israeli company carried on ravaging and leveling lands east Yasuf village.
According to LRC reporter who was also an eyewitness: "7 Israeli machineries carried on leveling 27 dunums of postures in As-Sarb area east the village, 60 m west bypass 60."
The ravages aim to expand "Nevi Nahmiya" colony, which is illegally built on Iskaka and Yasouf lands , noting that the targeted lands belong to Yaseen family from Yasuf village.
The Occupation is trying to judaize vast areas of lands, this scheme will double the outpost's area of control. And develop the outpost's infrastructure and build additional units to attract more colonists and change the area's demographical features.
Through the past 12 months colonists were opening a road around the outpost  , in order to expand the colony on Iskaka lands , for more information read LRC report.
Navei Nahmiya was established in 2003, a group of colonists from the illegal colony "Rehalim" brought tents and pergolas to Iskaka village lands , 800 m from Rehalim colony. The Outpost soon grew, and the tents were replaced with houses, colonists started leveling vast areas of lands, and later a military watch point was set up. Nowadays, the Navei Nahmiya confiscates 45 dunums, and its colonists carry out continuous attacks in nearby olive groves and against farmers at the surrounding communities.in 2009 the Occupation government opened a road to serve the outpost and developed its infrastructure, to be a part of a massive colonial network that includes 40 colonies, 20 of which are outposts.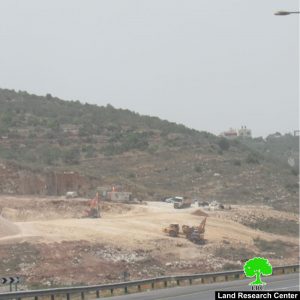 United Nations General Assembly resolutions on Israeli settlement
1-United Nations General Assembly resolution of 20/12/1972, in which it demanded that Israel is asked to stop  a number of measures and practices, including (building Israeli settlements in the occupied Arab territories and transferring some of the civilian population from Israel to the occupied Arab territories).
2-United Nations General Assembly resolution of 15/12/1972, in which the General Assembly requested Israel to stop annexing any part of the occupied Arab territories, establishing settlements in those lands, and transferring the population to them.
3-United Nations General Assembly of 7/12/1973, in which the General Assembly expressed its grave concern over Israel's violation of the provisions of the Fourth Geneva Convention of 1949 and all measures taken by Israel to change the features of the occupied territories or their demographic composition, and considered them a grave violation of international law.
4-United Nations General Assembly Resolution of 29/11/1974 in which the General Assembly expressed its deepest concern over the annexation by Israel of some parts of the occupied territories, the establishment of settlements and the transfer of residents to them.
5-United Nations General Assembly resolution of 15/12/1975, consisting of four sections, and in the first section it condemned all the measures that Israel practices in the occupied territories, describing these practices as serious violations of the United Nations Charter and an obstacle to the establishment of a lasting and just peace in the region, stressing that these procedures are null and void, and have no basis of legitimacy.
6-General Assembly Resolution of 28/10/1977, which affirmed in its first clause that all measures and actions taken by Israel in the Palestinian territories and other Arab territories occupied in 1967 are legally untrue, and are a serious obstruction to the endeavors to reach a just and permanent peace in the Middle East. The General Assembly also deeply regrets that Israel continues to implement these measures, in particular the establishment of settlements in the occupied Arab territories.
7-United Nations Security Council Resolution 478, adopted on 20 August 1980, is one of two General Assembly resolutions [1][2] followed by seven UNSC resolutions condemning Israel's attempted annexation of East Jerusalem. In particular, UNSC res 478 notes Israel's non-compliance with United Nations Security Council Resolution 476[3] and condemned Israel's 1980 Jerusalem Law which declared Jerusalem to be Israel's "complete and united" capital, as a violation of international law. The resolution states that the Council will not recognize this law, and calls on member states to accept the decision of the council. This resolution also calls upon member states to withdraw their diplomatic missions from the city.
8-In resolution 2334 (2016), the Security Council reaffirmed that the establishment by Israel of settlements in the Palestinian territory occupied since 1967, including East Jerusalem, had no legal validity and constituted a flagrant violation under international law and a major obstacle to the achievement of the two-State solution and a just, lasting and comprehensive peace. In the same resolution, the Council reiterated its demand that Israel immediately and completely cease all settlement activities in the Occupied Palestinian Territory, including East Jerusalem, and that it fully respect all of its legal obligations in that regard. No such steps were taken during the reporting period.
Yasuf:[1]
It is 16km south of Nablus. Yasuf is surrounded by Huwara and Jamma'in (north), Marda (west), Yatma (east), and Iskaka (south).
Yasuf is inhabited by 2093 people (according to 2017 census). It has a total area of 6037 dunums, 330 of which are built-up area of the village. 
The Israeli occupation confiscated 814 dunums for these two colonies: Kfar Tapuah colony which was built on Yasuf lands in 1978. The colony is inhabited by 523 colonists and Rachelim- Shvut that was built in 1991 and devoured 10 dunums.
Besides, the bypass road number 508 confiscated more than 155 dunums of the village lands.
According to Oslo Accords, only 1427 dunums of Yasuf lands are under Area B (PA is in charge of civil matters with Israel responsible for security) while most of Yasuf is under Area C (Israel maintains full security and administrative control). About of 4609 dunums of Yasuf is in area C.
[1] GIS-LRC