Illegal Colonists Ravage an ancient house for Miswada family at the Old City of Hebron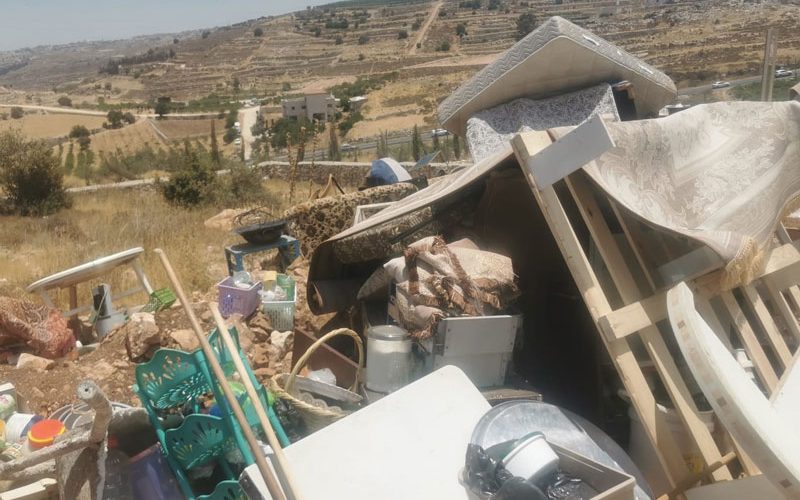 Violation: Ravaging an ancient house.
Date: June 6th 2021
Location: The Old City of Hebron.
Perpetrators: Israeli illegal colonists.
Victims: Miswada family at the Old City of Hebron.
Description:
Sunday, June 6th 2021, Israeli Fanatic Colonists ravaged an ancient backyard that belongs to Miswada family nearby the Ibrahimi Mosque at the Old City of Hebron.
Eyewitnesses said that they saw two bulldozers leveling a backyard at the old city of Hebron. Human Rights Activist 'Imad Abu Shamsya said that the targeted area in the ravaging is 200 m2; an outdoor space for four families from Maswada, Muhtassib , Al-Dweik, and Ash-Shareef. The area located between the four houses used to be called (The Nobles' backyard: Housh Ash-Shurafa), and was a meeting area for the four families.
 Abu Shamsiya asserted that the owner Miswada was using this old house as a barn, and part of it was a store for feeds, but was shocked by the eviction order. which was followed by a series of court sessions between Hebron rehabilitation committee and illegal colonists.
Photos 1-4: Photos published for the ravages at Housh Al-Shurafa/ The Old City of Hebron
Abu Shamsiya pointed out that colonists took advantage of the corona pandemic and the lockdown, to close off the Ibrahimi mosque and carry out ravages in the old city.
Palestinians at the old city are worried that the houses around the ravaged area may fall under colonists' control. In case that happened, a link between illegal Israeli outposts and the Ibrahimi mosque will be created which will make life harder for Palestinians, and advance Israeli colonists' control at the old city of Hebron.