Halt of Work Notice for An Agricultural Facility in As-Samo'u town / South Hebron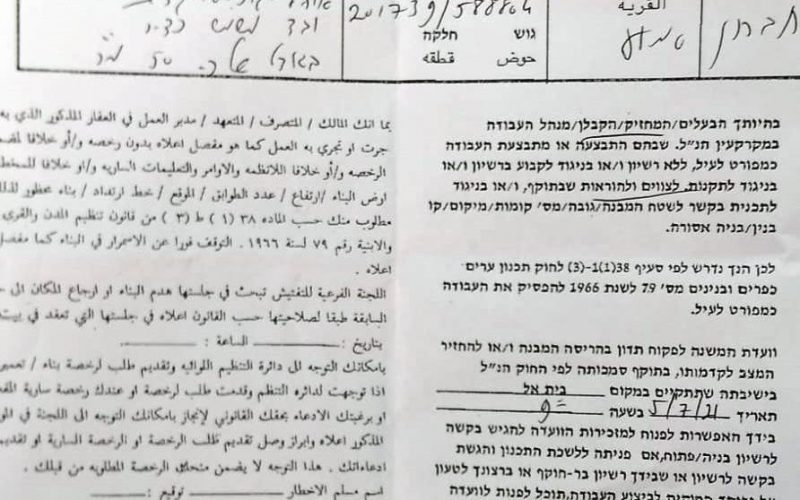 Violation: Halt of Work Notice.
Date: June 21st 2021.
Location: As-Samo'u town / Hebron governorate.
Perpetrators: The Israeli Civil Administration.
Victims: Citizen Ramadan Abu Al-Kbash.
Description:
Monday, June 21st 2021, The Israeli Occupation authorities issued halt of work notice for an agricultural structure on the pretext of building without a license, in As-Samo'u town, south Hebron governorate.
Affected Citizen said that a vehicle belongs to the building and organization department in "The Israeli Civil Administration" got to the location of the structure south west As-Samo'u, and the so-called building inspector wrote the notice, hanged it on the targeted structure, and took picture before withdrawing.
In notice number (31045) the Occupation Authorities ordered the immediate stoppage of construction works, and sat July 5th 2021 as the date of the subcommittee session in "Beit El" military court to decide the fate of the structure.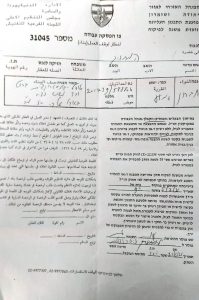 Notice number 31035 which targets a facility belongs to citizen Abu Al-Kbash
The targeted facility has a total area of (400 m2) , it is a barn for cattle, part of the barn is built of steel and plastic sheets, and the other part composes of barbed wires and metal angles.
Abu Al-Kbash built the facility last year on a plot he owns and uses to keep his (400) heads of sheep.