Halt of Work and Demolition order for houses in Wad Rahal village/ Bethlehem Governorate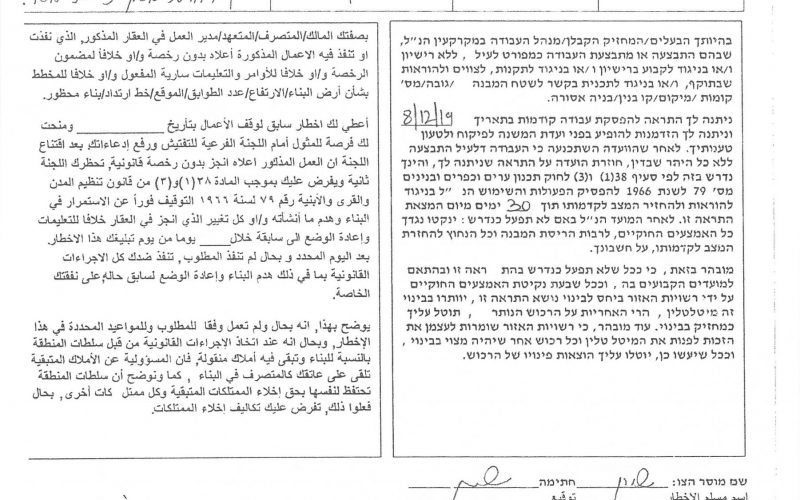 Violation: 4 demolition and halt of work notices destributed.
Location: Wad Rahal village / Bethlehem Governorate.
Date: June 2021.
Perpetrators: The Israeli civil administration.
Victims: citizens Jalal Ziada , Anwar Al-Fawaghra , Jameel Shoka , Yousif Abu Suror.
Description:
During June 2021, The legal committee under the protection of the occupation army served notices to citizens Jalal Ziada and Yousif Turki Abu Surour to halt work and construction on their structures, while citizens Jameel shoka and Anwar Fawaghra recieved final demolition order on the pretext of building in area C without a license.
Notices number "31796" and "30719" sat June 30th 2021 as the date of the court session in Beit El military court, to decide the fate of the structure.
First, Notice number (61029) mentioned that citizen Anwar received a prior notice in December 8th 2019 under which he was ordered to stop the construction works , and demolish what was built in 30 days after receiving the notice, the owner prepared a legal file and assigned a lawyer to follow the case but in vain.
Second, citizen Yousif Abu Surour received notice (61027) , and he had received a notice in August 18th 2020, and was ordered to stop the construction works and demolish what was built in 30 days.
Third, Citizen Jameel Shawka received notice (30719) for a structure and a baton container , and It is obvious in the attached map that the targeted structure is located in Area B (Oslo Classifications) .
Noteworthy, Anwr Al-Fawaghra house is located in Khallet An-Nahla area , which is a hot spot for colonists assaults who are trying to impose their control over vast areas of lands at the village under the protection of the occupation army.
The following table shows more information about the notices:
Affected citizen

date

Family members

Area m2

structure

Notice number

Jalal Ziadeh

June 10th 2021

4

50

Bricks building

Jameel Shawka

June 10th  2021

–

50

Building and cement container

Anwar Fawaghra

June 6th  2021

6

200

50

Inhabited house and a wall

Yousif Abu Srour

June 2nd  2021

–

120

Basic structure , cement wall , and steal sheets ceiling

50

Bricks room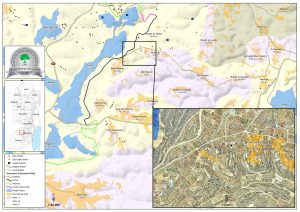 A glimpse on Rahal village:[1]
Wadi Rahal village is located 12 km to the south of Bethlehem, and it is bordered to the north by the village of Artas, to the west by the village of Wadi al-Nis, "Efrat settlement", to the east by the villages of Janata and Hindaza, and from the south by the village of al-Maasara.
Its population is (1819) people, according to the Palestinian central burau of statistics for (2017(. Its total area is 4,131 dunums, of which only 173 dunums are built-up area.
The apartheid wall was built on part of its lands (1235 meters long) , where 123 dunums were looted under its path, and 142 dunums were isolated behind it.
The lands of the village are classified according to the Oslo Agreement as followed:
Areas classified as B (1,710) dunums.
Areas classified as C (2,421) dunums.
[1] GIS-LRC
Prepared by
 The Land Research Center
LRC