Demolition Notices for Businesses in Umm Ar-Rihan village / Jenin Governorate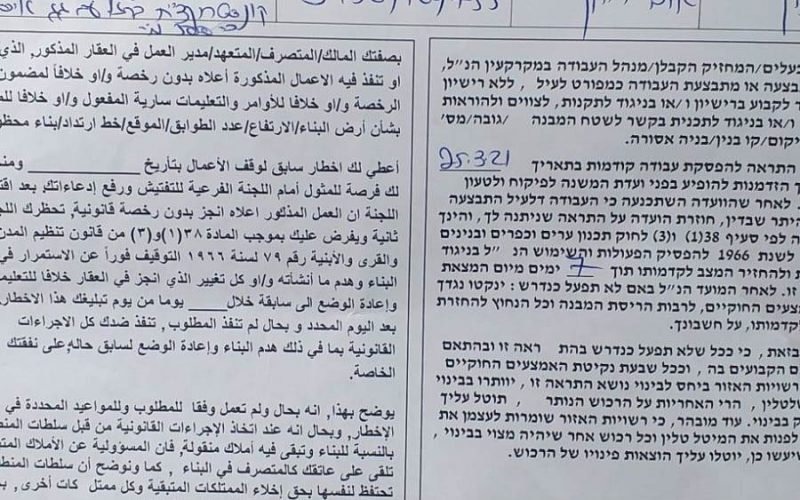 Violation: Demolition Notice for a commercial facility.
Location: Umm Ar-Rihan village / Jenin Governorate.
Date: June 2nd 2021.
Perpetrators: The Israeli Civil Administration.
Victims: Citizen Riyad Zaid.
Description:
Wednesday, June 2nd 2021, the building inspector at the Israeli Civil Administration gave citizen Riad Zaid (51) demolition order number (31946 (for his facilities, on the pretext of building without a license in Umm Ar-Rihan village / West Jenin.
The Occupation authorities ordered the owner to demolish the structures within (7 days) , and threatened in case he breached the deadline, the occupation authorities will carry out the demolition and make them pay all the costs.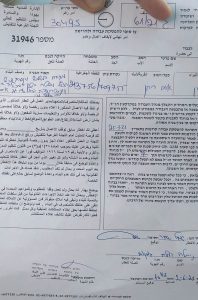 Demolition Order 31946 which targets facilities belong to Riad Saleh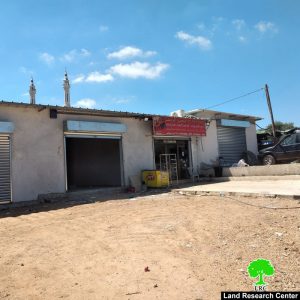 Photo 1: The targeted facilities before the demolition
The Occupation issued halt of work notices for the facilities in March 25th 2021, which targets three stores built of bricks and steel sheets. The stores are leased to shop owners at the area and considered a main source of income for them. The total number of beneficiaries from the stores (businesses) is (13 people, 5 of them are children), while the owner who benefits from the lease, supports a family of 7 , 1 of them is a child.
The Israeli Occupation imposes tight restrictions on construction behind the Annexation and Expansion Wall. Consequently, many families had to move outside the area to other villages and communities, hoping to escape the occupation's harassments.
Umm Ar-Rihan village is 21 m southwest Jenin city and has a total population of 600 people all of which are from Al-Kilani family, the village has a total area of 1200 dunums isolated behind the Annexation and Expansion wall, the Occupation also devours part of its lands for Shaked colony, noting that Umm Ar-Rihan is administratively related to Ya'bad.
Umm Ar-Rihan suffers from services' shortage, it is also blocked by colonies at every side, and physical expansions is prohibited, the occupation imposes restrictions on citizen's movement, in order to add more pressure on them and eventually force them to leave the area.