Cutting olive Saplings and Destroying Agricultural Properties in Wad Qana / Salfit Governorate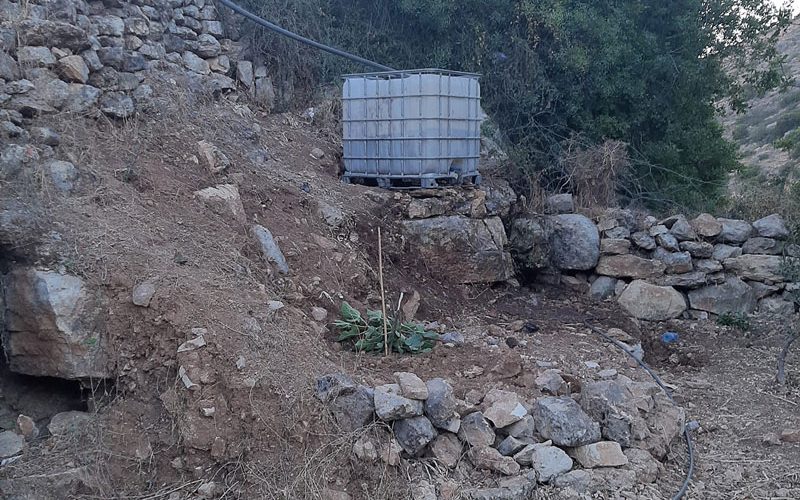 Violation: Cutting Down Olive Saplings and Destroying Agricultural Properties.
Location: Wad Qana/ West Deir Istiya.
Date: June 21st 2021.
Perpetrators: Radical colonists.
Victims: three farmers from Deir Istiya town.
Description:
In the early morning hours of Monday, June 21st 2021. A group of colonists cut down number of olive saplings and destroyed an irrigation network from a farmland in 'Ein Tannur area at the middle of Wad Qana.
Reportedly, the damages included the following:
Farmer Qassim Mansour: Sabotaging two water tanks with sharp tools, each reservoir has a storage capacity of 1 m3 , and uprooting 6 olive saplings aging 2 years old.
Farmer Sa'id Zidan: Uprooting and sabotaging 4 olive saplings, and a cactus tree.
Farmer Salah Mansour: Sabotaging a retaining wall (2 inches* 12 m) planted with olives, and stealing a donkey and its trailer.
On the other hand, and while the assault was being perpetrated, the Israeli So-called nature authority told farmers in Wad Qana that they are not allowed to access the area after 7:00 am.
Noteworthy, Israeli illegal colonists close off the area every once in a while, they even attack farmers and prohibit them from accessing their own land.
During the past few years, area of planted lands has shrunk from 10,000 dunums to 5500 dunums as a result of colonial expansion and access restrictions imposed on farmers. Construction of eight colonies in Wad Qana devoured most of its agricultural lands, while neighboring plots became unsuitable for agriculture as a result of colonists' assaults. Consequently, Palestinian farmers were deprived from their right to freely exploit their lands.
About Wad Qana:[1]
Wadi Qana is located in the northwest part of Deir Istya and surrounded by: Jeindafout, Kfar Laqif and Azoun from the east, Sinrya and Kfar Thulth form the west, Qarawat Bani Hassan from the south, and Amatin and Deir Istya from the east.  Most of Wadi Qana lands are owned by farmers from Deir Istya. Wad Qana has a total area of 10 thousand dunums and contains 11 water springs , most of Wad Qana lands are planted with oranges and olives.
Colonies ibn Wad Qana:
#

Colony name

Establishment year

(built-up) area

Total area of control

Number of colonists

1

Karnei Shamron

1978

1351

7339

6170

2

Ma'ale Shamron

1980

216

1903

549

3

Yakir

1881

342

1364

960

4

Immanuel

1982

328

1909

2585

5

Ginat Shomron

1985

484

N.A

N.A

6

Nofim

1989

248

331

414

7

Nof Ornim

1991

153

N.A

N.A

Total

3122

1746

10678
Source: GIS-LRC
[1] GIS-LRC