Al-Mattan Colonists installed a fence around a 2 dunums plot – Kafar Thulth / Qalqilya Governorate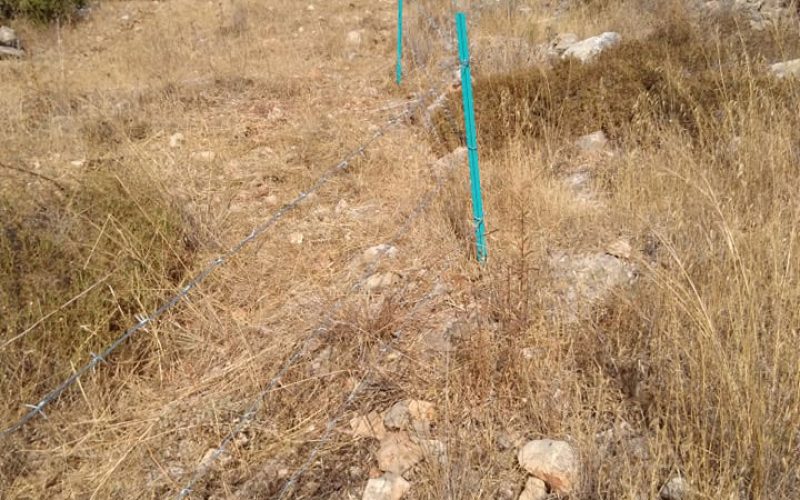 Violation: Setting up a siege around a 2 dunums plot.
Location: Al-Khawali – Wast Kafr Thulth town / Qalqilya governorate.
Date: June 9th 2021.
Perpetrators: "Al-Matan" Colonists.
Victims: Farmer 'Adnan 'Odeh.
Description:
Wednesday morning June 9th 2021, illegal Israeli colonists installed a fence around a 2 dunums plot, belongs to farmer 'Adnan 'Odeh from Kufur Thulth east Qalqilya.
The targeted lands is a part of 'Arab Al-Khawali community east the town in Al-Quraina'a area, which is 1 km away from the town's houses, while the targeted location is 600 m away from the confiscated land.
The affected farmer told LRC the following:
"My brothers and I, own a plot with a total area of 60 dunums for me and my brothers and it is planted with olives, we fully depend on the plot for olive oil each year. However, Al-Mattan colonists only 600 m away from our plot, keep attacking us while we are in the plot . Despite all that, we will remain steadfast at the plot. Wednesday morning, colonists sat up a siege around the plot which is planted with olives , in order to keep us away from the plot , we tried to cut the siege which they installed, but the occupation forces came and expelled us, we then filed a complaint to the Israeli police through Colonization and Wall resistance Commission , but the occupation never opens serious investigation on this regard."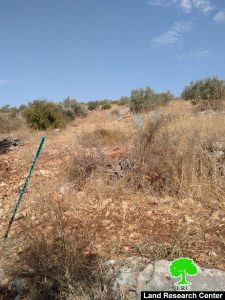 Photos 1-7: setting up a siege around the plot
Al-Mattan in lines:
Al-Mattan outpost was illegally built in 'Wad Qana area since 2000, as an addition to Karnei Shamron colony.
The outpost was illegally built on lands confiscated by the occupation forces for military purposes on an area the occupation classified as a Natural Reserve and known as "Nahal Kanah", the occupation soon turned it into an outpost fully provided with services, but the occupation announced a scheme to legalize the outpost.
And in December 28th 2014, The Israeli Minister of interior recommended to "legalize" the outpost, which became fully supported by the Israeli Occupation government. In October 2014, the Israeli occupation issued an organizational plan with a total area of 100 dunums to expand Al Mattan colony on Wad Qana lands.
'Arab Al-Khawali:
'Arab Al-Khawali community is inhabited by 150 people in 17 families living at Al-'Oyoun area southeast Kafr Thulth town because of its location nearby Karnei Shamron colony . People of the area practice a simple life living in mud and steal sheets houses under continuous colonists' assaults, the families' roots go back to Kafar Qare'a area at the occupied territories, where they were forcedly displaced in 1948.
Prepared by
 The Land Research Center
LRC