Olive trees Poisoned in Sinjil town / Ramallah Governorate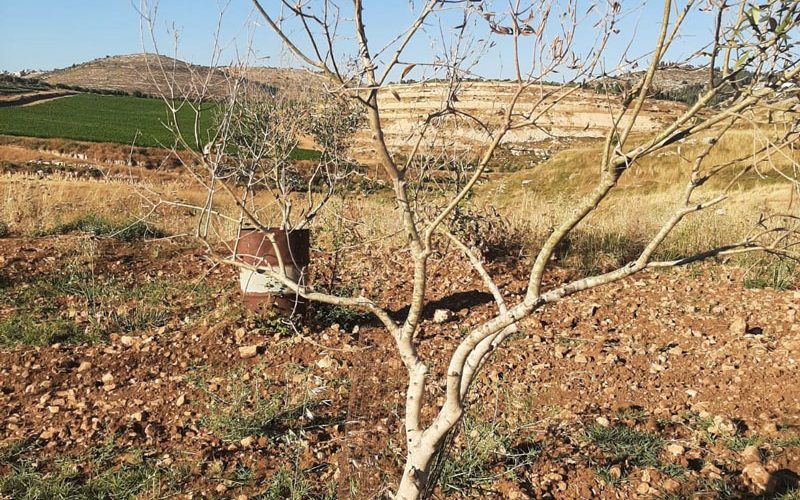 Violation: 65 trees chemically poisoned.
Location: Sinjil town / Ramallah Governorate.
Date: May 20th 2021.
Perpetrators: Colonists of an outpost east the village.
Victims: Heirs of Mohammed Dar Khaleel.
Description:
Israeli illegal Colonists continue their attacks against Palestinians and Their properties, They accelerated their attacks against Palestinian lands  in general and against olive trees in particular.
Thursday, May 20th 2021, a group of illegal colonists sneaked to the eastern farmlands of the town, and reached to Ar-Rafeed area in natural block (9) of sinjil, and sprayed poisonous chemicals on plants, which sabotaged (65) olive trees aging 12 years old and belong to heirs of Mohammed Dar Khaleel from Sinjil town.
Photos 1-9: The targeted trees
One of the land owners Jarrah Dar Khaleel (45) told LRC:
"We own a plot with a total area of 7 dunums, located at Ar-Rafeed area 1 km away from the town's houses, and only 500 m away from an outpost built in August last year. Few years ago, we planted the area with olive trees, and we've been talking care of it in a regular basis. but after the establishment of the outpost, we are constantly targeted by colonists' attacks. At the early morning of Thursday, the occupation forces sprayed poisonous chemicals on olive saplings which killed about 65 trees , we informed the Department of the Ministry of Agriculture in Ramallah and Al-Bireh, we also filed a complaint to the Israeli police , but they did not open a serious investigation."
This attack is the second on its type since the beginning of this year and at the hand of the same group of colonists, at the beginning January a group of colonists sneaked to an outpost newly built on confiscated lands from Sinjil – Nearby Rumana area northeast the town, they also sprayed chemicals on a 3 dunums plot, the chemicals poisoned the following: 100 olive trees aging 4 years, 50 almond , pomegranate and figs that belong to farmer 'Ayed Al-Ghafri (52) from Sinjil town.
There are other outposts built on Sinjil lands such as Giva'at Haroeh and Har Haroeh which contributed in restricting the Siege on Sinjil lands.
About Sinjil:[1]
20 kilometer north of Ramallah, Sinjil is surrounded by Al Labn Ash Sharqia  (north), 'Abween and Jaljilia (west), Qaryut and Turmus'ayya (east), and Al Mazr'a Ash sharqia (south).
Sinjil has a total population of 5742 people according to statistics conducted in 2017. It has a total area of 14028of which 888 are a built-up area of the village.
The Israeli occupation devoured 551 dunums of the lands of the village for two colonies. The first one is Maale Levona which was built in 1983 and confiscated 298 dunums of the village, and inhabited by 497 colonists. The second is Eli which was built in 1984 and devoured 253 dunums, and inhabited by 2058 colonists.
Moreover, bypass number '60 took over 246 dunums of the village lands.
According to Oslo Accords, 14% of Sinjil is under Area A (PA has full civil and security control) while 30% is under Area B (PA is in charge of civil matters with Israel responsible for security). However,  most of the village lands (56%) is under Area C (Israel maintains full security and administrative control). Here are the area in dunums:
Area A (1980) dunums.
Area B (4140) dunums.
Area C (7908) dunums.
[1] GIS-LRC